< back
<123456789101112131415161718192021222324252627 28 293031>
---
How does VS Omni control my attached pool spa?
Once you've added Hayward actuators to your 3-way and 2-way directional valves, VS Omni will enable you to turn your spa on or off with one touch of your favorite settings. You can enjoy fully automatic spa control with none of the hassle of adjusting valve and heater settings. It will even turn on lights for a night spa!
back to top
---
Once VS Omni is installed, is it difficult to expand the system if I add more features to my pool or backyard?
If you decide to add an additional feature to your pool system at a later date, simply have an additional VS Omni Smart Relay installed by your pool pro. This will enable you to add lights, an additional water feature or a booster pump for a pressure cleaner.
back to top
---
How many Smart Relays come with VS Omni and can I add additional Smart Relays?
One Smart Relay comes as standard with every VS Omni variable-speed pump. You can add one additional Smart Relay for control of an extra device.
back to top
---
Does VS Omni work with Amazon Alexa voice control?
Yes. Amazon Alexa offers convenient voice control to for your entire VS Omni system. Once you've added the Hayward Skill to your Alexa app, just "Ask Hayward" to turn on lights, set your heater temperature, adjust your pump speed or switch on favorite settings.
back to top
---
Which popular smart home automations work with VS Omni?
Smart home automation technology is becoming increasingly popular and many people like to use one app to control multiple systems. Hayward VS Omni can be linked to other leading smart home systems including Nest, Control4, Elan, Vantage, Crestron and Elan.
back to top
---
Where can I download the Omni app for iOS and Android phones and tablets?
Download the latest version of the FREE Omni app from the iTunes or Google App Store, or visit www.haywardomnilogic.com
back to top
---
How strong does the internet connection need to be to work with VS Omni?
Where your VS Omni system is installed, you need to be able to connect to the router and get 3 Mbps upload and download speeds to maintain a reliable connection. You can also hard wire an Ethernet cable to the VS Omni Control Pad if available.
back to top
---
How do I use my pool equipment if my internet is not working?
Your schedules will always work - even if the internet is not working. If you need to control your pool equipment while the internet is unavailable, you can use the touch screen VS Omni Control Pad to do anything that you can do with the phone app.
back to top
---
Can anyone who downloads the Omni app control my pool equipment?
Anyone can download the app, but in order to use your equipment the users would need to have your login name and password or be set up as a secondary user for your controller.
back to top
---
Where can I download the VS Omni user guide?
You can download the Quick Start Guide or User Manual at Hayward.com/VSOmni
back to top
---
Sours: https://www.haywardnet.com/contactus/faqs/viewFAQs.cfm?Category=*&SubCategory=&Sub2Category=*&pagenum=28
Voice control
Enable voice control with your bed design
Converting your house into a Smart Home is about far more than just "talking" to your bed through a voice control unit. It is, in fact, about connecting your bedroom to the rest of your Smart Home, and about creating value and joy by making your daily routines easier.
At LINAK®, we are convinced that this new technology will be widespread and accessible to homeowners everywhere. To make it easy for bed manufacturers, designers and, most of all, end users, LINAK has developed an all-in-one solution.
It includes the Customized Bed IoT App needed to create a user account, a full cloud solution, and a set of unique Amazon Alexa skills or Google actions. Combined with the WiFi2LIN module it forms the LINAK voice control system.
With a full voice control solution for adjustable comfort beds, we help bed brands and manufacturers enter the future of home automation. It will future-proof your products, support your brand, and help users change their daily routines and improve their life.
You can find more information about voice control and Smart Homes in the article 'Time to connect bedrooms to the Smart Homes'.
Read the Google Action privacy policy here
Google, YouTube and Google Home are trademarks of Google LLC.
Google Assistant is not available in certain countries and languages.
Amazon, Alexa, and all related logos are trademarks of Amazon.com, Inc. or its affiliates.
Sours: https://www.linak-us.com/products/controls/voice-control/
The Role of Electric Actuation in Smart Homes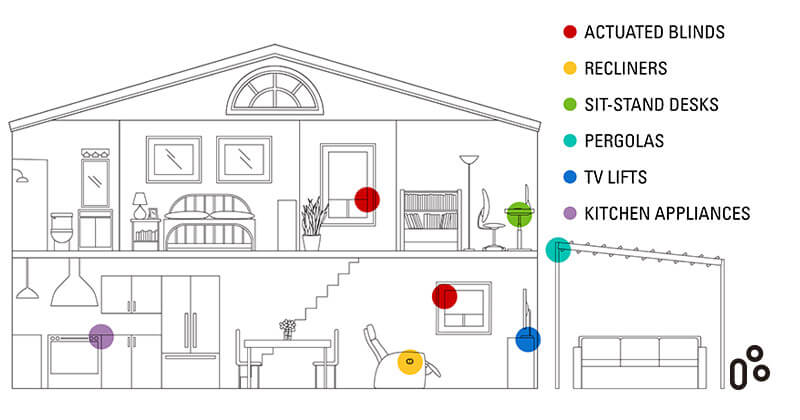 Smart home automation is the latest craze. With products like Google Home, Amazon Alexa, and Apple's Siri, users can enjoy the convenience that comes along with these technologies. They have the power and smarts to be able to deduce and adjust to different factors in one's home, such as thermostats, lights, music, television, etc. While these technologies are incredibly useful, they can only do so much. When it comes to physically move something, this kind of technology cannot do the job. That's where electric linear actuators can help.
Electric linear actuators and other products, such as lifting columns, provide linear motion for certain objects in a smart home, including blinds, recliners, sit-stand desks, pergolas, television sets, and kitchen appliances. At TiMOTION, we provide these motion products to help you streamline efficiency in your home.
Here is an overview of these different applications:
What could be more luxurious than having your windows outfitted to adjust automatically according to your preferences? With actuation, you can program your blinds to adjust to shield you from direct sunlight or to open and close at your will. TiMOTION has designed a series of gear motors, the TGM series, to help motorize blinds and shades.
There is a wide variety of furniture that can be customized to move electronically. Recliners are one of these items. Even though these are well known, few people actually know what the mechanisms are inside of them that allow them to function properly. Electric linear actuators provide a wide range of motion inside of these recliners to adjust positioning on the head, body, and legs. Our TA32 was designed specifically for the head tilt function on a recliner.
No smart home is complete without an office with a sit-stand desk. More and more people are starting to recognize the health benefits of alternating between sitting and standing while working. At the touch of a button, our TEK series will operate the desk surface up and down at will. Another feature that we have added to our TEK series is the "Stand Up Please" mobile app. By using this app, you can actually control the height adjustability of your desk via your mobile device, just like other smart features in your home. This app also has the memory function, calorie tracking, and customized alerts for sit-stand cycles.
Pergolas are a luxurious addition to one's backyard, and they can also be controlled by linear actuators. The actuator will help tilt the blades of the pergola, opening the roof to allow sunlight in, or closing it to protect against inclement weather. Some of our actuators that are ideal for these applications are the TA4, TA2, TA2P, and TA16.
Another piece of furniture typically used in smart homes are TV lifts. This help disguises the appearance of television sets by having them lower and disappear into furniture while not in use. Furniture manufacturers can design consoles and cabinets to include electric column actuators, such as our TV lift actuator, the TVL3.
If there's one room in the house that could benefit the most from electric actuation technology, it would probably be the kitchen. Appliances such as height-adjustable worktops, side tables, and adjustable spice racks can use electric actuators to improve their performance and flexibility. Not everyone in your family is the same height, so why would your work surfaces all be the same height? Proper ergonomics throughout the home is a necessity to prevent bodily strain and injury.
Smart homes are no longer a futuristic concept; they are becoming the norm in today's day and age. It is essential that furniture and other objects around the home keep pace with the ever-changing technology, with the end goal of making your life easier. Smart home technology introduces a whole new element of luxury. If you would like to learn more about our home automation options, contact us at:
TiMOTION Headquarters ►[email protected]
TiMOTION USA ►[email protected]
TiMOTION Europe ►[email protected]
TiMOTION Japan ►[email protected]
Sours: https://www.timotion.com/en/news-and-articles/the-role-of-electric-actuation-in-smart-homes
Control Nearly ANYTHING with Alexa for under $10! 👍
1.Soft Touching Design with Humanized Upgrades:Mini elegant curve design with graceful arc waist shape and rubber stretch paint,that fits to any decoration styles.Differs from original traditional display on the vae body resulting in reading trouble from the installation position,this new version is featured as LED display,no window,and wider perspective on the top of the cover;It is a special vae using cooperatively with heating radiator to control the closing and opening of the pipe. 2.A Tuya ZigBee Wireless Gateway Hub is a Must : A ZigBee wireless hub is a must that connects to the vae many other ZigBee smart products and realizes the whole linkage of your smart home devices.Simply add your gateway to the App,then add your radiator actuator to your gateway in the Smart Life App,even smart automation to other smart devices in APP by creating various scenes for flexible controls on smart phones. 3.External Sensor Design for More Accurate Measurement:Functional extremely well with external sensor on the vae that provides accurate readings for house temperature,ensures much more convenient and intelligent control to your smart lifestyle;Soft and sensitive Contact control on the home screen,together with intelligent control on Smart phones,are both featured for this new zigbee radiator vae. 4.Programmable Schedule with Weekly Programming Selection:Supports manual set up 5+2 weekly schedule with 4 periods for option ,providing you with the maximum convenience for different situation and setting customized schedule for your house temperature.Holiday e,automatic e,temphand and manual e available for added convenience;Energy saving in a real sense with low battery tip and Eco-e supported. 5.Voice and Remote Control for the Tuya ZigBee Wireless Gateway:Supports App remote control via your smart phone,together with the hands-free voice control via Alexa and Google Assistant after successfully connecting your vae to Tuya /Smart Life App on the basisof one Tuya ZigBee Wireless Gateway;Window check and diagram of temperature curve are added in APP for real-time monitoring of room temperature Power Supply: 3 V,2 x AA Batteries(not included) Maximum stroke: 4.5mm Accuracy: +/- 0.5℃ Set Temp. Range: 5~45℃ Display temp. Range: 0~70℃ Ambient Temp.: 0 ~ 45℃ Ambient Humidity: 5 ~ 95 % RH (Non Condensing) Storage Temp.: -5~ 45℃ Timing Error: less than 1% Protection Class: IP 20 Buttons: Capacitive Contact Buttons colour: black/white Material: plastic Size: 85x52mm Package Contents: 1 x Raditor Thermostat<br />Only the above package content, other products are not included.<br />Note: Light shooting and different displays may cause the color of the item in the picture a little different from the real thing. The measurement allowed error is +/- 1-3cm.
Sours: https://shopee.com.br/ZigBee-Thermostat-Tuya-Radiator-Actuator-Vae-Smart-Programmable-TRV-Temperature-Controller-Alexa-Voice-Control-Black-i.426926713.11727927450
Actuator alexa controlled
save up to 50% Thermostatic Radiator Actuator Programmable Temperature Controller Support Alexa limit buy
save up to 50% Thermostatic Radiator Actuator Programmable Temperature Controller Support Alexa limit buy
the first symptom of a cold is usually a sore throat. this is generally followed by sneezing or a blocked, sore or runny nose. usually, 1 in 3 people with a cold will get a cough and feel unwell.
colds are caused by viruses. antibiotics cannot treat viruses. instead, drink plenty of liquids to replace those lost from sweating and runny noses. get lots of rest and eat healthily. do not ask your gp for antibiotics for a cold.
you will usually feel worse during the first 2 to 3 days before gradually starting to improve. your symptoms will usually last about a week.
cold and flu symptoms are similar but flu tends to be more severe.
cold
appears gradually
affects mainly your nose and throat
makes you feel unwell but you're ok to carry on as normal - for example, go to work
flu
save up to 50% Thermostatic Radiator Actuator Programmable Temperature Controller Support Alexa limit buy

appears quickly within a few hours
affects more than just your nose and throat
makes you feel exhausted and too unwell to carry on as normal
cold symptoms can include:
blocked or runny nose
sore throat
headaches
muscle aches
coughs
sneezing
a raised temperature
pressure in your ears and face
loss of taste and smell
the symptoms are the same in adults and children. sometimes, symptoms last longer in children.
causes of colds
colds are caused by viruses. they can easily spread to other people. you're infectious until all your symptoms have gone. this usually takes about a week.
colds are spread by germs from coughs and sneezes which can live on hands and surfaces for 24 hours.
to reduce the risk of spreading a cold you should:
wash your hands often with warm water and soap
cough into your elbow to stop germs getting on to your hands and spreading to other people
use tissues to trap germs when you cough or sneeze
bin used tissues as quickly as possible
how to prevent catching a cold
the best ways to avoid catching a cold are:
washing your hands with warm water and soap, especially before eating
not sharing towels or household items, like cups, with someone who has a cold
not touching your eyes or nose. you can infect your body if you've come into contact with the virus.
staying fit and healthy
Sours: https://dermrxpharmacy.com/bucket5f7f/dadcee1090906.htm
Alexa Smart Home Automation system using NodeMCU ESP8266 \u0026 Relay Module - IoT Projects
.
You will also like:
.
1253
1254
1255
1256
1257