Channel drains, trench drains or strip drains are linear drainage applications used to prevent surface and rain water from flooding garages, basements, driveways and gardens.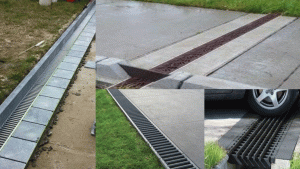 Driveway Channel Drains
Channel drains are straight drainage strips that collect and convey surface water. They can be found on driveways, around pools, parking lots among other places. Channel drains are an effective way to collect water before drainage issues arise. Excess water around a house can seep into a basement and cause water damage. Water can also pool around landscaping and cause damage to the exterior of a residence. Channel drains come in 5" wide, 8" wide and 12" wide sizes.
There are a few different channel drain manufacturers such as NDS, Polycast and Swiftdrain. It may get confusing when you find cheap channel drains for $100.00 on Amazon and are wondering what the differences are to the ones that cost more. The thing is, what you spend now is what you will save in time, cost and redoing a job later. There are cheap channel drain options, but they simply don't last. Basic residential kits go for about $50.00 a linear foot. This would include a metal grate, end cap, end outlet and channel. For a 12 foot garage section, one can expect to pay about $600.00 in channel drain materials.
One of the first things to consider is how much water we need to drain. There are complex ways and simple ways to calculate water runoff. The simple way can be calculated with this flow chart.
We need to know how much water we will have to drain in order to select the right depth, width and length of the trench drain system. Typically, a 6", 8" or 12" wide channel is sufficient. Without going too crazy with flow charts and formulas, if you have moderate pooling or drainage issues go with a 6" or 8" and if you have severe pooling and drainage issues go with a 12" wide channel drain. View Driveway Channel Drain Kits.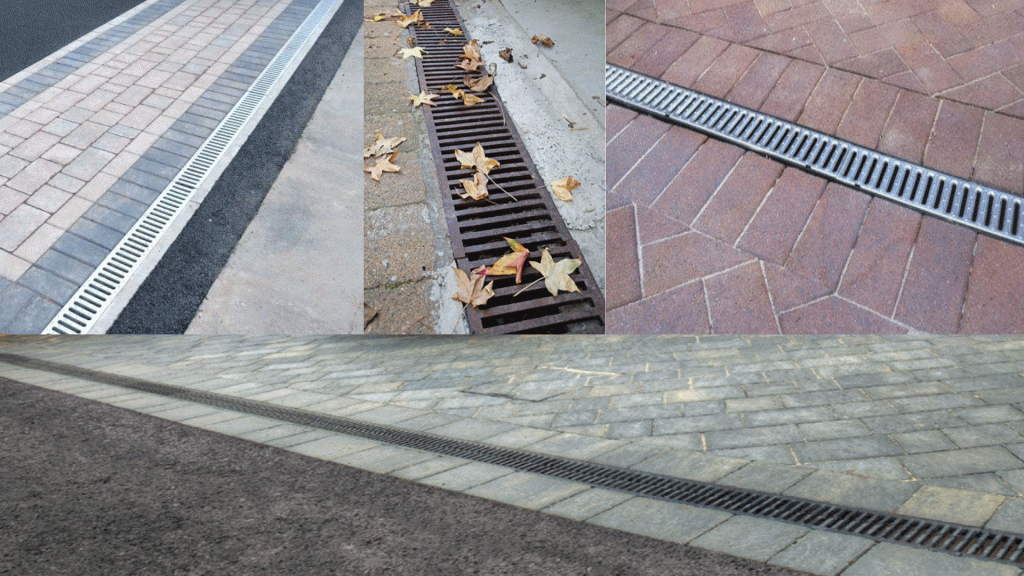 Channel Drains come in a variety of grate options
When selecting the right channel drain the following must be taken into consideration:
The slope of the surface where the channel drain is going
The amount of water to be collected
What will be going over the channel drain (cars, people, pets)
The slope of the ground leading to the channel drain affects the speed and volume of water the channel will carry. A simple and easy way of determining flow rates through the grates can be found here. Generally speaking, a pre sloped trench drain system sloped from .7% - 1% is sufficient for most residential applications.
The amount of water to be collected can be determined by water tables flow charts. This will help us determine the width of the drain. For residential applications, 4" – 12" is usually the width selected. For most applications 6" is more than sufficient.
What goes over the channel drain should be considered. There are different class load capacities.
A – Pedestrians
B- Small Cars
C- Passenger Cars, SUVS and trucks
D- Loaded Forklifts
Also, if you have animals or pets constantly going over the grates. Paw proof channel drain grates would be another consideration.
Channel Drain Grates
ADA grates or American with Disability Act are grates with holes (slots) that are smaller than 1" x 1". This prevents crutches and wheel chairs from getting stuck when going over the channel drain.
Channel drain grates come in plastic, cast iron, galvanized steel, stainless steel and bronze. Plastic is suitable for pedestrian and light veichular traffic. Most manufacturers include U.V. inhibitors in the grate to increase its structural lifespan. Sunlight can cause damage and cause grates to warp.
Driveway channel drains can also come furnished with frames or rails to give added support to the grates that sit on top. This will also increase the lifespan of the drain and minimizes the chance of shifting and breaking over time. It's a slight additional cost now which increases the lifespan of the drain over time.
Decorative channel drain grates can also be used to give the driveway area an aesthetic charm. Urban Accessories, NDS and ACO carry a full line of decorative grate options. Grates can also come unpainted, bronze and with a baked on oil finish to give an added sense of design.
Many Grates to choose from
Accessories
Catch basins can also be added to the channel drain system to collect leaves and other debris before they enter the pipe. Channel Drains should come with one end cap, one end outlet, channel, grates and screws.
Channel Drains V.S. French Drains
A French drain is a trench filled with rocks, pebbles or gravel that contains a perforated pipe and conveys surface water from point A to point B. A French drain can have hollowed out perforated pipes along the bottom to convey water that seeps into the ground system. French drains are useful to prevent water accumulation, foundation damage, retaining wall buildup and other septic tank uses.
French drain sizing depends on the expected water volume. Usually 2 or 3 pipes is sufficient for the drain. Filters like sand, gravel, rocks and pebbles are used to keep out particles from the surrounding soil. Gravel, stone and rock are used as permeable materials and placed around the pipe to help out with water flow.
French drains are usually buried around the foundation wall on the external side of the foundation or installed underneath the basement floor on the inside perimeter of the basement.
French drains can be a useful way to convey water but also have downsides such as expansive excavation, clogging issues and the need for a sump pump. We have seen that channel drains offer a higher success rate than French drain systems.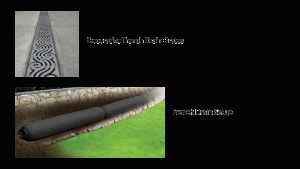 French Drain
The most popular channel drains are the Swiftdrain Sierra Series, NDS Pro Series, Josam and ACO 100. These channel drains have polymer and hdpe channels with a variety of grate options to choose from. The 600 series is a best in class pre sloped driveway channel drain.
Driveway Channel drains should cost about $500-1500 per ten foot section depending on materials used. This would include all materials needed for a successful installation including an hdpe channel, metal grates, end cap and end outlet.
Sours: https://swiftdrain.com/choosing-the-right-channel-drain/
There are a multitude of drainage systems available, each serving a different purpose. A channel drain is among the most common types of drainage systems used and is a service ABT Drains provides for both commercial and residential needs. If you are unfamiliar with this system, continue reading to learn everything you need to know about channel drains before you make the call on what you need for your project.
Channel Drain Applications
A channel drain has a wide range of uses that are worth looking into. In general, some common areas where a channel drain is helpful include driveways, patios, gardens, walkways, pool decks, turf surfaces, golf course, parking lots, and other applications. If you have a space that can become flooded, a channel drain is something that you should have installed.
Different Types of Channel Drain Installation
In addition to the ways a channel drain can be used, there are also different types that can be installed. The first is slot drainage, which features a surface that contains slots—hence its name. Many go with slot drainage if drainage is desired, but still want to retain aesthetic that keeps the drainage inconspicuous.
Another type of channel drain that can be installed is called linear drainage. This type of installation is primarily used on construction sites and spaces where underground utilizes are complex. Cast-in-place concrete trench drains are also helpful, which is when the trench drain channel is placed into a trench with concrete pouted over it, which is an ideal solution when you are dealing with an area with restricted access. It's also worth mentioning that all the installations mentioned are considered to be trench drain systems.
Advantages of Channel Drains
While there are many applications for a channel drain, the benefits don't stop there. A channel drain also has many benefits as to why you should get one installed in the first place. For starters, channel drains are long-lasting, easy to maintain, can help reduce soil erosion, can be customized for different sues, and most importantly—help avoid flooding after large volumes of rain by having the ability to improve water flow.
Materials
Channel drains are made from a variety of materials such as plastic and concrete. The materials of a channel drain are also durable to the point where you don't have to worry about quick deterioration from something like chemical use. The materials that make up a channel drain is in large part why the system is long lasting.
Grates
Grates are also an element of channel drains that you should be aware of. Channel drain grates can be customizable based on the environment in which you place it in so it can blend in if you want it to. A key feature of grates is that they can be removed to keep up with cleaning.
Maintenance
On the topic of keeping channel drains clean, there is some maintenance that will need to be done to remove any particles it collects. If a channel drain is left neglected, then you run the risk of clogging the pipe from the debris, leaves, or anything else. The good news is that keeping up with maintenance is simple since they can be removed from the ground and typically washed with soap and water. Keeping tabs on necessary maintenance is key to ensuring that a channel drain functions properly. Maintenance also needs to be a priority due to the hazards of grates being broken or loose. This is where inspection also becomes a key component of channel drain maintenance to stay on top of safety.
Load Rating Recommendations
Another aspect of channel drains you need to keep in mind is the amount of weight it can withstand. This is where paying attention to the loading classification becomes necessary. For instance, if you are installing drainage in a parking lot, you will want to find out whether it can handle cars going at various speeds. Load rating recommendations are broken up by different class letters that can help you gauge which option is best for your project:
A: 1-60 psi (people and bikes)
B: 61-175 psi (cars and trucks)
C: 176-325 psi (delivery and tractor trucks)
Flow Rates
The next consideration that needs to be had relates to a channel drain's flow rates to ensure that water and other liquids are removed from surfaces. Flow rates will give you an idea on how long it will take for a drainage system to take care of such liquids. The flow rate is determined by a formula, but it can be easy to figure out if you go with a slot drain. Depending on how wide the width of the slot opening is will give you an idea for how many gallons of liquid it can remove in a minute. For instance, if you have a slot opening of ½ an inch, then it can take care of 11 gallons per minute. The main takeaway is the flow rate will be another feature of a channel drainage system to take note of, so you aren't left with residue.
Chemical and Heat Resistance
As mentioned earlier, channel drains are made of materials that give it the ability to withstand various conditions. However, looking into where the drain stands in terms of heat and chemical resistance will give you a good idea so you can avoid erosion and other issues, keeping the drain intact.
Professional Service
While a channel drain could be classified as a DIY project, you might need one for a commercial project. ABT Drains can provide you with everything you need to know about channel drains and help with the installation process. A channel drain is a necessary feature that can be easy to overlook if you aren't familiar with engineering or architecture. However, we still help those that seek channel drains even if they do have a lot of knowledge to make the installation process as seamless as possible for your project. Please refer to our website if you have any questions regarding our channel drain installation process or offerings. ABT Drains is here to successfully resolve your drainage problems.
This entry was posted in Uncategorized. Bookmark the permalink. Sours: https://abtdrains.com/everything-you-need-to-know-about-channel-drains/
Every installation starts with a trench (hence the name). You'll need to keep a few things in mind before you start digging.
How's the grading in the area? The slope needs to be just right to get water into the drain and away from your home. If your channel is set too high, water can flow backwards instead of into it! Here's an easy way to measure slope for landscape drainage.
And as for plastic sticks of channel, we can't stress enough that you must use concrete—not asphalt—as a base. Asphalt can warp or even melt the stick of channel. Concrete will give trench drain a solid footing without the heat damage.
Building Your Channel Drain System
There are plenty of ways to configure a channel drain system to make it work for your home. Here are some of the ways you can do it:
Customize It
One of channel drain's benefits is that it can be cut down to size based on your needs. Every application is different. Use a circular or miter saw to get the most effectiveness out of the product.
Secure It
Many styles of channel offer an interlocking joining system, meaning everything snaps into place for a snug fit. These don't require any special tools (like a sealant) which is a plus.
Some products offer slots for rebar to help hold the channel in place while concrete is poured. By using all three options, your channel drain shouldn't budge.
Accessorize It
We're not talking about jewelry! You can continue to customize your application by adding different channel drain accessories.
With quad connectors, you can extend your drainage capabilities by creating L-, T- or X-shaped runs of channel.
To connect to drain pipe, an end outlet is required. End caps will close off a stretch of channel.
Sours: https://www.greydock.com/blog/article/drainage-101-channel-drain-benefits
How to Cut Trench/Channel Drains at a Specific Angle
.
Channel drainage plastic
.
How to Install FloDrain Domestic Channel Drainage System - FloPlast Installation Guide
.
You will also be interested:
.
1314
1315
1316
1317
1318