Creator Luni
Aliases
- Lovely Lunith (fusion with Succubus Lilith)
Master - By Lilith (Gacha World/Memories)
Rarity

(Mega Rare) - Anime Gacha
(Ultra Rare) - Gacha World
(Ultra Rare) - Gacha Resort
(Ultra Rare) - Anime Fidget Spinner
Creator Luni
is a water unit, who has appeared in many Lunime Games. She made her debut in the Future Punkcase in Anime Gachaas a 6-Star Unit. In Anime Arcadeshe has her own mini-game, "
Luni Data Tiles
". She has since appeared in Gacha Worldas a 5-Star Unit and the main antagonist and boss of Chapter 9's fourth and fifth areas as the thirteenth boss of the game.
Creator Luni also appears in Anime Fidget Spinner and in Gacha Resort as the star of chapter 1, where she gets the player to help finish the resort and later reappears throughout the story.
In Gacha World, her special attack is "Erase All," in which Luni creates a swarm of missiles to attack all enemies, doing Water damage. Her leadership skill is "Time Stop," which delays all normal enemy's cooldown time by 1 turn.
She was created by Luni.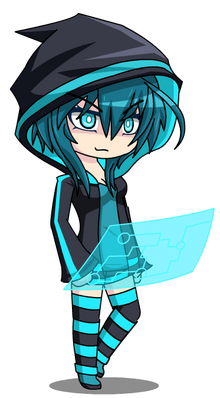 Appearance
Luni is a young woman dressed in dark and neon blue. Her hair and eyes are also a bright blue in color. Usually she is depicted in a dark hoodie, shirt, shorts, and long striped socks. She tends to have holographic controls around her for her work.
Gacha World Special Boss Fight
NOTE: Here there be spoilers! Read on at your own risk!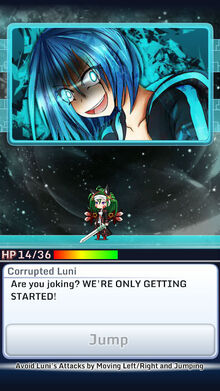 The first time the player battles Creator Luni is the fourth part of Chapter 9 instead of the last part like previous levels. This boss fight here is like the previous boss fights and should be easily beaten.
Afterwards, Luni captures Ellie (The fairy that guided you) and forces the player to choose between giving up and playing a seemingly unwinnable game.
The player must dodge attacks from the sides, above, and below the playing field. They can move left and right and jump. Every hit does one damage, and initially, the player only has one hit point. Throughout the game, Luni will taunt the player, urging them to quit.
The game contains 3 stages with a short break in between each: the first is an empty playing field, the second has a platform in the middle, and the third has two middle platforms. The player must survive all three levels in order to beat Corrupted Luni. When the player dies, they are sent back to level 1.
Every time the player dies, the game "crashes" and resets, only now the player has more hitpoints. Hitpoints will continue to stack with each loss so that eventually the player has enough health to make it through the game, no matter what their skill level is. In theory, it is possible to beat the game by just standing still and racking up hitpoints (though that will take a while). Beating the game allows Ellie to free herself to help you cure Luni of her corruption.
Quotes
"How should I delete you? Let's go with missiles!" - Creator Luni's skill quote in Gacha World.
"Your future I created ends NOW!" - Anime Gacha card.
"I created this game, It's impossible for me to loose!" - Creator Luni's victory quote in Gacha Resort
"This must be a glitch, I didn't program my defeat" - Creator Luni's lose quote in Gacha Resort
"getz meh le duck and u getz nuthin" - Creator Luni's quote when tapped on her face in Gacha Resort
Trivia
Creator Luni was the game creator's initial avatar. He has since created Lucas Lee, who may be more physically similar to him in real life.
She can be found in Gacha Club in Club Duck, Only Renamed as "GW Luni" (Standing for Gacha World Luni).
Additional Images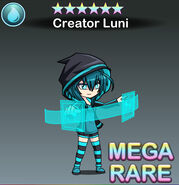 Luni as she appears in Anime Gacha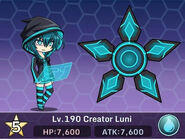 Luni's spinner in Anime Fidget Spinner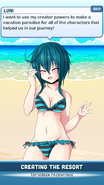 Luni as she appears in Gacha Resort
Creator Luni as she appears in Gacha Memories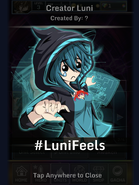 Creator Luni's Easter Egg in Gacha World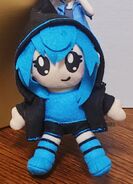 Creator Luni as a plushie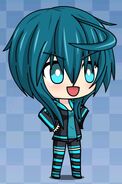 Creator Luni in Pocket Chibi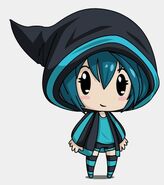 Creator Luni in chibi form as a pet in Gacha Studio
Creator Luni's Present in Gacha Club
Sours: https://lunime.fandom.com/wiki/Creator_Luni
The Corruption
NOTE: This article contains spoilers for several Lunime Games
The Corruption is the source of most of the conflicts in Gacha World and Gacha Resort.  A malevolent entity, the Corruption exists across the universes using minions and unwitting pawns to further its destructive aims.
Gacha World
The Corruption was first introduced in this game.  Each place the Gacha Summoner goes within the game has some form of conflict caused by the Corruption.  Many (but not all) of the generic enemies the player fights were released by the Corruption, and all bosses are characters who have fallen to the Corruption in one way or another. The main method used begins with the manifestation of the Blades of Corruption: twin swords that can act as a gateway between the current location and the Corruption's minions. The Blades serve a second purpose, allowing the Corruption to influence its target.  The target, once corrupted, will often have some aspect of their personality magnified to dangerous and destructive levels. Hallucinations and subtle persuasion reinforce the destructive behavior leaving the victim often unaware that they are corrupted.
Corrupted characters include:
In the case of Dream Goddess Yume, the Corruption allied with and/or augmented the god of nightmares, Akumu, allowing him to possess her. After losing control of Creator Luni, the Corruption physically manifests as a character labeled "Final Boss" (spoiler: it isn't) which the player must fight through chapters 1 through 4 of RNG World.  
After the fourth defeat, the Corruption possesses one last character for the final battle, converting Ellie into RNG Goddess Ellie for a special final battle.
Gacha Resort
The Corruption's methods here reflect its weakened state - primarily throwing generic enemies  to overwhelm others and making use of several agents. Fire Sadi, Wind Kakui, Water Pina, Light Roger, and their unnamed (as of Chapter 20) dark leader.
More info TBD.
Gacha Memories
TBD
Gacha League
TBD
Trivia
The Corruption's Final Boss form and his minions are based on the Phantom character in Anime Gacha Demonic Nightmare case.
Sours: https://lunime.fandom.com/wiki/Corruption
Art was drawn was Purorange, an artist for Lunime. Purorange's watermark is on the art but it cannot be seen because of the black backgroundWattpad adds onfor renders and PNG images.
"GIVE UP NOW!!!!!
DISTRACTION DISTRACTION!
DISTRACTION!!!!!!"
Sours: https://www.wattpad.com/314751416-gacha-world-the-guide-discontinued-last-chapter
Luni and corrupted Luni story (ngasal)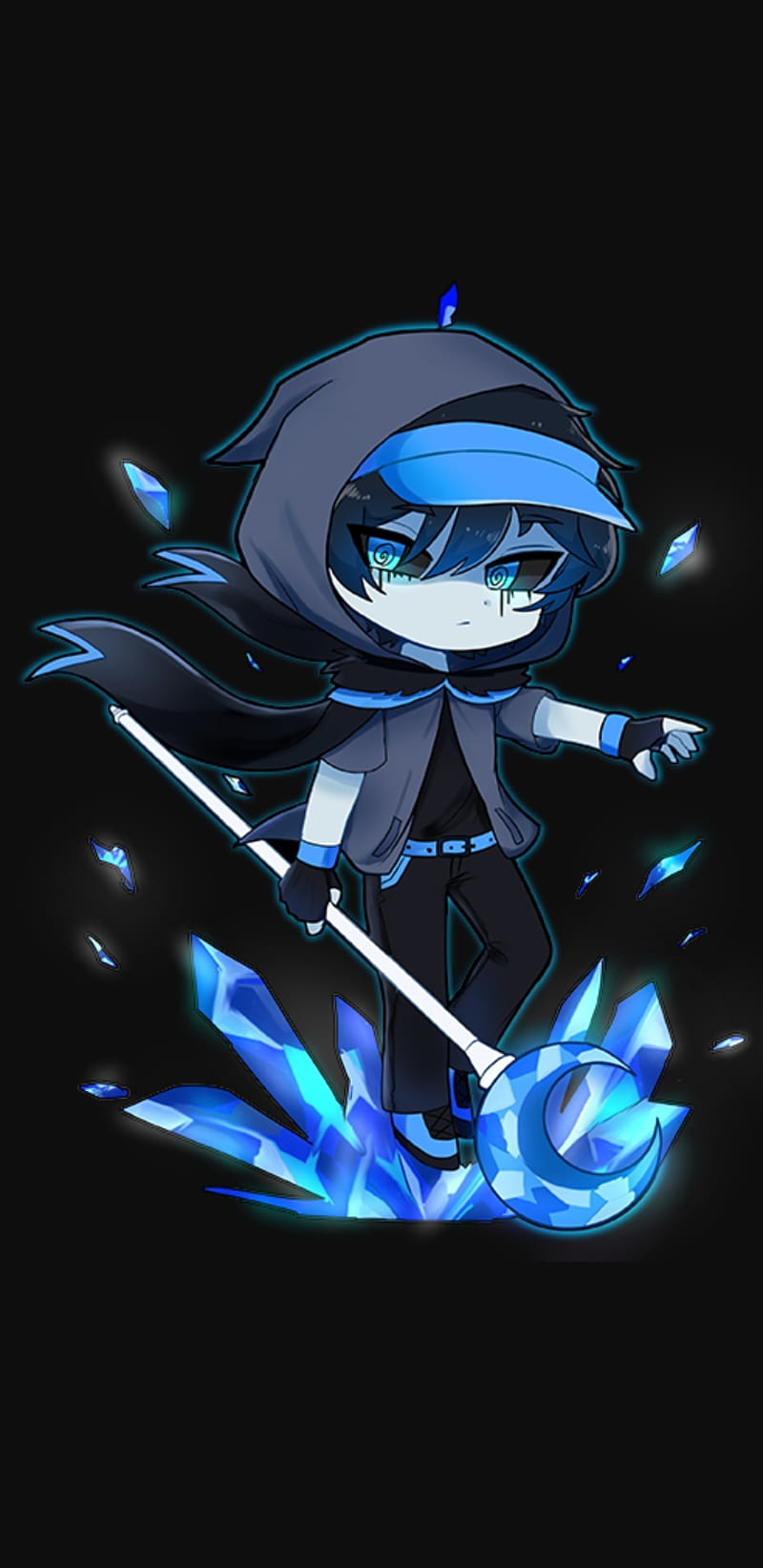 Tags:
Choose resolution & download this wallpaper
PC(720P, 1080P, 2K, 4K, 5K):
iMac:
iMac 21.5" LED-backlit:
1920x1080
iMac 21.5" Retina 4K:
4096x2304
iMac 27" Retina 5K:
5120x2880
MacBook:
MacBook Air 11.6":
1366x768
MacBook Air 13", MacBook Pro 15.4":
1440x900
MacBook Pro 13.3":
1280x800
MacBook Pro 15.4" Retina:
2880x1800
MacBook Pro 16":
3072x1920
MacBook Pro 17":
1920x1200
MacBook Pro 13.3" Retina, MacBook Air 13" Retina, MacBook Air 13.3"(2020, M1):
2560x1600
Dual monitor:
Triple monitor:
Quad monitor:
iPhone:
iPhone 2G, iPhone 3G, iPhone 3GS:
320x480

iPhone 4, iPhone 4s:
640x960

iPhone 5, iPhone 5s, iPhone 5c, iPhone SE:
640x1136

iPhone 6, iPhone 6s, iPhone 7, iPhone 8:
750x1334

iPhone 6 plus, iPhone 6s plus, iPhone 7 plus, iPhone 8 plus:
1242x2208

iPhone X, iPhone Xs, iPhone 11 Pro:
1125x2436

iPhone Xs Max, iPhone 11 Pro Max:
1242x2688

iPhone Xr, iPhone 11:
828x1792

iPhone 12 mini, iPhone 13 mini:
1080x2340

iPhone 12, iPhone 12 Pro, iPhone 13, iPhone 13 Pro:
1170x2532

iPhone 12 Pro Max, iPhone 13 Pro Max:
1284x2778

Android phone:
iPad & iPad mini:
iPad, iPad 2, iPad Mini:
768x1024, 1024x768

iPad 3, iPad 4, iPad Air, iPad Air 2, 2017 iPad, iPad Mini 2, iPad Mini 3, iPad Mini 4, 9.7" iPad Pro:
2048x1536, 1536x2048

10.5" iPad Pro:
2224x1668, 1668x2224

11" iPad Pro:
2388x1668, 1668x2388

12.9" iPad Pro:
2732x2048, 2048x2732

10.9" iPad Air:
2360x1640, 1640x2360

10.2" iPad:
2160x1620, 1620x2160

8.3" iPad mini:
2266x1488, 1488x2266

Android tablets:
Relevant HD wallpapers
gacha lifegacha clubfootball clubFortnite charactersFortnitesoccerfootballPrimera DivisionFortnite Battle RoyaleDoki Doki Literature ClubCorrupted Voyager SkinCorrupted Voyager FortniteMexicoAnime
1080x2044px

1920x1080px

1920x1080px

3840x2160px

1080x2044px

3840x2160px

720x1280px

3840x2160px

2048x1772px

3500x3500px

720x1280px

6243x3508px

720x1280px

1348x1409px

1080x2340px

2880x1800px

2000x2829px

1080x2044px

3840x2400px

3840x2400px

3840x2400px

1080x2044px

2880x1800px

3840x2400px

3301x4670px

1132x2048px

1920x1365px

3840x2160px

3840x2400px

3840x2160px

1161x1380px

2560x1600px

3840x2400px

3840x2160px

738x1309px

720x1280px

2672x4768px

2560x1600px

4500x2536px

3840x2400px

2560x1600px

1195x1655px

1920x1080px

3840x2400px

1920x1080px

1920x1080px

1920x1080px

720x1304px

737x1311px

1920x1080px

992x2270px

1920x1080px

2395x3500px

1440x1280px

1500x2250px

1920x1080px

1920x1080px

1920x1080px

1920x1200px

1920x1080px

720x1280px

3840x2400px

1920x1080px

1920x1080px

1181x1748px

1191x1684px

3840x2400px

2880x1800px

1684x1684px

1024x1450px
Sours: https://www.peakpx.com/en/hd-wallpaper-desktop-fakzs
Luni corrupted
Gacha Club Character List
Corrupted Units
Usalina
Ramunade
Corrupted Luni
Ramunade
Cor. Ramunade
Ramunade
Corrupted Bex
TeaCaku
Cor. TeaCaku
TeaCaku
Chaotic OwO
TeaCaku
Corrupted Kiwi
CakuPop
Cor. Fierin
Manami Lin
Cor. Manami Lin
Manami Lin
Vileblood Ryan
Manami Lin
Corrupted Buns
Senpaibuns
Cor. Male Buns
Senpaibuns
Corrupted Radd
Radd
Corrupted Cry
Crydiaa
Corrupted Lilli
Monet Lilli
Corrupted Daisy
Purorange
Corrupted Ichi
Purorange
Cor. Kurakaze
1chi
Cor. Nekomuu
Nekomuu
Corrupted Emiko
Emiko
Corrupted Carma
Carma12100
Corrupted Momo
SenpaiArtz
m o
Moemura
Corrupted Klau
FlashyKlau
Corrupted Ngoc
ryna_kat
Corrupted Kat
Kat
True Mort
Mort
Coming Soon
Unknown
Coming Soon
Unknown
Coming Soon
Unknown
Cor. Male Cry
Crydiaa
Kye
SICKMETER
Coming Soon
Unknown
Coming Soon
Unknown
Coming Soon
Unknown
Dictator Hatsya
Shining Hatsya
Sours: https://lunime.com/gachaclub/characters/
Epi 3 (corrupted luni
.
You will also like:
.
193
194
195
196
197