Something to consider when purchasing a gown off the rack or choosing a size to order from a commercial designer: how drastically can gowns be altered to be a totally different size?
What do you do if your dress is too big?
Taking a gown one to two sizes down is pretty common, and should still keep the integrity of the original design fairly easily. Of course, the closer to your actual size the better; you'll save money in alterations, and the gown will look best when it is closest to how it was designed. But if you have fallen in love with a sample gown multiple sizes too large, a talented tailor can often work wonders to reshape the dress. Do keep in mind the time spent to do so will be extensive and therefore expensive, and it may not be possible to keep specific details of the gown. If you're saving a significant amount on the sample gown, and love the fabric and the bones of the dress, this can be worth it, but generally it is not advised.
Most people won't fit the standard measurements of any gown perfectly, and it is easier to take in than let out, so always go with the larger size if you find yourself split between two. Though there may be some exceptions—if your hips fall into a larger size than your bust and waist fall into, but the gown is cut far away from the hips, it may be best to size the gown to the bodice measurements. Always consult with your stylist when ordering as they will generally have more familiarity with the fit of the gown.
Many brides plan to lose weight or get more in shape for their wedding day, but this is very difficult to account for when ordering a gown. You of course know your body and your habits best, so if you feel confident you will fit a certain size in six months that is your decision to order for the expected size. However, it's often very difficult to know where the weight loss or sizing will occur—it's often not where a bride is expecting it from! Most brides will lose some weight during the process whether they are trying to or not, due to the stress, but it's generally an amount that can be accounted for in alterations. **If you are pregnant or will recently have had a baby before the wedding, consult with your stylist and tailor for sizing concerns before ordering.**
What do you do if your dress is too small?
This is a trickier problem, but not necessarily impossible to deal with. Some dresses will have extra seam allowance and can comfortably be let out a size without any structural changes. Much more than that and your tailor has to get creative. Almost nothing is impossible, but expect to pay for the extensive time it will need, and be open to some design changes. We have lowered the backs of gowns, opened armholes, installed corset backs, and made discreet side panels for many brides, and would be happy to discuss options with you if this is your situation.
Sours: https://www.ettetailor.com/ette-blog/how-many-sizes-can-wedding-dress-be-altered
How to Sell Your Wedding Dress for Cash (and 9 Places to Do So)

When I was planning my wedding, I wanted to find the perfect dress.
Going from bridal boutique to bridal boutique, I tried on countless options until I finally found it.
But since the wedding, my dress has been sitting in my closet gathering dust. One day, I realized that I could probably try to sell it and recoup some of the cost.
Where exactly can you sell a wedding dress? At first, I thought I was limited to Craigslist or Facebook. But as I looked into it, I learned that there are several different options — both online and locally — for selling wedding dresses.
Your best bet is to go with a niche-specific site that focuses on selling and reselling wedding-related items, including wedding dresses. These sites are targeted at brides who are specifically looking for a secondhand wedding dress.
Listing your items on those websites will get it in front of an audience that is primed and ready to buy your dress.
The Top Sites to Sell Your Wedding Dress Online
If you're looking to make some money by selling your wedding dress, check out the websites below. Many of them are specifically targeted toward brides looking to buy secondhand wedding-related items and save cash.
Some of these websites also offer wedding dress consignment options if that's something you're considering.
1. Stillwhite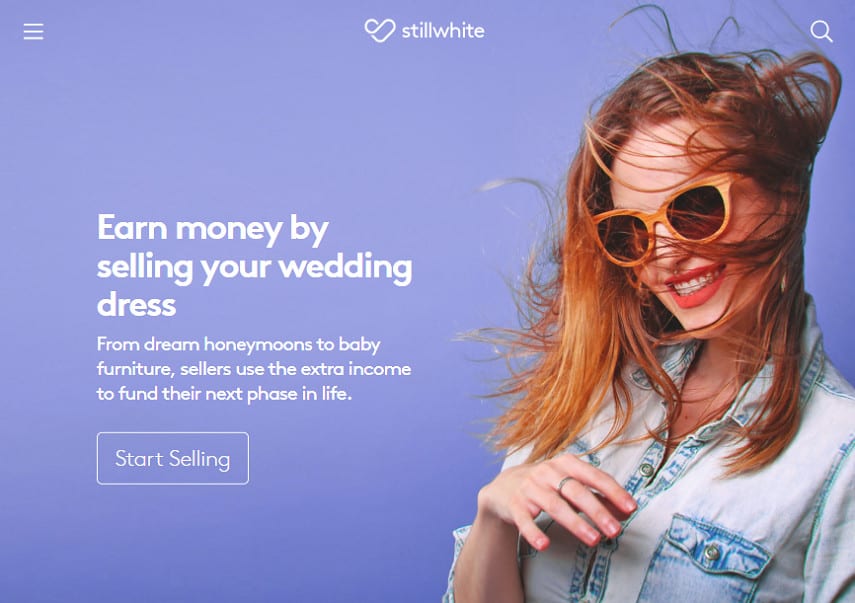 Listing Fee: $20 fee per dress that includes four photos and is listed until sold, or $30 for a premium listing that includes eight photos and a homepage gallery.
Commission: No commission
Shipping Cost: Variable (buyers pay for postage)
Stillwhite bills itself as the world's largest pre-owned wedding dress marketplace with an easy-to-use website for both sellers and buyers.
According to its site, it has 52,000 dresses for sale. Use the Stillwhite valuator to see how much you can sell your dress for.
Under the standard option, you'll pay a one-time fee of $20 to list your dress. You'll pay no commission on the sale, your dress will be listed until it's sold, and you can upload up to four photos.
The premium listing option comes with a $30 one-time fee, a homepage gallery feature, larger photo in search, and up to eight photos.
You can sell your dress online or meet with the buyer in person so they can try it on.
Related: 18 Best Selling Apps to Sell Stuff Locally and Online
2. Tradesy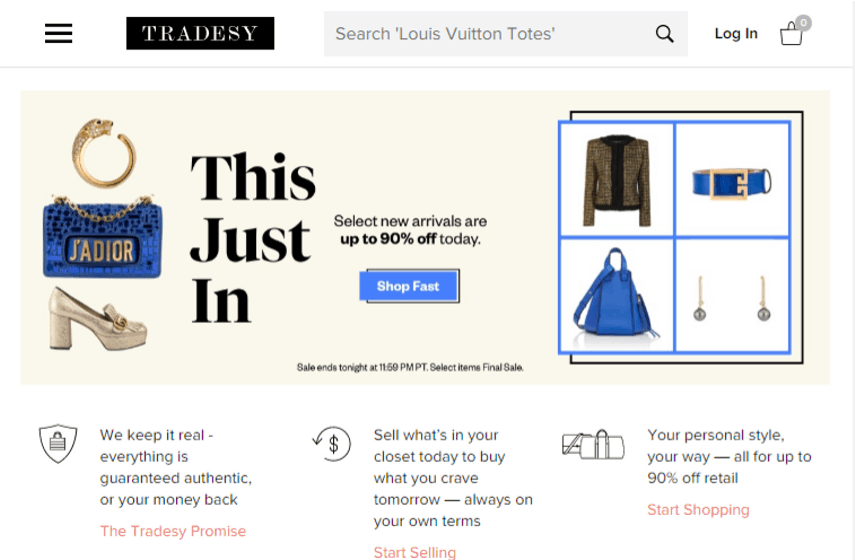 Listing Fee: No listing fee
Commission: 19.8% on sales over $50
Shipping Cost: Variable
Tradesy is an online marketplace for designer clothing and accessories, including wedding dresses. Creating a listing is simple, and you can set your own price. If you want to sell your wedding dress on the site, it needs to be in excellent condition.
You can also sell veils, bridal jewelry, shoes, bridesmaid dresses, and wedding decorations through Tradesy.
Tradesy guides you through every step of the listing process. You'll also get suggestions to improve your listings so you can sell your dress quickly. As an added bonus, all uploaded photos will be automatically enhanced by Tradesy to make your listing stand out.
For wedding dresses, once your item sells, you can print a prepaid label and ship using your own materials. If the buyer returns your item due to something that's not your fault, Tradesy will handle it, and you get to keep your earnings.
There are no upfront selling fees, but you will owe a 19.8% commission fee on items sold for more than $50.
Related: 34 Places to Sell Your Shoes Online for Cash
3. Poshmark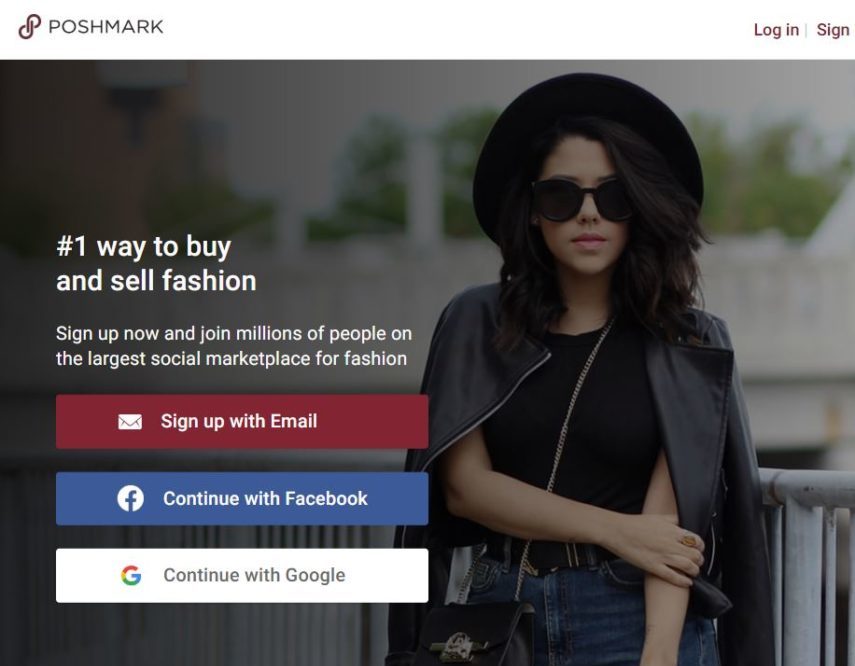 Listing Fee: No listing fee
Commission: 20% flat commission fee
Shipping Cost: Variable
Poshmark is another app and website where you can sell your used clothes. It mostly focuses on mall and designer brands but isn't as picky as Tradesy.
It's easy to create a listing with the app. Just take a few photos with your phone, and upload them in less than a minute.
The app makes it easy to share your listings for shoppers to discover. It offers custom filters and has a large selection of bridesmaid and wedding dresses. You can communicate with potential buyers within the app, making it easier to keep everything in one place.
Once your dress sells, print the prepaid and pre-addressed label and either drop it in a mailbox or schedule a free pick-up. You'll have to pay a 20% commission fee when you sell your wedding dress on Poshmark.
4. Nearly Newlywed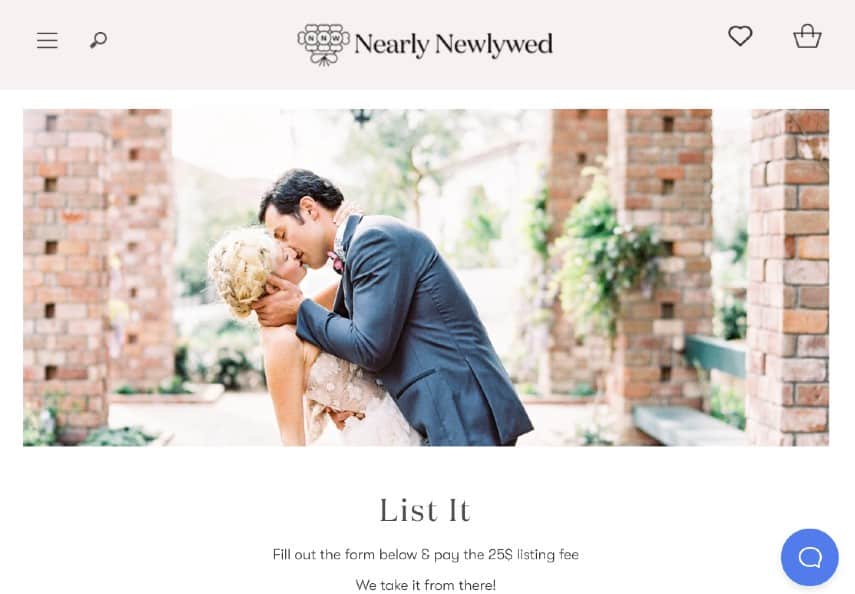 Listing Fee: $25
Commission: 40%
Shipping Cost: Variable (pre-paid label provided for dresses sold above $500, but shipping is seller's responsibility when dresses are sold for less than $500)
If you're looking for an option that will make the selling process hassle-free and don't mind paying a higher commission rate, check out Nearly Newlywed. The listing process is quick and easy. Simply submit some information and photos of your wedding dress.
It may take between 24 and 48 hours for Nearly Newlywed to approve the listing. Once it's listed, the site will answer buyer questions and handle payments, shipping, and insurance.
When your dress sells, you'll receive a prepaid shipping label to send the gown to Nearly Newlywed for inspection and to verify its condition.
Unlike other sites, Nearly Newlywed charges both a $25 listing fee and a 40% commission. It says most wedding gown sales finalize within 60 to 120 days.
Related: 13 Best Places to Sell Your Jewelry Online
5. Once Wed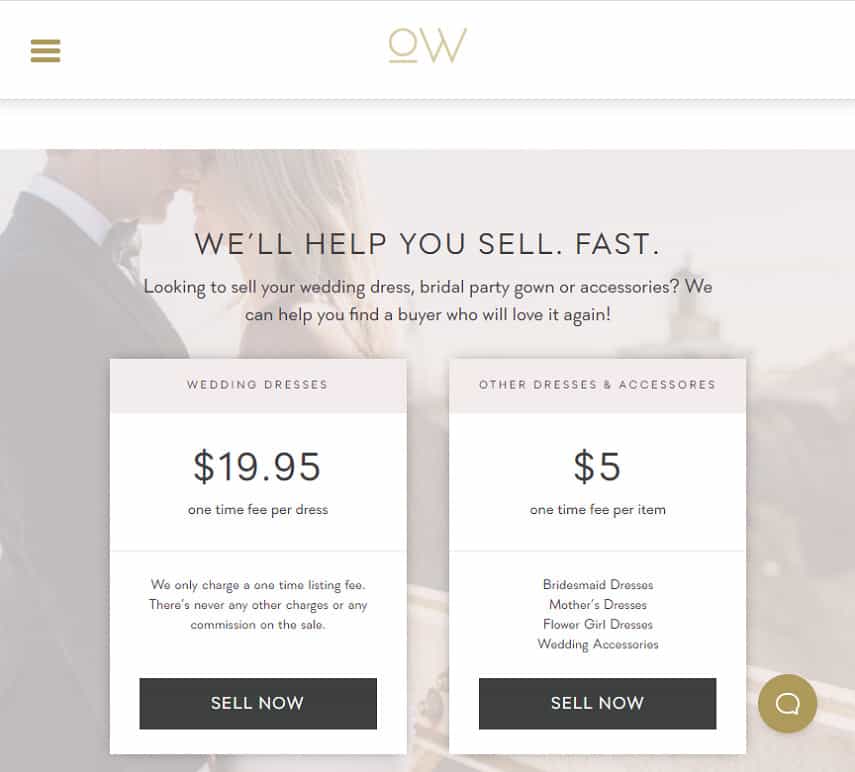 Listing Fee: $19.95 per dress
Commission: No commission
Shipping Cost: Variable
Once Wed is an online wedding resource that helps future brides find inspiration and tools to plan their dream wedding. It's also an online marketplace for secondhand wedding dresses.
With more than ten years in the business, this site is a great option for selling your wedding dress. There's a listing fee of $19.95 per dress but no commission fees. Your listing is valid for one year.
The site offers seller privacy and protection along with customer service with email support to help you resolve any problems.
Related:15 Best Places to Buy Discount Shoes Online
6. PreOwnedWeddingDresses.com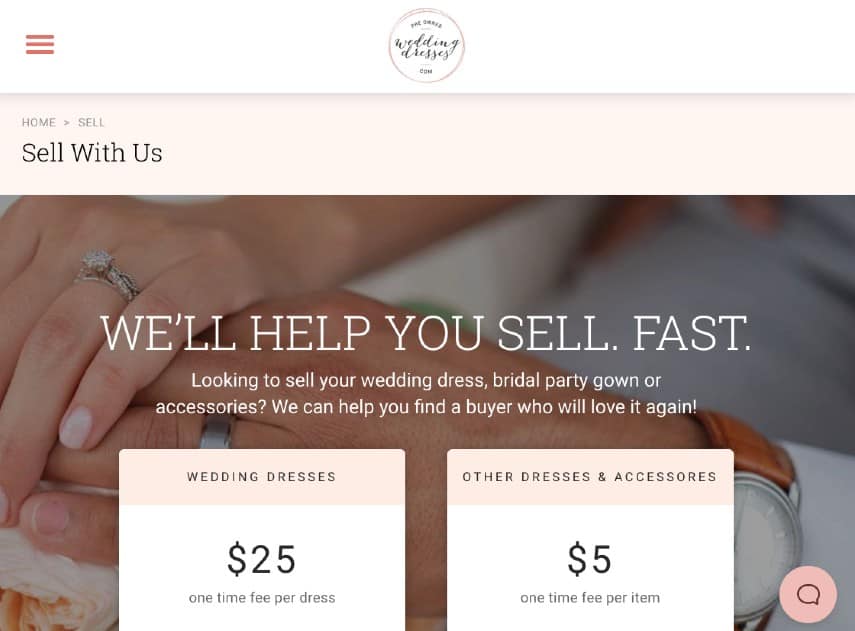 Listing Fee: $25
Commission: No commission
Shipping Cost: Variable
PreOwned Wedding Dresses has been in business since 2004. This site connects buyers and sellers of new, sample, and used wedding dresses and bridal party gowns.
There's a one-time listing fee of $25, but no commission fees. The site also claims that the average dress sells within 70 days, higher than what other sites claim. It also has a handy wedding dress value calculator that will help you determine the best listing price.
7. Wore It Once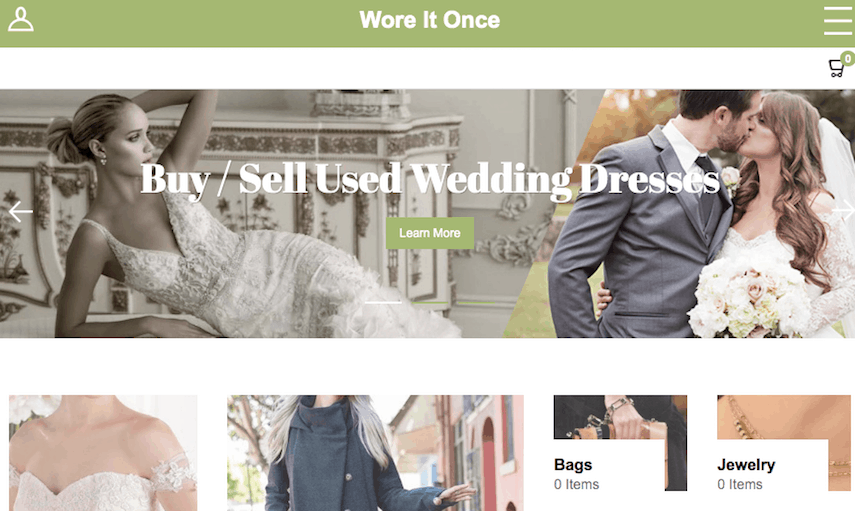 Listing Fee: $20
Commission: No commission
Shipping Cost: Variable
Wore It Once is a platform that connects buyers and sellers of used wedding dresses, gowns, jewelry, shoes, and other clothing items. You can sell your wedding dress by setting up your own custom shop where you can list other wedding-related items as well.
When listing your dress, you'll need to fill out a form with details including size, color, and style. Then you'll write a custom description for your dress and decide on a listing price.
There's a one-time setup fee of $20, and there's currently no commission on the sale of any of your items. Your listings never expire and you set your own prices. There is also no limit on the number of products in your shop, so you can list and sell all of your used wedding items at once.
8. Wedding Bee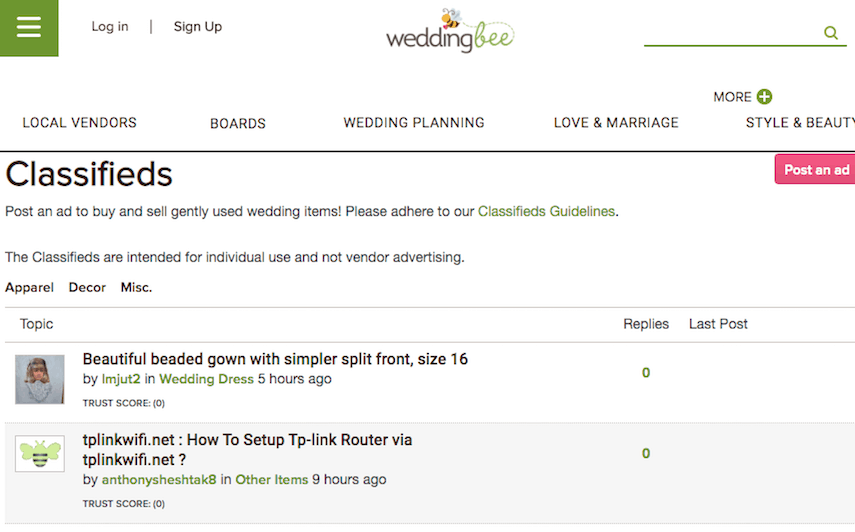 Listing Fee: No listing fee
Commission: No commission
Shipping Cost: Variable
Wedding Bee is a website and an online community focused on providing advice, tips, and tricks to real couples planning their weddings. You can find information on topics such as DIY wedding projects, day-of tips, as well as dream wedding inspiration.
But most importantly, the site also features a classifieds section where you can sell your wedding dress.
It's free to list your wedding dress on Wedding Bee, but you can purchase a featured ad. You set your own price, communicate with interested buyers, and are responsible for shipping the dress. You can also list other wedding-related items such as shoes, accessories, decorations, and more.
9. Sell My Wedding Dress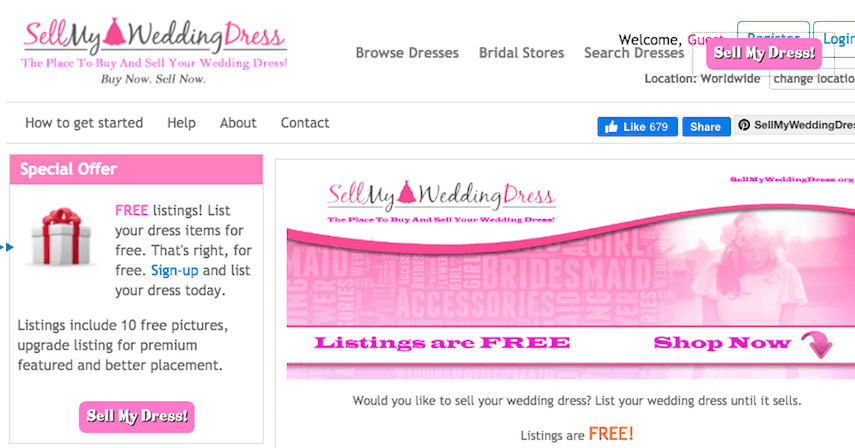 Listing Fee: $19.99 for a basic listing; $29.99 for premium listing
Commission: No commission
Shipping Cost: Variable
Another option to sell your wedding dress is the aptly-named website Sell My Wedding Dress. There are two options for listing your dress: a basic listing, which costs $19.99, and a premium one that starts at $29.99, which includes a featured listing and better placement for your ad.
The site does not charge any commission fees, and there are no hidden costs. Your listing will stay up until your dress sells.
To list your dress, you'll need to fill out some standard information such as the size, color, and style of your dress. You'll also need to write a description and decide on a listing price.
Where to Sell Your Wedding Dress Locally
If you're looking to sell your wedding dress locally, there are a few options. Your best bet if you're looking to stay close to home are local wedding dress consignment shops.
Craigslist
Craigslist lets you sell anything from furniture to children's toys. It also has a section for selling wedding-related items such as wedding gowns.
While this may not be the best place to sell your wedding dress, it also means you don't have to ship the dress or pay a listing fee. Selling a wedding dress through Craigslist may take longer, and it may be harder to find qualified buyers.
Creating a listing is free, but you should take time to write a great listing for your dress and decide on a fair price.
Many Craigslist buyers try to haggle, so set your price with a little wiggle room. Take the time to add detailed photos, especially if there are any problems with the dress.
Related: How to Sell on Craigslist (And 6 Tips for Success)
Facebook Buy and Sell Groups
Another local option to sell your wedding dress is on Facebook Buy and Sell groups or through the Facebook Marketplace.
These groups will sell almost anything, so you won't be marketing to brides only. The upside is that the buyers are local, so you don't have to worry about shipping your dress.
Include lots of photos, a good description, and a competitive price when listing your dress. You may have to negotiate on the final price, so leave some bargaining room.
It'll probably take you longer to sell your dress via Facebook, but there are no fees to create a listing.
Related: How to Make Money on Facebook: 5 Easy Strategies
Local Wedding Consignment Shops
If you want to sell your wedding dress locally, the best option is a wedding dress consignment shop.
Since these shops specifically focus on selling wedding-related items like wedding gowns, accessories, and shoes, this is your best chance for getting your dress in front of local buyers looking specifically for a wedding dress.
One of the big downsides of local wedding dress consignment shops is that they charge fairly steep fees for helping you sell your wedding dress, similar to some sites on this list.
Many shops charge a commission rate in the range of 40% to 60% of the final sale price of the dress.
Related: How to Start an Online Thrift Store or Consignment Shop
Tips for Selling Your Used Wedding Dress Online
When looking to sell your wedding dress, there are a few factors to consider. First of all, make sure your dress is in good condition without any tears, stains, or other damage. Since you've likely only worn the dress once, it's probably still in good condition.
Also, keep in mind that photos sell. The more photos you can include from all different angles, the better.
You can include both photos of you in the dress and the dress on a hanger, but make sure to show any important details such as beadwork or a special lace design up close.
Provide all relevant information such as size, exact color (ivory, off-white, etc.), petticoats, and so on. If the dress was altered in any way, try to describe the alterations with as much detail as possible.
How Much Can I Sell My Used Wedding Dress For?
How much you can sell your used wedding dress for depends on a number of factors.
As a general rule of thumb, a used wedding dress in great condition and under two years old can usually sell for 50% of the retail price. If your dress is a designer brand such as Vera Wang, you can get closer to 60% of the retail value.
There are calculators that can estimate how much you can get for your wedding dress. Enter some general information such as your dress's brand, condition, size, etc. and you can get an estimate for the value of your gown.
Here are a few calculators to help you determine the best price to sell your wedding dress:
How Long Will It Take to Sell My Wedding Dress?
The time it will take to sell your wedding dress depends on various factors including the brand, style, size, and condition. Also, keep in mind that the popularity of the marketplace or store you select to use for your listing will play a role in how much traffic your dress gets and how quickly it sells.
On average, expect your dress to sell within 60 to 90 days of listing provided it's a popular brand and style, in excellent condition, and no more than a couple of years old. Dresses that are an older style, not in good condition, or are a lower-demand size may take longer to sell.
Author
Sours: https://dollarsprout.com/sell-wedding-dress/
Buy and Sell New and Preowned Wedding Items
BravoBride is the only exclusive bridal online marketplace where you can list wedding items, accessories, decorations and more for free.
It's only $9.95 to list a wedding dress (Less than half of what other sites charge).
No Sales Commissions
Fraud Protection
Items Remain Listed Until Sold
View all Featured Items
No Sales Commissions
Fraud Protection
Items Remain Listed Until Sold
Sell in 3 Easy Steps
Sign up for an account
It takes less than a minute
List your items
Bridal Gowns are $9.95, all other items are free to list
Sell your items and get paid
We never take a sales commission and there's no extra Fees!
Sours: https://www.bravobride.com/
Owner of Kleinfeld Gifts Hero Bride a Wedding Dress! - Say Yes to the Dress
10 Sites with Secondhand Wedding Dresses for the Sustainable Bride
Your wedding dress is one of the most special outfits you'll wear in your life, but that doesn't mean you want to give up a significant portion of your savings for a gown you'll wear once — this is why secondhand wedding dresses are a perfect choice.
You can find gorgeous dresses made with exceptional quality (even big-name designer dresses) at a fraction of the price when shopping pre-owned from one of these resale marketplaces. Plus, you can also decide to resell your wedding dress afterward to the same marketplace to make back a portion of the money you spent.
Not to mention this circular approach to buying and reselling dresses is far more sustainable as well. Investing in a pre-loved wedding dress is a more sustainable, conscious, and affordable option for your upcoming wedding and these websites have incredible selections — including options from many top wedding dress designers — so that you can find your dream wedding dress.
[Check out this guide for eco and ethical brands with wedding dresses!]
Note that this guide includes partners and affiliates. As always, brands featured on Conscious Life & Style meet high standards for sustainability and are brands I truly love!
1. Nearly Newlywed
Nearly Newlywed offers preowned wedding dresses for brides looking for beautiful, high-quality gowns — who don't want to fork over a ridiculous amount of money! In fact, the founder of Nearly Newlywed created the company partially with the money she earned from selling her wedding dress after discovering the world of pre-owned wedding dresses for her own wedding!
All dresses on Nearly Newlywed have been verified for their condition and authenticity and the company offers returns for $50 on wedding dresses within 5 days of receipt of your dress. While not ideal, having a return policy at all is unique for secondhand dresses.
Designers Include: Elie Saab, Carolina Herrera, Marchesa, Vera Wang
Price Range: $200 – $10,000
Size Range: 0 – 14+
Explore Nearly Newlywed
2. Tradesy
Tradesy is a huge online luxury fashion resale mecca for shopping all things pre-owned — including secondhand wedding dresses. In fact, at the time of writing, Tradesy as over 20,000 pre-loved wedding dresses. To help you sort through their deep inventory, Tradesy has numerous filters including size, designer, price, condition, material, year purchased, and even aesthetic, from retro to modern and modest to sexy.
Designers Include: Monique Lhuillier, Oscar de la Renta, Zuhair Murad
Price Range: $25 – $15,000
Size Range: 00 – 28 (XXS – 3XL); Also has petite sizes
Explore Tradesy's Wedding Dresses
3. The RealReal
The RealReal is a luxury fashion resale marketplace with a highly curated collection of pre-worn designer wedding dresses from high-in-demand designers. While the curation on The RealReal is not as extensive as some of the other options on this list, each dress has been thoroughly vetted and authenticated.
Designers Include: Monique Lhuillier, Oscar de la Renta, Vera Wang
Price Range: $100 – $2,500
Size Range: XXS – XXL
Explore TheRealReal's Bridal Collection
4. Etsy Vintage
Everyone's favorite resource for handmade and vintage small-batch goods also has pre-loved wedding dresses! While not always easy to sort through, there are some seriously amazing gems to be found in Etsy's vintage wedding dress collection, including Gatsby-style 1920s frocks and 1950's lace and tulle gowns.
Designers Include: Badgley Mischka,Oscar de la Renta
Price Range: $20 – $8,000+
Size Range: XXS – 3XL
Explore Etsy's Vintage Wedding Dresses
5. LVD Bridal
Discover your dream dress — at a discount — on LVD Bridal with their collection of new and like-new pre-loved wedding gowns. As this is a secondhand wedding dress guide, you'll probably want to select either the "like new", "great", or "altered" condition on this page.
What sets LVD Bridal apart is the option to schedule your own virtual styling session with one of the brand's expert stylists to help you find the right dress for your style and budget. Unworn dresses can be returned in their original packaging free of charge within 14 days of receipt as long as they are not purchased as part of a flash sale.
And, so that you can get the most bang from your buck, LVD Bridal also allows brides to consign their consigned dress again!
Designers Include: Jenny Packham, Jenny Yoo, Lela Rose, Pronovias
Price Range: $400 – $4,500
Size Range: 00 – 22 (LVD also includes the sizes that each dress can be altered to!)
Explore LVD Bridal
6. Borrowing Magnolia
With thousands of dresses to choose from, Borrowing Magnolia is a must-check-out destination for finding a secondhand gown (for up to 80% off the original retail price!) to wear on your special day. The secondhand wedding dress listing service offers a communication tool to communicate directly with the seller but is not involved with the sale (or return policy) of any items, though there is a Borrowing Magnolia PayPal integration that dress sellers can use to ensure secure payments.
If you'd like to sell your dress back, you can choose to list it back up on Borrowing Magnolia for just a $25 flat fee, though you will have to pay for shipping (and shipping insurance if you choose).
Designers Include: BHLDN,Essense of Australia, Justin Alexander
Price Range: $100 – $1800
Size Range: 0 – 20
Explore Borrowing Magnolia
7. Bride2Bride
Bride2Bride is a peer-to-peer marketplace for brides and brides-to-be to buy and sell vintage and secondhand wedding dresses. To find a dress on this large marketplace, you can use filters like price, designer, size, condition, length neckline, fabric, and even wedding theme.
Designers Include: Allure Bridal, David's Bridal, Mon Cheri
Price Range: $100 – $8,000
Size Range: 00 – 30
Explore Bride2Bride
8. Stillwhite
Stillwhite is the largest online wedding dress marketplace in the world with over 50,000 dresses available at the time of publishing. The platform has something for everyone with their range of designers, prices, and styles with filters like silhouette, neckline, and sleeve length to help you find what you're looking for.
As a sustainable alternative to purchasing a brand new dress, Stillwhite calculated that the buyers and sellers on the platform have helped saved more than 200,000 kg of CO2 and 180 million liters of water by shopping secondhand instead of purchasing a new dress.
Designers Include: Berta, BHLDN, Made with Love, Maggie Sottero
Price Range: €40 – €15,000+
Size Range: 0 – 30+
Explore Stillwhite
9. Preowned Wedding Dresses
Another large online marketplace for all things bridal is PreownedWeddingDresses.com. Secondhand wedding dress shoppers can sort by size, designer, type, as well as city if they'd like to try on the dress before making an investment. The platform also sells used bridal party gowns and accessories like veils.
Designers Include: Carolina Herrera,Essense of Australia, Jenny Yoo, Monique Lhuillier, Watters
Price Range: $50 – 15,000
Size Range: 00 – 36
Explore Preowned Wedding Dresses
10. Poshmark
Poshmark is a peer-to-peer resale marketplace with listings in every category — including bridal gowns. The secondhand site has a diverse selection of dresses, from $20 pieces from Lulu's to luxury gowns from designers like Oscar de la Renta.
Designers Include: Berta Bridal, Carolina Herrera, Monique Lhuillier, Reem Acra
Price Range: $20 – $15,000+
Size Range: 00 – 32 (XXS – 5XL); has petite sizes
Explore Poshmark's Secondhand Wedding Dresses
Pin this post to reference it later:
You May Also Want to Check Out:
7 Actually Ethical Lab-Grown Diamond Engagement Rings
Brands with Ethical Special Occasion Dresses
9 Brands with Ethical and Eco-Friendly Wedding Dress
Sours: https://www.consciouslifeandstyle.com/secondhand-wedding-dresses/
Size dress 8 wedding used
You've heard the saying, "something old, something new, something borrowed and something blue," right? While most brides turn to an heirloom like a handkerchief or jewelry to qualify as something old, more and more brides are following through with a commitment to fashion sustainability and budget friendliness by turning to used wedding dresses. It's not only eco-friendly and economical (you can often find a dress for 25%-60% off retail), but it also counts as your something old. It's pretty much a win-win. 
Whether you're looking for a dress with vintage glam, or a more modern, trendy silhouette – there are literally hundreds of thousands of used wedding gowns out there for you to shop from. You just need to know what to look for, to trust the process, and to find the right source.
What to Know About Buying Used Wedding Dresses
Finding a wedding dress is such a personal process, and it can take time. The same goes for buying a second hand or "used" dress, too. Go into the process knowing that it may take some time and patience before you find "the one" is important. Rest assured knowing the perfect dress for you is out there – it just may take a little digging.
WGM Says: Before you start shopping, create a Google Sheet or Excel spreadsheet that allows you to keep track of dresses you like. Include the designer, style number or name, price, size, and link as well as any shipping costs.
Where to Look for Used Wedding Dresses
The beauty of purchasing a second hand wedding dress is that the world is your oyster. You can find a plethora of online shops and services (we'll include our favorites below!) but most areas also may have local second-hand wedding shops so you can see, feel and try on the dress in person.
WE THINK YOU'LL ALSO LIKE:How to Find the Perfect Winter Wedding Dress
Also, it may sound strange at first but hear us out – social media is your friend! Facebook Marketplace has a plethora of options being resold by the bride themselves, and they'll often show photos of them on their wedding day to help you envision how it could work for you, and if you'd like the dress overall. Also – if you've seen a friend or acquaintance who recently got married and you just can't stop thinking about their gown – don't be shy! Why not ask them if they'd be open to selling it to you second hand? They'll feel flattered, and just might appreciate being able to make a few bucks back (plus freeing up some storage space!)
Before you buy a used wedding dress, make sure you're doing it safely with these tips:
If you're meeting in person to see the dress, do it in a public place. Meeting somebody at home? Make sure you bring a friend.
Avoid giving your personal information, such as your full name, address, and even phone number.
Reputable websites typically offer payment options that have buyer protection. However, if you're purchasing a dress independently you won't necessarily have that. If that's the case make sure you inspect the dress thoroughly in person before purchasing it.
Now that we've covered those basics, here are some of our favorite online shops for used wedding dresses:
PreOwnedWeddingDresses.com
Serving new brides and brides-to-be for over 17 years, Pre Owned Wedding Dresses makes both buying and selling wedding dresses safe, and simple. Their site has an easy to navigate search feature that offers ample filters to let you pick the perfect criteria, and listing dresses for resale is super easy, too. Their website states, "If you loved it, chances are someone else will too!" but that also gives you the opportunity to re-resell your dress, should you choose to. On each listing look for information such as size and what alterations were done. You'll also want to note the shipping cost and location.
Nearly Newlywed
Nearly Newlywed offers a white-glove concierge service to all brides-to-be, and offer a comforting risk-free 5 day return policy on all items including new and used wedding dresses, for just a $50 return fee. And, to be sure the gown you receive looks how it says it will, each gown has to pass their inspection team's review prior to shipping it out.
WGM Says: I would give dresses with pictures of the seller actually wearing it more clout than listings with photos taken from other sites. It's not to say that listings with photos of a model wearing the dress aren't real, I just have to question why a bride wouldn't include a real-life photo of the wedding dress. If it's because the seller doesn't want to share a personal wedding photo online for everybody to see, ask if she has one she can e-mail you. Better yet, see if the seller will FaceTime with you and show you the dress.
Still White
Still White has over 18,400 positive reviews and has sold over $48 million in wedding gowns. They enable you to chat with the seller directly through a secure messaging platform that keeps personal details private. Currently, there are over 52,000 dresses to browse, so the odds of finding the perfect gently-used wedding gown for you are certainly in your favor. Purchases are done via PayPal, so you'll have Buyer Protection up to $20,000 if your dress arrives damaged or significantly different than the description provided by the seller.
Poshmark
One of the most popular sites for reselling, Poshmark can be a great jumping off point to begin your dress search. You can negotiate with the sellers, ask for more photos, and Poshmark also offers buyer protection.
What to Look For in a Used Wedding Dress
If you've fallen in love with a pre-owned gown, there are still a few things to check (and double check!) for prior to purchasing. First, you'll want to know the alterations history and make sure that it can still be modified to fit your body during fittings. Check to see if extra fabric, beading, rhinestones, etc. will be provided. Also, inspect for any damage, rips, holes, stains, or other flaws (including smells – yuck!) you want to avoid.
As far as sizing goes, try to shop for dresses within your size range, or above. It's relatively easy to make a dress smaller and to conform it to your body. However, making a dress larger, adding fabric or taking out seams can be a bit more complicated – so try to avoid that.
It's always a good idea to take photos of the dress to your preferred seamstress or tailor as well. That way you can make sure they are confident working with it. You'll also want to try and get an estimate of how much alterations will cost. While you may be saving on the price of the dress, having to do $700 worth of alterations may end up costing you more.
Regardless of where you choose to shop for your pre-owned or second hand wedding gown, rest assured that if you shop smart and take your time, you can definitely still end up with the dress of your dreams.

While we only link to products and services we think you will love, some of the links on our site are monetized. If you click on the link and make a purchase we may receive a commission, which helps us keep bringing great content to you! All opinions are our own.

Listen to the Woman Getting Married Podcast
Sours: https://www.womangettingmarried.com/best-used-wedding-dresses/
I Bought WEDDING DRESS Returns for CHEAP
Affordable wedding dresses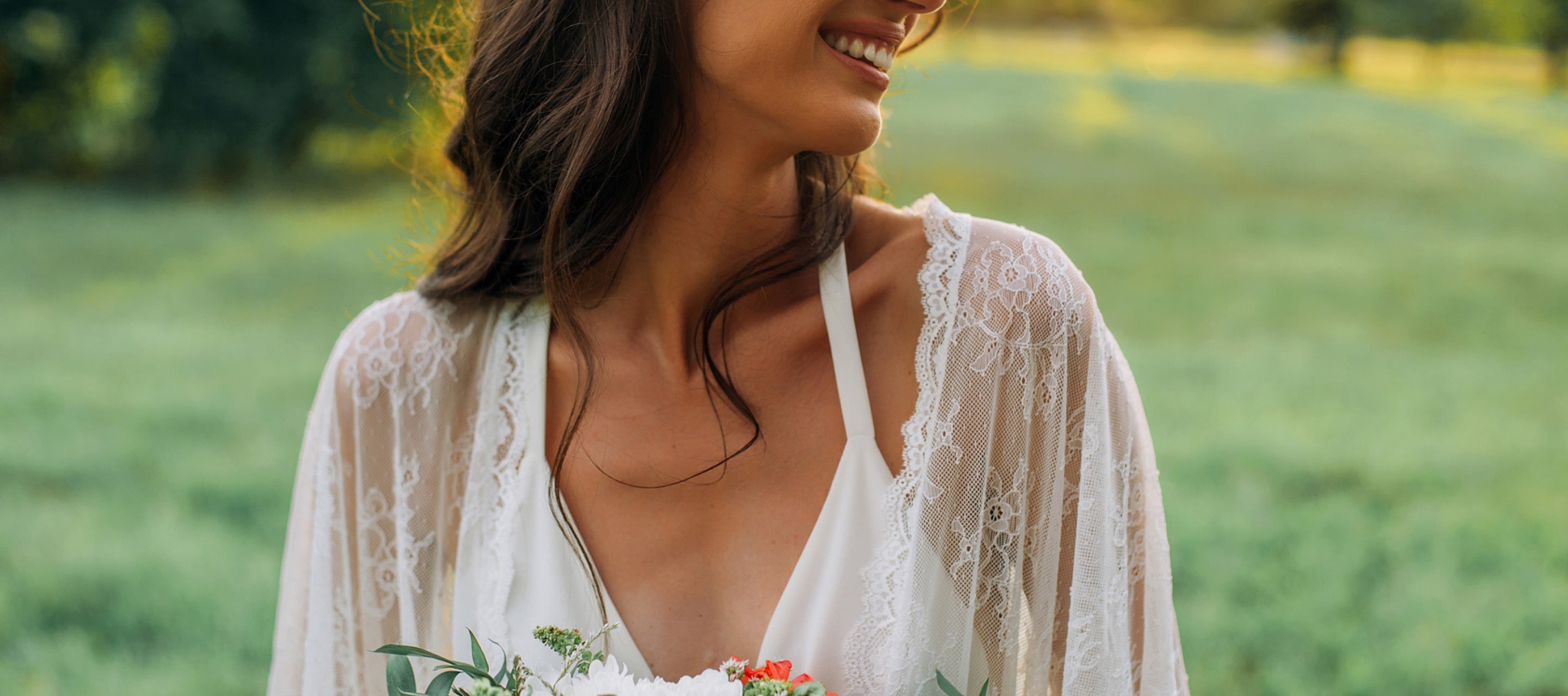 How the Modern Bride Does the Dress
Before and after the big day
DISCOVER YOUR DREAM WEDDING DRESS
Shop thousands of wedding dresses—all up to 80% off the original retail price.
This month only, take $10 off of your listing fee. Sell your dress for only $15!
Buying and selling
Safe and easy
Easily communicate with dress owners
Connect and chat securely with dress owners using our safe, online messaging system.
Safe payment options direct to dress owner
Send payment directly to a dress owner using safe, recommended payment options.
Dress collections
Shop our hand-selected collections of new, gently used, and sample wedding gowns from size 00 - 20.
Selling your wedding dress?
Find out what you could earn from selling your dress before listing!
Get Your Dress Value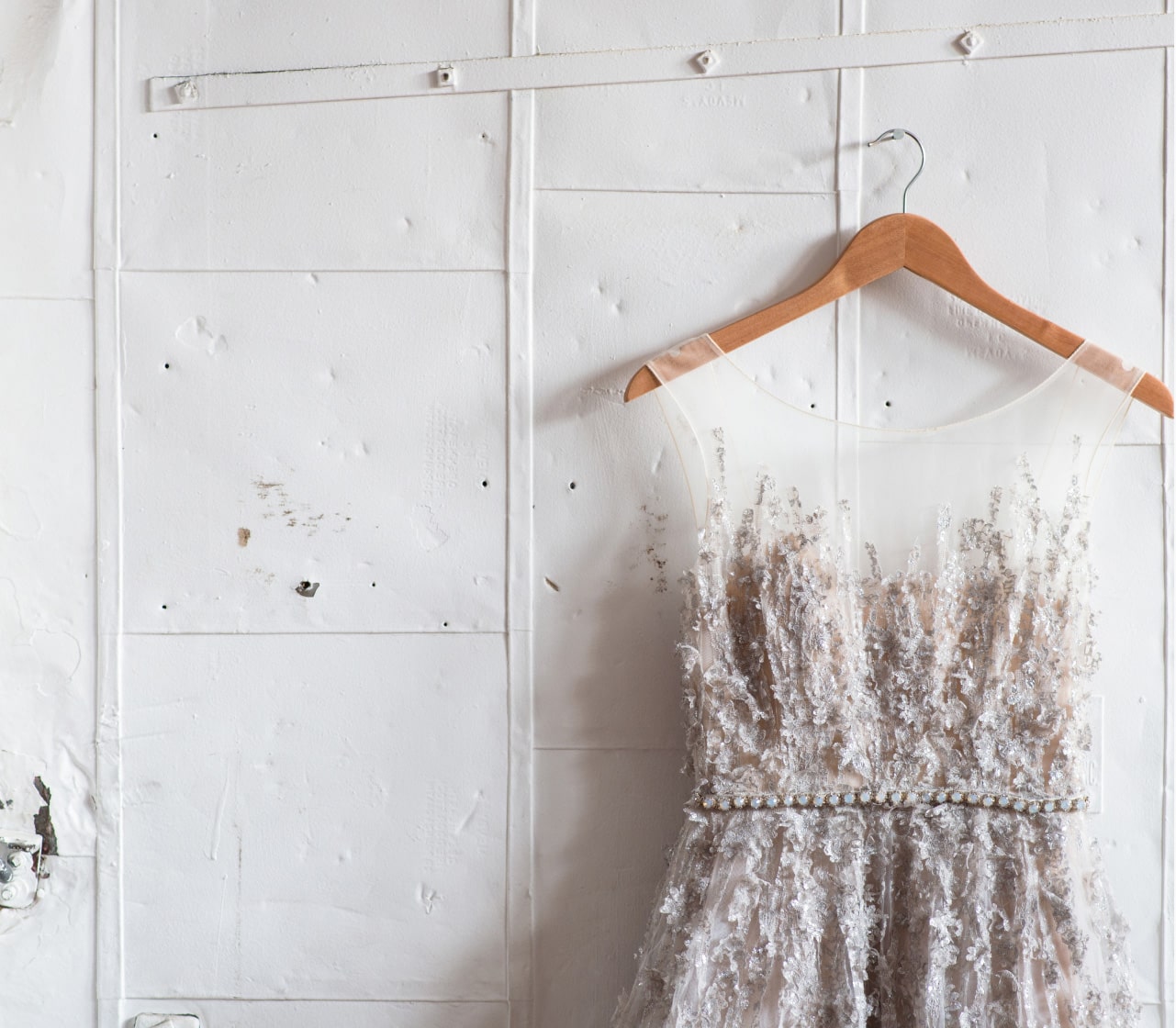 SOMETHING BORROWED, SOMETHING BLUE
Used wedding dress
Once the confetti settles and the last of the guests drive away, that same wedding dress goes into the dress bag and towards the back of the closet, never to see the light of day again. Meanwhile, at the other end of the city, a bride-to-be is hunting for her perfect wedding dress, she has a few special wedding dress styles in mind, but everything off-the-rack is far from the perfect fit for her vision as well as her wedding budget. Who knew that her perfect fit lies in the back of the closet somewhere, waiting for another chance to shine? If only there was a way they could help each other out. If only there was a perfect match. Oh wait, there is!
HOW DOES IT WORK?
Buying and reselling a pre-owned wedding dress
At Borrowing Magnolia, we want you to feel extraordinary on your wedding day, no matter if it's a wedding on a budget or a wedding you are splurging on. We realize that both brides and ladies who own used wedding dresses have a unique gift and opportunity to help each other. We are just the mere matchmakers of connecting the perfect used wedding dresses to the perfect new owner, and the rest takes care of itself. With a listing process so easy that anyone can do under 15 minutes, there is no room for doubt or discrepancy. At Borrowing Magnolia, we appreciate a simple, straightforward, and practical approach as much as our brides.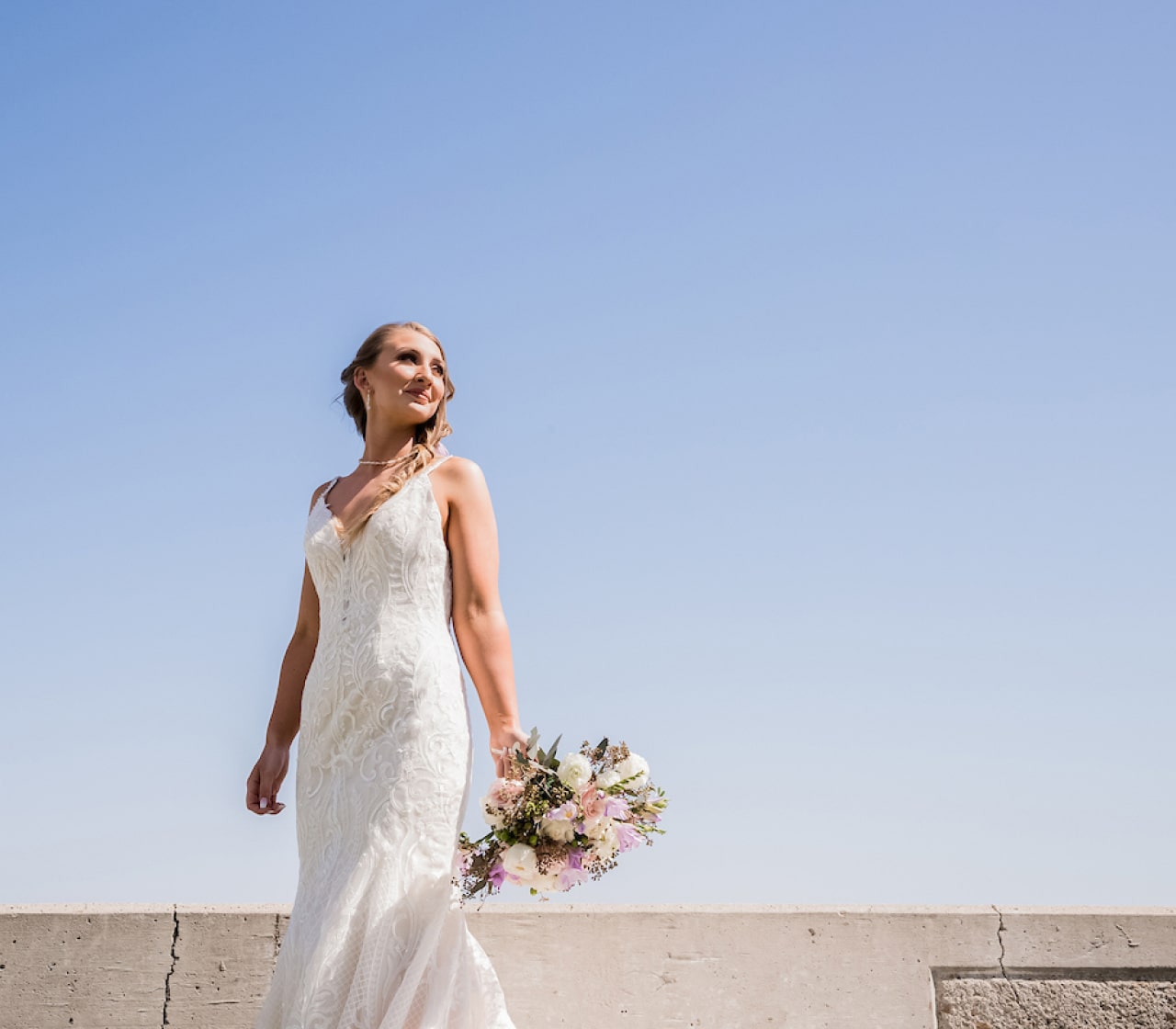 A dream dress to more than one
A wedding dress might be one of the most expensive and special garments that you'll ever buy. So why confine that beautiful dress to your closet?
We'll help you list & sell your gown fast for one flat fee. No commissions. No hidden fees.
An easy choice for selling, Borrowing Magnolia has cost savings in mind for both sellers and buyers. Your search ends here!
Sell your wedding dress
You'll always have a special place in your heart for your wedding dress, but these are modern times, and you're a modern bride. Make money off of the heirloom-quality gown you have tucked away in your closet.
An expansive bridal marketplace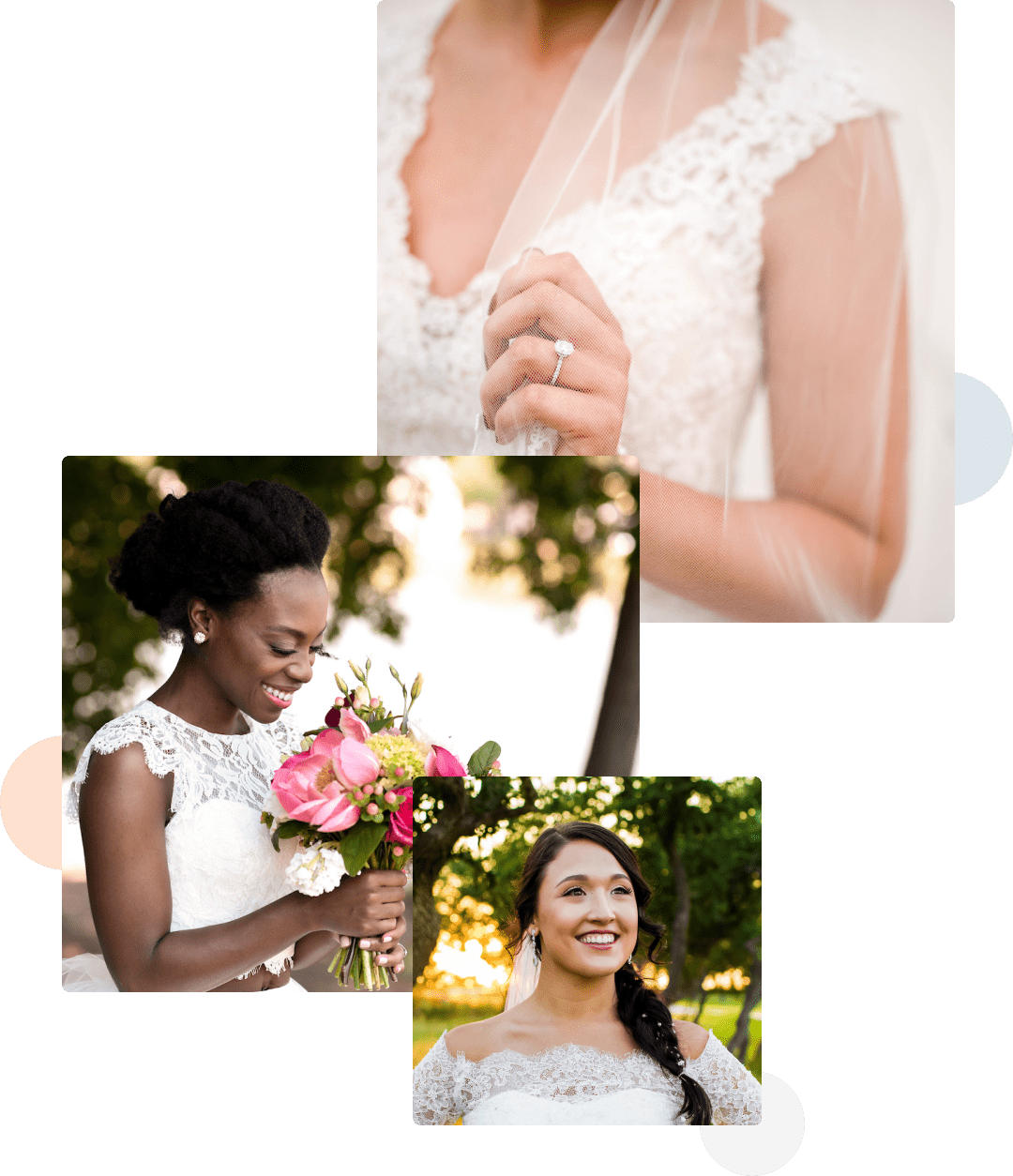 Your wedding is approaching shortly and wedding planning is on a roll. You have your heart set on buying a second-hand wedding dress. An expansive bridal marketplace with designer wedding dresses from renowned designers across the world, Borrowing Magnolia is a treasure chest for a bride on a dress-hunt.
SHOP NOW
SHOP
Buy your dress
Borrowing Magnolia is as transparent and easy as it gets, making shopping for second-hand dresses online that much easier. With simple, hassle-free steps, you'll be able to buy that dream dress in a blink, just as you would buy any other dress online, and being open to the prospect of cheap wedding dresses, you will have saved a ton of money!
Transparent and easy shopping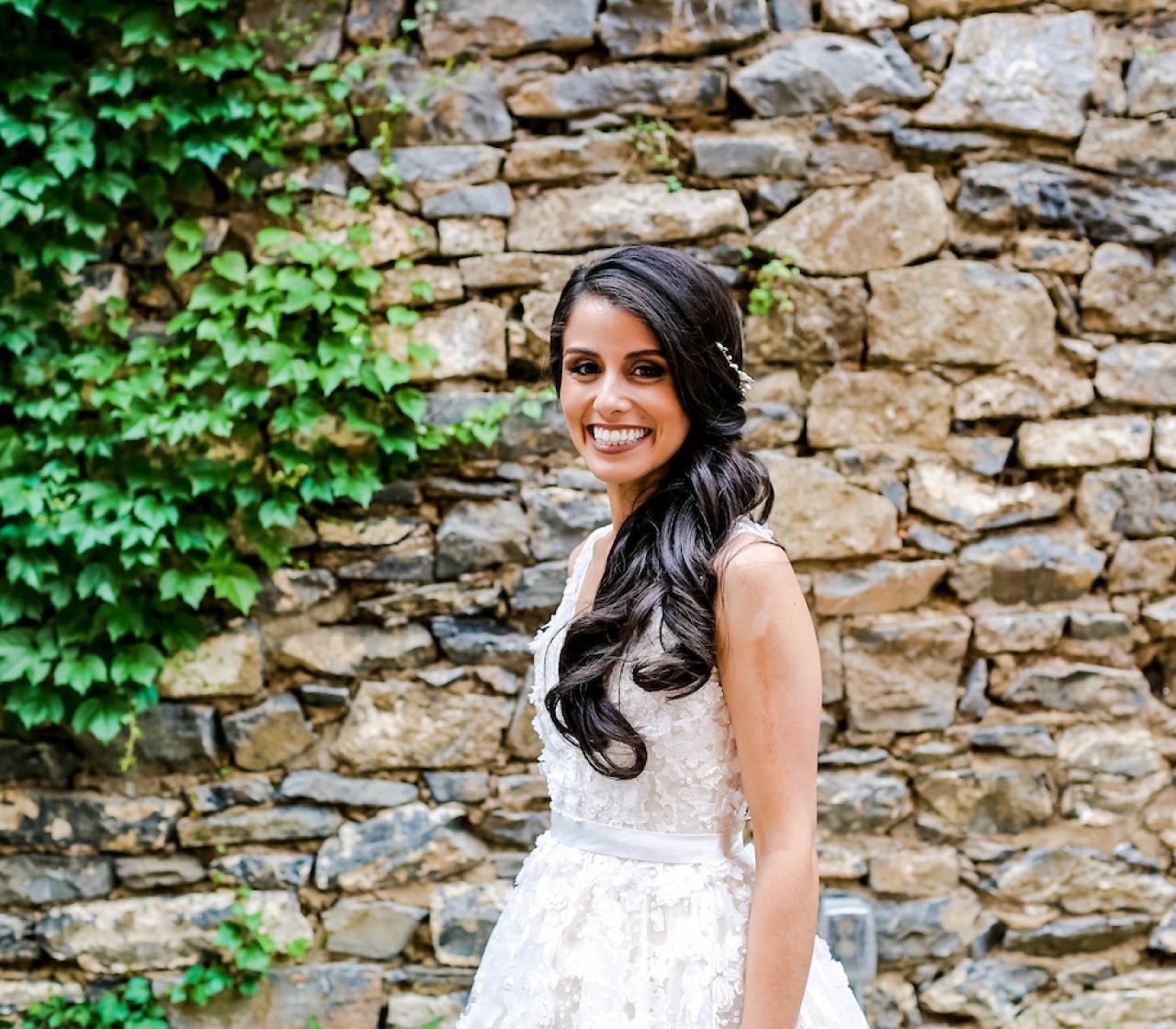 Sustainability is a cornerstone of our brand
We are not mindlessly feeding into the endless loop of consumption, leaving a trail of social and environmental impact along the way. Our brides are modern-day, environmentally conscious women who are intelligent buyers, consuming mindfully and responsibly. We at Borrowing Magnolia want to ensure that every wedding dress is not a one-and-done deal, but rather a possibility for another beautiful day. These ethical wedding dresses are not only lighting up the faces of many brides throughout their lifetime, but they also leave minimal carbon imprint on their way out.
Talk about an environmentally, feel-good, responsible thing to do! We hope you'll join us and add to the wave of the resale revolution.
Why Borrowing Magnolia for preowned wedding dresses?
Loved by brides and applauded by WeddingWire as a winner of Couples' Choice Awards 2018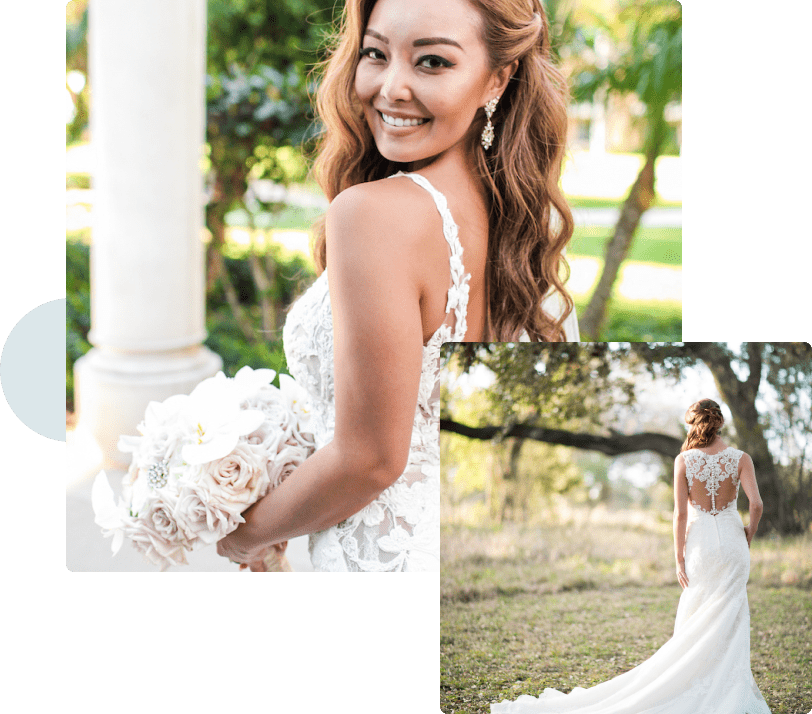 At Borrowing Magnolia, we want you to feel extraordinary on your wedding day and feel at peace with the purchase that you made. We are here to connect the buyers and sellers, bringing two women with similar styles together, as they have a unique opportunity to help each other. We think every used wedding dress is a potential addition to someone's dream wedding. It's merely about bringing those potentials together.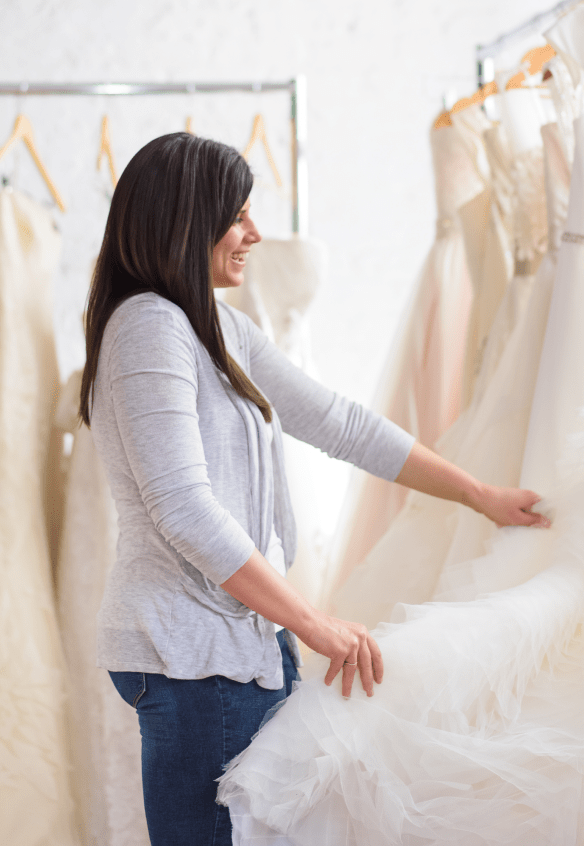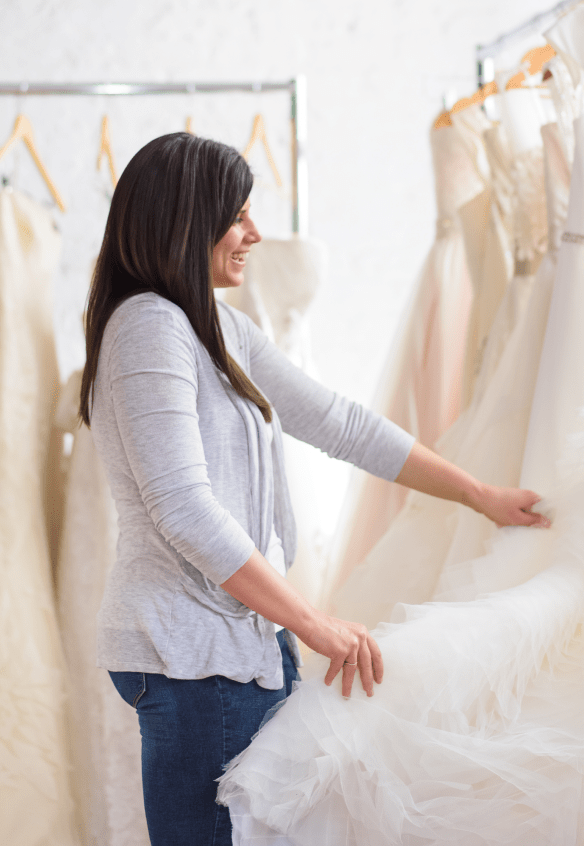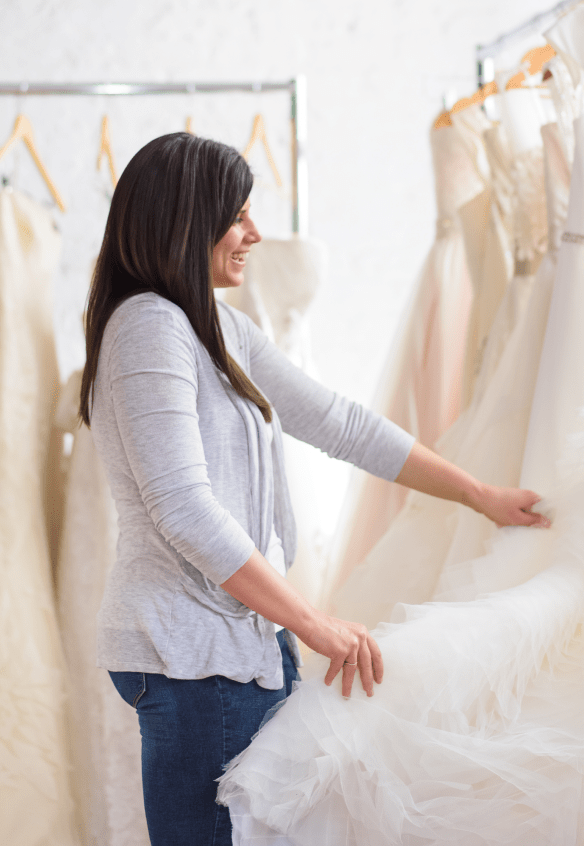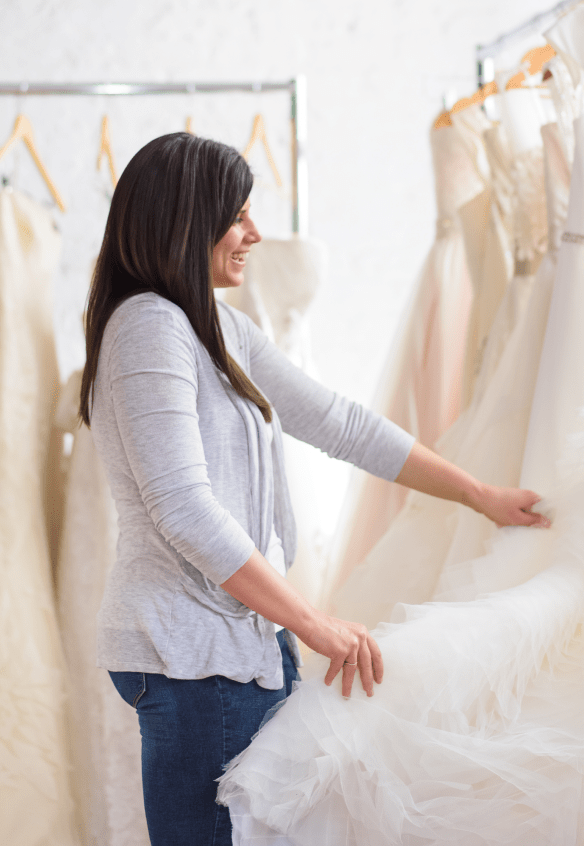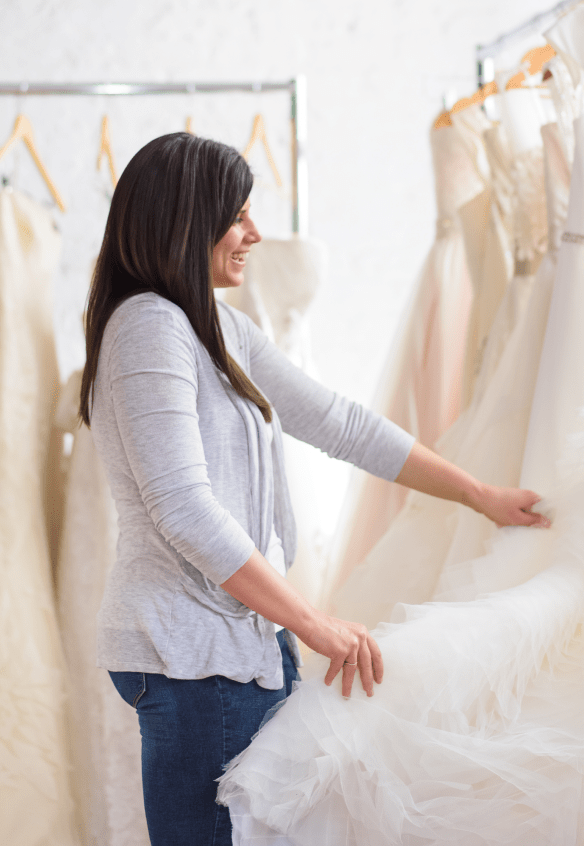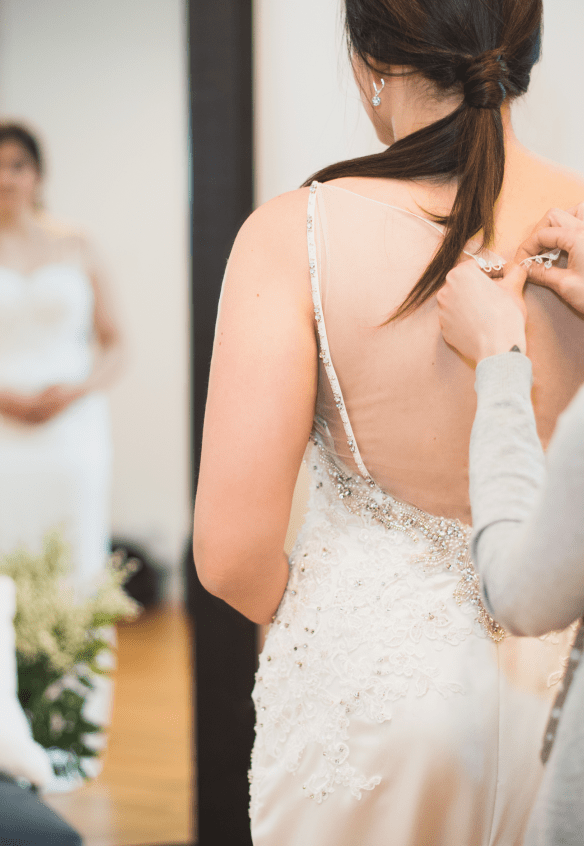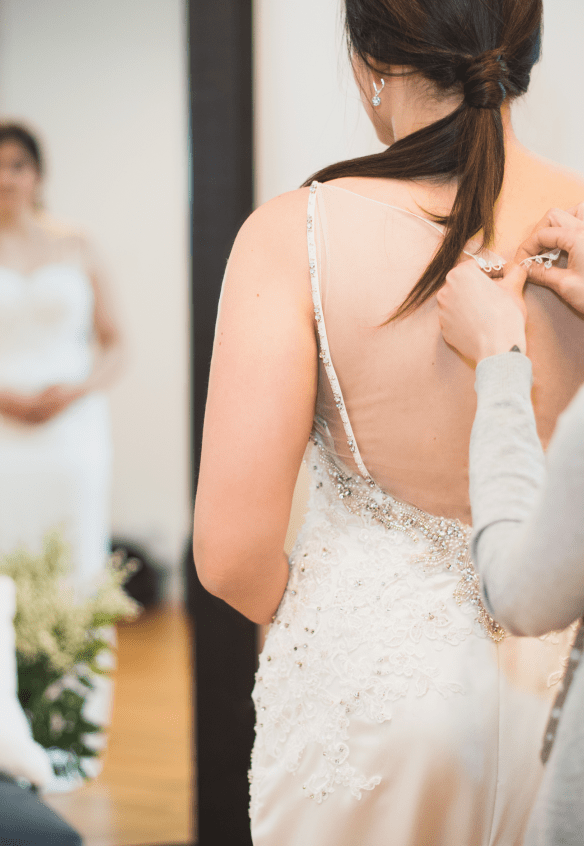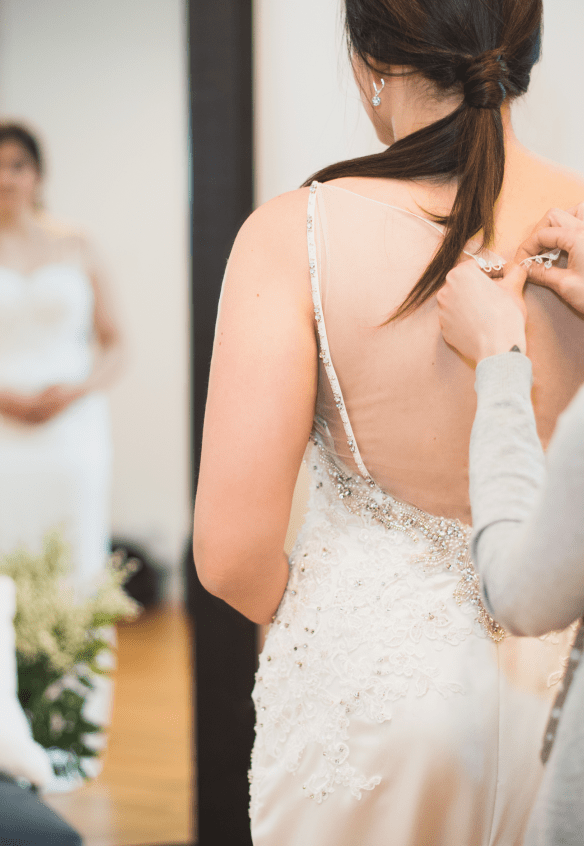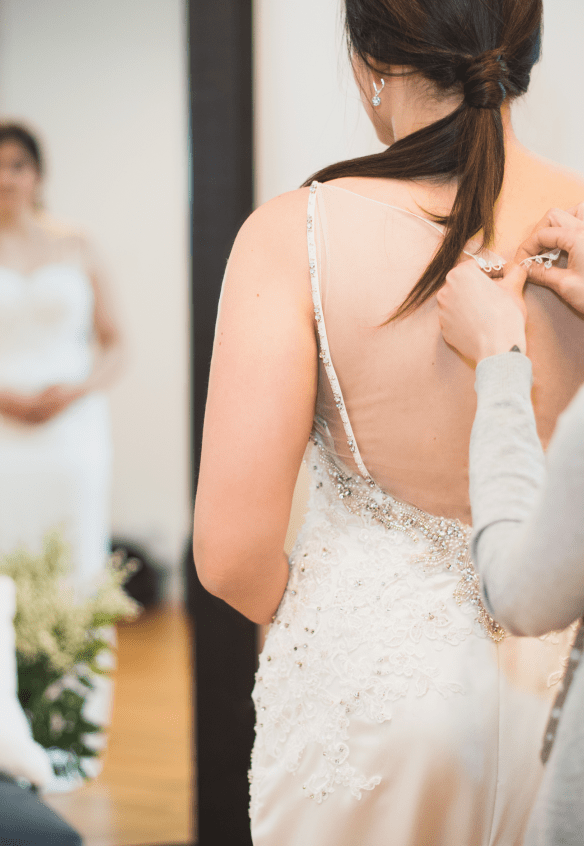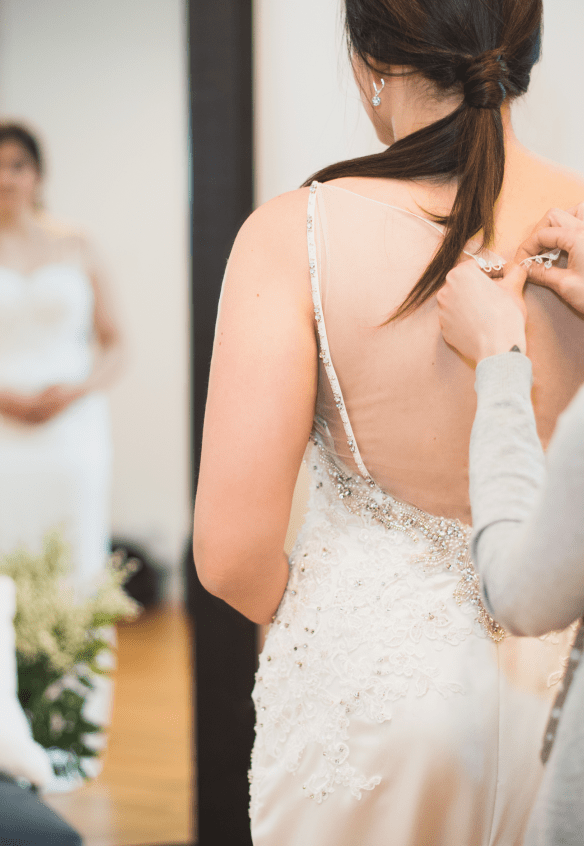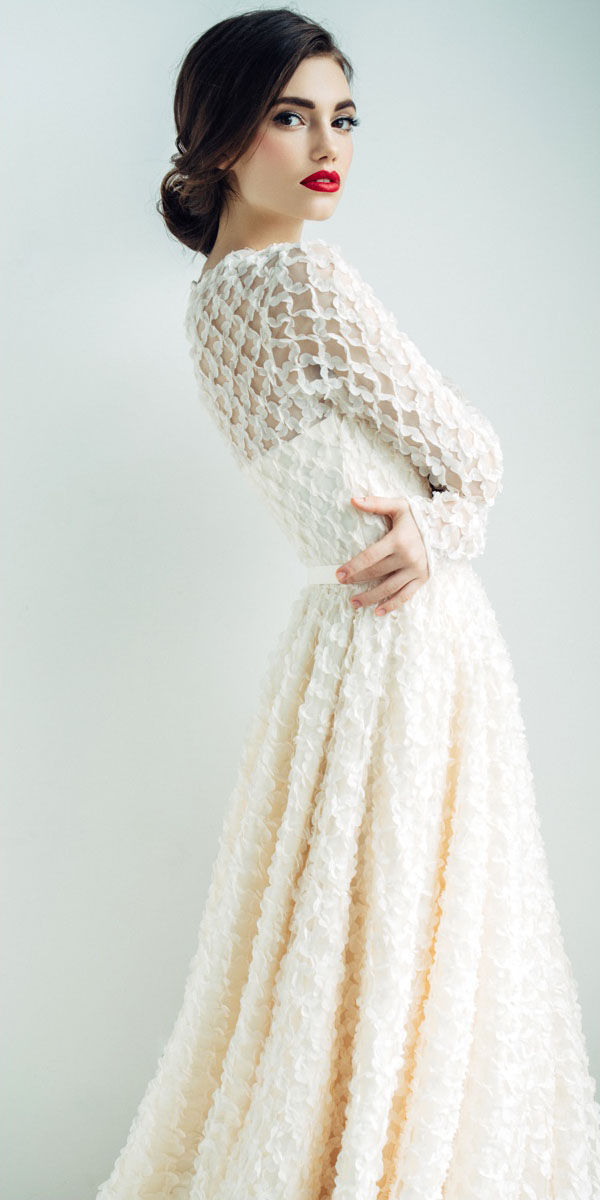 Thank You!
We will be in touch soon.
Sours: https://www.borrowingmagnolia.com/
Similar news:
How to Choose Your Dream Wedding Dress: 70 Things to Know
01of 70
Do Research to Find What You Like
Rip pages out of magazines, click through bridal boutiques online, explore on Pinterest, and check out what celebrity brides are wearing to compile a visual file of your favorite dresses. Then look for a connecting theme—are they all very embellished, lacy, or voluminous? Do they all have open backs? Find a couple commonalities of styles you like and bring your ideas to your first appointment.
02of 70
Be Open
Bridal consultants will tell you that they constantly see women come in with a set idea of what they want for a gown, then try it on and don't actually love it—and instead, fall for something completely different they'd never considered. Keep an open mind while wedding dress shopping. You may find your dream dress that you didn't know would be your dream dress.
03of 70
Brace Yourself for Bridal Sizing
Bridal sizing means your gown's number will often be one to two sizes higher than what you wear in your regular clothes. Even if going bigger sounds horrifying, remember that no one will know the number but you and your consultant.
04of 70
Shop True to Your Size
Even if you plan on losing weight before the big day, shop for dresses in your current size rather than going smaller. It's much easier to take a dress in than trying to work with one that's way too snug.
05of 70
Shop Early
Many gowns take four to eight months to be produced, and once it arrives, you still have to factor in more time for alterations and accessorizing.
06of 70
But Not Too Early
If you're having a long engagement and immediately start shopping for gowns, the one you end up buying might be out of style by the time your wedding comes around, or you might find one you like even better closer to the date.
07of 70
Figure Out Your Budget
Yes, it's uncomfortable to talk numbers, but it will save you from heartache later on. Before your first appointment, figure out who is paying for the gown (your family, your partner, you?).
If someone else is paying, get the hard numbers on your limit, so you can stay within that budget or pay the difference yourself to get the dress you want.
09of 70
Plan Non-Obvious Costs Into the Budget
Say you plan to cap your fashion spending at $2,000—you actually shouldn't buy a $2,000 gown. That's because you need to factor in tailoring, accessories (your veil, jewelry, and shoes), and cleaning and preserving the gown after the wedding if you want it as a keepsake.
10of 70
Find a Great Bridal Salon
Do your homework before you start making appointments, since you don't want to waste time at a shop that doesn't carry dresses you like or has terrible customer service. Get referrals from married friends and check online reviews to find shops with solid reputations.
11of 70
Call Ahead
Don't waste your time shopping at a store that doesn't have the style, designer, or price range you had in mind. Call the boutique or salon ahead of time to get the lowdown on its inventory before you make a visit.
12of 70
Make an Appointment
In most bridal stores, the dresses aren't displayed in a way where you can just leaf through them and browse on your own, the way you can in other retail stores. You'll need an appointment so a consultant can help you select dresses and try them on.
13of 70
Start Inexpensive and Work Your Way Up
Make your first appointment with the least-expensive bridal shop and keep scaling up if you don't find anything. Same goes for trying on dresses during your appointments—try on the most affordable one first, and work your way up to the bank-breaker. You may fall in love before then.
14of 70
Pick Three Adjectives to Describe Your Dream Dress
Whether you want to feel classic, vintage, and comfortable, or romantic, glamorous, and beautiful, go into wedding dress shopping with a clear vision of how you want to look on the big day. Choosing three specific words to describe your vibe can help narrow down your dress selections.
15of 70
Shop on a Weekday
Bridal salons are packed on the weekends, meaning you may get less personal attention or the dress you love is being tried on by someone else. It's worth using some personal time from work to have your appointment on a weekday.
16of 70
Make Shopping a Whole-Day Affair
It's surprisingly time-consuming to put one wedding gown on and off, let alone three or four, and you definitely don't want to feel rushed to make a decision. Instead of making plans for brunch after your appointment or trying to fit it in between other errands, leave a few hours so you can take your time browsing and trying on dresses.
17of 70
Choose Your Shopping Crew Wisely
Yes, you love your mom, sister, sister-in-law, maid of honor, and six bridesmaids—but if you've ever tried to get a crowd to agree on where to go for dinner, you can only imagine how hard it will be to find consensus on a gown. Narrow the group down to the two or three people whose opinions matter most to you.
18of 70
Bring the Right Undergarments
It can be hard to take in how a strapless dress really looks when your leopard bra straps are sticking out, or how a curve-hugging gown would fit once your hips are smoothed. For your appointments, wear a nude thong and strapless bra, and bring Spanx.
19of 70
Pick Your Silhouette
Your ideal gown's shape is partly based on the style you like, the venue, and mood of your wedding, and also what flatters your body most. A fit-and-flare is both contemporary and traditional and works on many body types, whereas a simple sheath is best on tall, willowy brides. A voluminous ball gown adds drama, but can overwhelm a petite frame. Mermaid styles show off curves like your favorite pencil skirt.
20of 70
Keep Travel Arrangements in Mind
If you're flying to your wedding destination, look into airline regulations beforehand. You don't want to fall in love with a ball gown style dress, only to have it exceed airport size specifications come travel time.
21of 70
Consider Less Traditional Lengths
While they most likely won't work for a formal wedding, for a more casual, rustic, or beachy wedding, untraditional lengths can be a fun way to bring your personality to your big day dress. Tea length is fun for a quirky bride, whereas a white minidress has a rocker-chic party vibe.
22of 70
Pay Attention to Fabric
In addition to silhouette, color, and embellishments, fabric makes a big difference on how a gown will look on you. A heavier, more structured material (think silk shantung, taffeta, or guipure lace) will hold its shape and smooth your figure. Unstructured silk and filmy chiffon are less flattering for those brides with curves.
23of 70
Wear Heels to the Appointment
Some bridal salons have communal high heels you can borrow, but that's a little icky, and a dress will look a lot different with flip-flops than stilettos. Be prepared by bringing heels of the same height you think you'll likely wear for your big day, so you'll have a better idea of how the dress will look.
24of 70
Bring Dress Photos for Inspiration
Whether it's printouts of dream dresses from your secret wedding Pinterest board you've had since college or a page from a magazine, come armed with a photo collage of the wedding dress styles you like best while shopping.
25of 70
Bring Scene-Setting Photos
In addition to gowns you pull from magazines or Pinterest, bring photos of your ceremony and reception site to the appointment. Seeing the venue ambience can help your consultant pull gowns that will be the most appropriate for the location.
26of 70
Believe Your Consultant That a Gown Looks Better "On"
Wedding dresses often have heavy details that can make it sag on a hanger. "Unlike shopping for a shirt, you won't really know what a wedding dress will look like until you actually try it on, so be open if your consultant promises the dress will look better on you than it does on the hanger," says Anne Chertoff, bridal expert at You & Me TV.
27of 70
Shop Trunk Shows for Savings
You can often take 10 percent off a gown that way and get to meet the designer, who may also "waive or discount certain changes, like raising or lowering a neckline, extending the length, changing the color, or adding straps," says Terry Hall, fashion director at Kleinfeld Bridal in New York City.
28of 70
Hit Sample Sales
"Salons frequently have sales to move older inventory, so you'll find designer gowns for 25 to 50 percent off. The only downside is most sales are stocked with sample sizes—that's bridal 8 and 10, comparable to ready to wear size 6 and 8," says Mark Ingram, president of Mark Ingram Atelier in New York City.
29of 70
Know That Embellishments Add Big Bucks
"Handwork like embroidery or beading always adds to the cost of the dress," Hall says. Of course, if simple isn't your style, those embellishments are worth it—just factor that into your budget.
Sours: https://www.brides.com/gallery/wedding-dress-shopping-tips
195
196
197
198
199