Commentary: Fox News helped create the Big Lie. Now, as ratings slide, it can't escape it
America's most militarized Inauguration Day in modern history is ours to witness Wednesday when Joe Biden is sworn in as the nation's 46th president surrounded by 25,000 National Guard troops, armored vehicles and razor wire. The National Mall, which was packed for Barack Obama's ceremony and less so for Donald Trump's, will be closed to the public. Things are so precarious since Jan. 6's deadly breach of the U.S. Capitol by pro-Trump extremists that American Airlines is suspending alcohol service on all flights to and from Washington, D.C., until Jan. 21.
If only Sean Hannity could be taken off the menu like a single-serving bottle of vodka.
It's doubtful Trump could have radicalized as many Americans as he has without the help of media juggernaut Fox News. Hannity, along with colleagues Tucker Carlson, Laura Ingraham, Lou Dobbs and the rest of the crew, have been instrumental in mainstreaming Trump's far-right positions on everything from immigration to policing, parroting his lies and threats, and giving credence to his absurd conspiracy theories — including the debunked claims of election fraud that led to the Capitol insurrection. And if there's any question as to how the conservative news network became a legitimizer of Trump's propaganda and deep-state fantasies, Fox News' devolution has been televised.
The crown jewel of Rupert Murdoch's media empire, at least in the U.S., has propagated any number of the Trump administration's most consequential and damaging falsehoods, many in the service of exonerating or supporting the president himself in a time of scandal or crisis. (Which, as we've all experienced firsthand, was essentially his entire term.) Staffer Seth Rich involved in DNC email leak! Immigrant caravans at the border riddled with MS-13 gang members! Hunter Biden's laptop! COVID-19 is a hoax! Stop the steal!
But years of unquestioning support for the president, including sowing mistrust about anything that challenges the White House's narrative, is beginning to have consequences. Fox News' unholy alliance with Trump brought with it white supremacists, hateful militias and conspiracy theorists who believe the outgoing president is the only person standing between humanity and a nefarious ring of Satan-worshipping, cannibalistic pedophiles. The news organization's ratings have been in decline since election day, a slide many attribute to competition from media sources even further to the right; on Tuesday, it laid off political director Chris Stirewalt and others.
Now, as Trump leaves office, the cable news network that fueled his rise to power faces an ugly dilemma of its own making: continue to feed the monster it helped create or be destroyed by the monster's wrath.
Fox News is hardly the only media organization advancing the lies of Trumpism. Newsmax, "The Rush Limbaugh Show," One America News, Breitbart and Parler are all, to varying degrees, fonts of disinformation and active cheerleaders of the president. Social media behemoths that largely refused to clamp down on viral conspiracy theories and hate speech during the Trump era, including Facebook, Twitter and YouTube, are also complicit.
But since before the 2016 Republican primary, Fox News has arguably been the most high-profile pro-Trump provocateur, next to the president himself.
Fox News did not move from "fair and balanced" to de facto arm of the White House communications department overnight. As Showtime's 2019 docudrama "The Loudest Voice" reminds us, longtime Chief Executive Roger Ailes initiated the conservative network's hard-right turn toward fear and outrage in the aftermath of 9/11. By 2009, its primetime hosts, including Hannity, were championing and amplifying the "gotcha" videos of conservative operative James O'Keefe, eager for undercover "exposés" of liberal hypocrisy. Fox News covered O'Keefe's undercover "sting" impugning the community organizing group ACORN often and with plenty of verve, yet little scrutiny despite the iffy provenance of the video footage. Its high-powered spotlight contributed to the dissolution of the nonprofit organization in the U.S., though O'Keefe's work was later debunked as having been misleadingly obtained and edited.
The racist birtherism conspiracy about Obama, touted by then-reality show star Trump and echoed by Fox News, was the next step in undermining trust, though many other outlets gave Trump's wild claims a platform they didn't deserve. Calls to "Lock her up!" — based once again on cherry-picked facts and outright lies about 2016 Democratic presidential candidate Hillary Clinton, now with an added distaste for the rule of law — weren't far behind.
Once Trump took office, the last guardrails of truth seemed to lift, and Fox News — no stranger to the benefits of deregulation — jumped right in to defend and parrot the president, or at least to let his lies go unchallenged. Almost as often, the process appeared to work in reverse: In the earliest days of his term, Trump caused an international incident after citing a fictitious terror attack in Sweden. His source? Carlson.
In running untruths about Rich's involvement in the leak of Democratic National Committee emails during the 2016 campaign, and legitimizing cruel conspiracy theories about Rich's 2016 shooting death in what police have said was likely an attempted robbery, several of the network's hosts went further — and landed their employer in legal hot water. "This blows the whole Russia collusion narrative completely out of the water," Hannity said. When Fox News retracted the story, Hannity remained resolute: "I am not Fox.com or FoxNews.com," he said on his radio show. "I retracted nothing." Rich's parents sued Fox News over its repeated false claims about their son, and the case was settled for millions before Hannity and Dobbswere scheduled to testify under oath in the case.
That the ensuing investigation into the Trump campaign's ties to Russia was frequently deemed a "witch hunt" by Trump and his supporters at Fox News suggests that the vicious tarring of a dead man's reputation was not exactly a chastening experience. Special Counsel Robert Mueller became the new target, as did top levels of American law enforcement. "There is a cleansing needed in our FBI and Department of Justice," railed Fox News host Jeanine Pirro. "It needs to be cleansed of individuals who should not just be fired but who need to be taken out in handcuffs."
When newly emboldened white supremacists marched in Charlottesville, Va., in summer 2017, in what now reads as a clear precursor to the Capitol attack — with one right-winger plowing his car into counterprotesters, killing one — Trump said there were "very fine people, on both sides."
Fox News, now locked into the pattern, followed suit. Hannity floated the lie on his radio show that protesters at the rally may have been "actors hired by a publicity firm." Carlson performed his own "both sides" shuffle in a widely reviled segment, calling "the left" "every bit as race-obsessed" as the white supremacists of "Unite the Right."
All that was just in Trump's first year.
By the time the COVID-19 pandemic arrived, Fox News was poised to defend Trump at all costs, even if it meant putting viewers' lives in danger. Several on-air personalities and guests reinforced the idea that the pandemic was a hoax cooked up by House Speaker Nancy Pelosi (D-Calif.) and her pals. "This is yet another attempt to impeach the president," Fox Business host Trish Regan said, before being ousted for her comments. Hannity went further: "They're scaring the living hell out of people, and I see it again as like, 'Oh, let's bludgeon Trump with this new hoax.'"
The election presented a new conundrum. Though the network's decision desk received rightful plaudits — and provoked the president's ire — for sticking to the facts and calling the election for Biden, a number of its hosts backed Trump's baseless claims that the election had been stolen. Watchdog group Media Matters reported that the news network cast doubt on the results nearly 800 times just in the two-week period after Biden emerged as the victor.
"You should be outraged, you should be worried, you should be concerned at what has happened in the election and the lead-up to the election," Hannity said. "And frankly, you should be angry at what is building and building and building in the last four years in this all-out assault against a duly elected president that we the people elected."
The true "all-out assault" that had been "building and building and building in the last four years" was an assault on truth itself, led in large part by Hannity and his ilk, and it's seemingly escaped the network's control. Myths about widespread election fraud were an easy sell after the network's ceaseless information warfare and the drip, drip, drip of normalizing outlandish tinfoil-hat conspiracies. Now, Fox News appears poised to double down on its preference for opinion over news and for personalities like Maria Bartiromo willing to carry water for the president and his dead-enders.
But the fear and outrage Fox News have inspired are all too real, changing not just viewership patterns but also the political landscape itself. In the aftermath of the domestic terror attack at the Capitol under the banner of "Stop the Steal," it's not just politicians who need to be held accountable for incitement. It's also media outlets like Fox News, which shaped and happily sold the Big Lie and must now confront, if there's any justice, the monsters of its own creation.
Sours: https://www.latimes.com/entertainment-arts/tv/story/2021-01-19/fox-news-donald-trump-sean-hannity-tucker-carlson-ratings-big-lie
'A sigh of relief': How TV news reacted to Joe Biden and Kamala Harris' Inauguration Day
Whew.
Joe Biden was sworn in as President of the United States on Wednesday, a day that seemed like it might never come — and a day that some tried to prevent.
But the swearing-in ceremony went forward without incident, though with the presence of 25,000 armed soldiers in Washington, D.C. keeping things safe. Four years after former President Donald Trump's inaugural, with his scorched-earth speech, Biden called for unity in a divided nation. "We must end this uncivil war," as he put it, a welcome call for a return to normalcy that media covering the event seemed to appreciate.
"I thought it was a great speech," Chris Wallace said on Fox News afterwards. "I've been listening to these inaugural addresses since 1961, John F. Kennedy, 'Ask not.' I thought this was the best inaugural address I ever heard."
What a relief.
From Fox to CNN, reporters echoed a sense of relief
"The one thing that I think, the sense that I get — and this is my seventh inaugural — was whew, that's over, let's turn the page, let's get back to work," former U.S. Sen. Heidi Heitkamp said on ABC News, noting that Republicans and Democrats were already talking more than they had in the past four years. "It was almost a sigh of relief collectively, and a bipartisan sigh of relief that we now are looking at the last four years and the rearview mirror and we have an opportunity once again to govern collectively."
There was a lot of talk, both from Biden and from anchors and correspondents, about messages of hope, about coming together. Indeed, the vibe was far more celebratory than four years ago. Jennifer Lopez worked "Let's Get Loud" into her performance of the Woody Guthrie anthem "This Land Is Your Land."  Lady Gaga, whose dress Twitter decided made her look like a character from "The Hunger Games," absolutely nailed the national anthem, a point not lost on Fox News anchor Bret Baier.
INAUGURATION STYLE:Kamala Harris, Jill Biden support up-and-coming designers on Inauguration Day
Lady Gaga, Jennifer Lopez and poet Amanda Gorman shined
"Lady Gaga won the biggest brooch award, but also the biggest voice in a really stirring rendition of the national anthem," he said.
"It truly was," Martha MacCallum said. "She was amazing. She hit those notes in only a way that Lady Gaga can."
Praise for Amanda Gorman and her poem "The Hill We Climb" was nearly universal.
"A beautiful day," Yvette Simpson said on ABC News. "A beautiful set of speeches, lots of great words. I do want to echo that young woman, Amanda Gorman, who just reminds us America's best kept secret — Black women are magic, we are brilliant, we are special, we are beautiful, we are amazing. She is going to go down in history. She was amazing. I think she did steal the day."
As did Simpson on ABC's coverage. She was terrific.
How Lester Holt balanced calls for unity with the reality of 'what's broken'
Of course, everything took place under the shadow of Jan. 6, when, two weeks ago to the day and on the same spot, an angry mob inspired by Trump descended on the U.S. Capitol in a deadly riot. "It was a crime scene two weeks ago," John King said on CNN.
And the call for unity "doesn't erase the fact that some of the people on that very podium did not want to approve the electoral vote count," Lester Holt of NBC News said. "It's going to be more than smiles and handshakes and public moments like that to erase what's wrong, what's broken."
But for this one day, at least, people seemed willing to give hope a chance — hope grounded in reality.
"This has been a very moving, historic day," the Rev. Al Sharpton said on MSNBC. "And now the work begins. We'll hold them accountable. But today I think they rose to the occasion, and pettiness caught a flight to Florida."
BIDEN INAUGURATION:Which celebrities are performing, where and how to watch
Reach Goodykoontz at [email protected] Facebook: facebook.com/GoodyOnFilm. Twitter: @goodyk.
Subscribe to azcentral.com today. What are you waiting for?
Sours: https://www.azcentral.com/story/entertainment/media/2021/01/20/how-tv-news-covered-biden-harris-inauguration/4217548001/
Trump says he 'will not be going' to Biden's inauguration
President Trump said Friday he "will not be going" to the inauguration of President-elect Joe Biden -- an extraordinary move that will make him the first to skip the inaugural ceremony of his successor since 1869.
"To all of those who have asked, I will not be going to the Inauguration on January 20th," the president tweeted.
Trump will be the fourth president to not attend his successor's Inauguration Day. Former presidents John Adams, John Quincy Adams and Andrew Johnson did not attend their successors' inaugural ceremonies.
On Thursday night, the president – who failed in various legal challenges since Election Day – acknowledged that "a new administration" would be inaugurated Jan. 20.
"My focus now turns to ensuring a smooth, orderly and seamless transition," Trump said. "This moment now calls for healing and reconciliation."
Trump's announcement came just days after he spoke at a rally Wednesday, telling supporters that he would "never concede" and repeated unsubstantiated claims that the election was "stolen" from him and that he won in a "landslide."
TRUMP SAYS HIS SUPPORTERS WILL STILL HAVE A 'GIANT VOICE,' AND WON'T BE 'DISRESPECTED'
During his remarks, he renewed pressure on Vice President Mike Pence, claiming he should decertify the results of the presidential election and send it "back to the states" and that if he did, Trump would be president for another four years.
Trump's remarks earlier this week came ahead of a joint session of Congress to certify the results of the presidential election.
As members of the House and Senate raised objections to certain electoral votes, both chambers called for a recess and left their chambers as pro-Trump protesters stormed the Capitol Building, sending it into lockdown for hours.
Washington, D.C., police said the riot at the Capitol resulted in five deaths -- including a Capitol Police officer and a woman who had been shot inside the building -- and at least 70 arrests.
The president, during the raid inside the Capitol, tweeted a taped video to supporters, telling them to "go home" while maintaining that he had the 2020 presidential election "stolen" from him.
In the president's video, addressing supporters, he said: "I know your pain, I know your hurt."
"We had an election that was stolen from us," Trump said in the video, taped from the White House. "It was a landslide election and everyone knows it, especially the other side."
"This was a fraudulent election, but we can't play into the hands of these people," Trump said. "We have to have peace." State and local election officials say they have not found evidence of widespread voter fraud that would have changed the results of the election.
Trump added: "So go home, we love you, you're very special, you've seen what happens, you've seen the way others are treated that are so bad, so evil. I know how you feel."
"But go home and go home in peace," he said.
The president, after posting the video, tweeted: "These are the things and events that happen when a sacred landslide election victory is so unceremoniously & viciously stripped away from great patriots who have been badly & unfairly treated for so long," Trump tweeted. "Go home with love & peace."
He added: "Remember this day forever!"
SCHUMER: USE 25TH AMENDMENT OR IMPEACHMENT TO REMOVE TRUMP FROM OFFICE
Republicans and Democrats alike slammed the president for not condemning the violence, resulting in a number of departures of high-profile administration officials -- including Transportation Secretary Elaine Chao and Education Secretary Betsy DeVos, who said the president's "rhetoric" incited the unrest.
Congress later returned Wednesday night, mere hours after the Capitol had been secured, and certified the Electoral College vote early Thursday, formally giving Joe Biden his presidential victory.
White House deputy chief of staff Dan Scavino posted a statement from the president on Twitter early Thursday morning, saying: "Even though I totally disagree with the outcome of the election, and the facts bear me out, nevertheless there will be an orderly transition on January 20th."
"I have always said we would continue our fight to ensure that only legal votes were counted," Trump said. "While this represents the end of the greatest first term in presidential history, it's only the beginning of our fight to Make America Great Again!"
TRUMP CONDEMNS 'HEINOUS ATTACK' ON CAPITOL, CALLS FOR 'HEALING, RECONCILIATION'
The president, on Thursday night, posted another video, after being blocked from Twitter and Facebook for violating their policies with his previous posts, condemning the "heinous attack" on the Capitol by his supporters and called for healing.
But Friday morning, the president tweeted: "The 75,000,000 great American Patriots who voted for me, AMERICA FIRST, and MAKE AMERICA GREAT AGAIN, will have a GIANT VOICE long into the future."
CLICK HERE FOR THE FOX NEWS APP
"They will not be disrespected or treated unfairly in any way, shape or form!!!" he added.
Meanwhile, Democrats and some Republicans have called for Pence to invoke the 25th Amendment to remove the president from office — just days before Biden's inauguration, saying that if Pence and the Cabinet fail to act, Congress should introduce articles of impeachment again.
Fox News' John Roberts contributed to this report.
Brooke Singman is a Politics Reporter for Fox News. Follow her on Twitter at @BrookeSingman.
Sours: https://www.foxnews.com/politics/trump-wont-attend-biden-inauguration
FULL EVENT: Donald Trump Presidential Inauguration - January 20, 2017 (FNN)
Fox News got crushed in the Inauguration Day ratings, falling 77% from 2017
Fox News's ratings took a nosedive during Biden's inauguration.
The network broke the inauguration ratings record in 2017 with 10.5 million viewers for Trump.
Yet during 2020's ceremony, ratings fell by 77% from 2017, though primetime shows rebounded.
Visit Business Insider's homepage for more stories.
During the meat and potatoes of President Joe Biden's inauguration ceremony, Fox News's ratings fell by 77% compared to Donald Trump's in 2017, according to Nielsen.
The preliminary numbers from Nielsen don't paint the full picture, however.
Biden's inauguration slightly outperformed Trump's by 4% or 1 million viewers, according to the initial batch of ratings from Nielsen. A full count is expected to be released on Monday.
Part of why the Fox News dropoff appears so steep on a percentage basis is because the network broke the record for most inauguration viewers on a single channel back in 2017, averaging 10.5 million viewers.
This year's best performing TV outlet, CNN, came in at 9.9 million. Inversely from Fox, CNN performed worse in 2017 with just 2.61 million viewers on average.
While Fox News still has their 2017 record, they came in last place this year among the cable news networks and major TV channels, with just 2.74 million viewers on average during the midday ceremony.
Another factor in the viewership swings between Fox News and the other cable channels is the partisan breakdown of their viewership.
A Pew Research study from 2020 found Fox News' viewership to be the most conservative in the space, with their audience about as equally partisan as MSNBC's.
CNN received more respondents self-identifying as Republican or lean-Republican, but Pew found that their audience still skews heavily to the left.
Right after Fox News's programming for the inauguration wrapped up in the late afternoon, their opinion panel show, "The Five," shot up from the previous hour's viewership of 1.9 million to 3.13 million, according to Nielsen.
"The Five" consistently punches above its weight in the 5 p.m. ET hour.
Read more: Fox News is under a siege of its own making from Trump
By later in the evening, Fox's main primetime lineup of Tucker Carlson, Sean Hannity, and Laura Ingraham brought viewership back to its normal levels. Carlson landed 3.7 million viewers, Hannity got almost 3.2 million, and Ingraham pulled in about 2.4 million.
Both totals are typical for the opinion hosts, but unlike most nights, CNN and MSNBC outperformed Fox News in primetime with their special coverage of the Biden inauguration's singers and special guests. Carlson, Hannity, and Ingraham only briefly ran footage from the events, choosing instead to stick with their regular formats.
Sours: https://www.businessinsider.com/fox-news-inauguration-ratings-drop-from-2017-trump-biden-2021-1
Inauguration fox trump
From Trump to Biden, TV Captures a Dramatic Shift
The new president's speech on unity — "the best inaugural address I ever heard," says Chris Wallace of Fox News — follows Donald Trump's "My Way" moment.
For a moment, cable news found something to agree on.
At half past noon on Wednesday, shortly after President Biden wrapped up an inaugural address calling for an era of reconciliation, CNN's Wolf Blitzer declared that the "world witnessed democracy withstand one of its greatest tests." Brian Williams of MSNBC said Mr. Biden "gave the kind of inaugural address our presidents used to give."
On Fox News, home to right-wing stars like Sean Hannity and Laura Ingraham who relentlessly championed former President Donald J. Trump, anchors and pundits took turns lauding Mr. Biden's message and the man who delivered it.
"I've been listening to these inaugural addresses since 1961," said Chris Wallace, the "Fox News Sunday" anchor. "I thought this was the best inaugural address I ever heard."
It was an unusual — and perhaps fleeting — moment for a cable news landscape that had been rived by the years of Trump. The cultural divide over a polarizing president and the increasingly fractured notion of what is true and what is a lie seemed to play out daily on 24-hour news networks, where Americans flocked in record numbers for outrage or comfort.
So it was strange to hear Karl Rove, the Republican strategist, tell Fox News viewers that Mr. Biden had delivered "a great speech for the moment," around the time that CNN's Jake Tapper praised the new president's "steely determination and compassion."
Although he did not indict news outlets by name, Mr. Biden infused his remarks with a dose of tacit media criticism, warning of "lies told for power and profit" and urging Americans to "reject the culture in which facts themselves are manipulated and even manufactured."
On Fox News, Mr. Wallace said journalists ought to take heed. "It was a call to all of us — whether it's us on the air, on cable or broadcast, whether it's us on social media, on our Twitter accounts — understanding that we have to deal from facts, from the truth, to hear each other out," he said.
Mr. Hannity was set to deliver his take on Mr. Biden's speech on Wednesday night, and it seemed doubtful that he would be as charitable. In the afternoon, Ben Domenech, a right-wing pundit and regular Fox News guest, allowed that Mr. Biden had begun on a "very good" note but added, pointedly, "The proof is going to be in the pudding."
Other pro-Trump news outlets that had held off on declaring Mr. Biden the president-elect, even after his victory was irrefutable, were more willing to attack Mr. Trump's successor in his first hours in office. On Newsmax on Wednesday, one pundit called the enormous security presence for the inauguration an effort "to further suppress the voice of the American people."
On television, the day was split into two acts: Mr. Trump's defiant exit followed by Mr. Biden's triumphant arrival.
Inauguration Days have been relatively unchanged for decades, much like the Macy's Thanksgiving Day Parade, the Academy Awards broadcast or the Super Bowl. For TV producers, there is a playbook: The president-elect arrives at the White House to meet his predecessor; a motorcade heads to the Capitol; anchors talk poetically about the peaceful transfer of power.
On Wednesday, nearly a year into a pandemic that has killed more than 400,000 Americans, two weeks after a violent crowd of Trump supporters rioted at the Capitol, and one week after Mr. Trump became the first president to be impeached twice, there was a notably different tone.
"You don't see a whole lot of tourists or spectators, you see a lot of police and military personnel," Mr. Blitzer said on CNN shortly after 7 a.m., over shots of the elaborate security apparatus and deserted Washington streets. On CBS, the anchor Tony Dokoupil asked, "How did we get to the point where there are more law enforcement in Washington, D.C., than in overseas wars?"
A little past 8 a.m., news cameras were trained on Marine One, the presidential helicopter, as it swooped past the Washington Monument and settled onto the South Lawn of the White House, preparing to spirit the image-conscious Mr. Trump away on one last ride.
"It is a stunning moment," Mr. Tapper said on CNN as the president, in his trademark oversize red tie, and Melania Trump, in a jet-black Chanel ensemble, approached the aircraft. (The Fox News anchor Ainsley Earhardt called the first lady's outfit "a very Audrey Hepburn look.")
The aerial view on every major network originated from a camera perched at the top of the Washington Monument. It provided a tableau that would not have been out of place in the opening credits of "The Apprentice," complete with sunshine glinting off the surface of Marine One as it lifted into the sky, the soon-to-be-ex-president in tow.
Networks that devoted much of the past four years to criticizing Mr. Trump stuck to their theme in the final hours of his presidency. With no hedging, Mr. Tapper declared Mr. Trump "disgraced." His colleague Dana Bash added: "He looks small. He just looks like a small man."
With Marine One in flight, the ABC anchor George Stephanopoulos recalled another presidential departure by helicopter: "The image in my head," he said, "is Richard Nixon in 1974."
Correspondents noted the absence of Mr. Trump from the Inauguration Day ceremony, the first president in 152 years to skip out on the swearing-in of his successor. "This is a moment to turn the page," said John Dickerson of CBS News. "We just have never seen a president who tried to hold on to the book."
Marine One took Mr. Trump from the White House to Andrews Air Force Base, where he orchestrated his own farewell scene. Visually, it was no match for the patriotic regalia in store for Mr. Biden at the Capitol. A brief chant of "Thank you, Trump," could be heard from the small crowd.
This was neither the fearsome protagonist of "The Apprentice" nor the pugnacious campaigner of his rallies. Instead, Mr. Trump delivered an off-the-cuff and somewhat circuitous speech, concluding, "Have a good life."
On Fox News, the final images of his turbulent reign were overlaid with sympathetic commentary. "Regarding the press, he never got a break," the "Fox & Friends" co-host Steve Doocy told viewers. "He's got to be a little steamed that nobody in the history of the American presidency has been beaten up as badly as Donald Trump has over the past four years."
As for Mr. Trump, he kept up his role as executive producer of the presidency until the end. He walked a red carpet to Air Force One, boarding the aircraft as the Village People's disco anthem "Y.M.C.A." blared from loudspeakers.
The cameras stuck with Air Force One as it prepared for takeoff at around 9 a.m. With anchors hushed, a familiar valedictory theme could be heard: Frank Sinatra's "My Way." The song reached a climax as the wheels of Air Force One left the ground. On CNN, the panelists could not suppress a few chuckles at a moment that seemed almost scripted.
Cut to an image of Mr. Biden and the future first lady attending a morning church service.
"The Biden family," said the anchor Anderson Cooper. "A new beginning."
Tiffany Hsu contributed reporting.
Sours: https://www.nytimes.com/2021/01/20/business/media/inauguration-tv-media-trump.html
'The Five' react to the inauguration of President Trump
How right-wing TV coped with Biden's inauguration: a timeline
Millions of Americans watched Joe Biden's televised inauguration today. For Trump supporters, the event was covered quite differently than those watching network TV.
With the help of Lis Power, Bobby Lewis, John Whitehouse, and Jason Campbell—journalists for Media Matters for America, a nonprofit media watchdog group, who diligently tracked right-wing media's reactions to today's events—we can piece together a detailed timeline of how the day was perceived by right-wing outlets Fox News, Newsmax, and One America News Network.
All these networks are currently figuring out how best to capitalize on the attention of Trump's political base, now that he is out of office. So far, they've decided to double and triple down on the type of coverage that earned Trump's favor, such as peddling conspiracy theories about the 2020 election, while quickly pivoting to an opposition role for the new Democratic administration.
Here is how right-wing TV processed Trump's exit and Biden's first official day as president (all times US eastern):
6:39am: Fox Business guest Bob Unanue, a Trump supporter and the CEO of Goya Foods, says "a war is coming," and claims the 2020 US presidential election was a vast conspiracy meant to usher in "the dawn of a new world order." He also falsely says Trump won 80 million votes (in fact, Trump only won 74 million, to Biden's 81 million). Fox host Maria Bartiromo does not challenge him on any of these fronts.
8:14am: As Trump and former first lady Melania Trump depart the White House for the last time, Fox & Friends host Ainsley Earhardt says Melania "has a very Audrey Hepburn look" and notes "she looks gorgeous, as always."
8:27am:Fox & Friends host Steve Doocy says "nobody in the history of the American presidency has been beaten up as badly as Donald Trump."
8:45am: Doocy calls Donald Trump a "disruptor" for refusing to attend Biden's inauguration because the outgoing president "is leaving on his terms."
8:52am: Fox News anchor Martha MacCallum says Trump "worked hard in the past 48 hours to finish this on a more gracious note." Last night, Trump pardoned his former chief strategist, Steve Bannon, who was indicted for fraud and money laundering last year, as well as Lil Wayne, a rapper who pleaded guilty to illegal gun possession.
8:54am: Newsmax earnestly breaks down Trump's use of the song "Y.M.C.A." by the Village People as he departs for Florida.
8:58am: MacCallum says Biden's plans to reenter the US in the Paris climate accords and stop further construction of a border wall with Mexico are "divisive actions."
9:13am: Newsmax guest Liz Harrington, a Republican party spokesperson, says American voters "didn't elect" Biden (they did), calls him an "illegitimate person" and a "fake candidate" (he's not), and makes the debunked claim that the election was fraudulent (it wasn't).
10:41am: As the inauguration is about to begin, Fox News anchor Bill Hemmer worries about the caravan of Honduran migrants that had been moving toward the US border, even though the caravan dissolved yesterday in Guatemala.
10:52am: A Newsmax anchor laments that Biden's presidency will not be as entertaining as Trump's.
11:05am: Fox Business host Stuart Varney complains about inaugural attendees wearing masks. "We would have a much better feeling of community if the people attending the swearing in were not walking around in masks," he says. "There's a grimness to this inauguration."
11:15am: MacCallum insists that Kamala Harris, who is being sworn in as the first female vice president in US history, looks "animated" and "enthusiastic about being there." Biden's enthusiasm goes unremarked upon.
11:24am: Newsmax cuts away from US senator Amy Klobuchar's introductory speech to discuss illegal immigration.
11:57am: One America News Network (OANN) is the only network not to be showing Biden's inaugural address. Instead, OANN correspondent Pearson Sharp continues to tell lies about voter fraud.
12:20pm: A Newsmax anchor argues Biden's speech, which centered on a theme of unity, was "dark" and "divisive," and says Biden's mentions of white supremacy and systemic racism were "overblown."
12:32pm: Fox News anchor Chris Wallace, known for being more substantive than most of his colleagues at the network, says Biden's speech was "the best inaugural address I've ever heard."
1:54pm: John Roberts, the former Fox News White House correspondent, quotes Fox personality Tucker Carlson, asking his guest if Democrats want to destroy the lives of their political opponents.
2:04pm: Roberts is puzzled by Biden's decision to hold a car door for his wife, first lady Jill Biden.
And so began the Joe Biden administration. The day was filled with other lies, strange observations, and appeals to Trump's base from right-wing channels. In perhaps the most shameless message of the day, Fox News contributor Joe Concha said it was time the US media "start doing your job as journalists, which is to hold the powerful accountable without fear or favor for party."
Sours: https://qz.com/1960146/how-fox-news-and-newsmax-reacted-to-bidens-inauguration/
You will also like:
Inauguration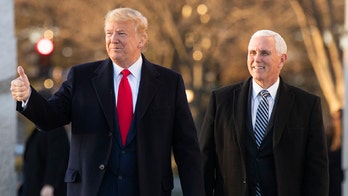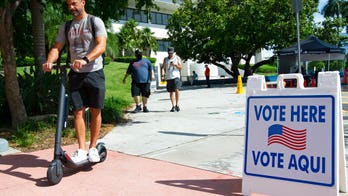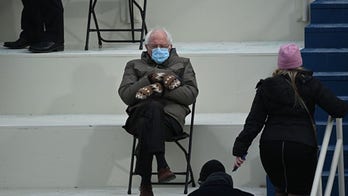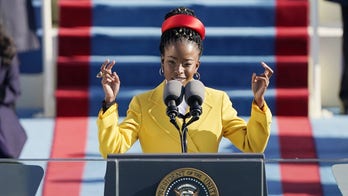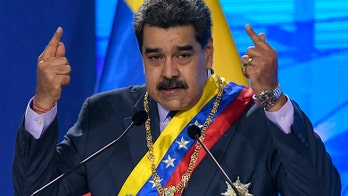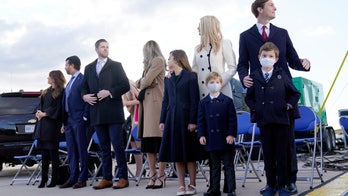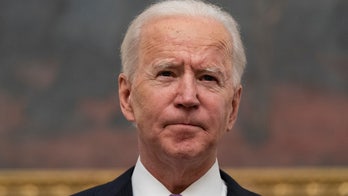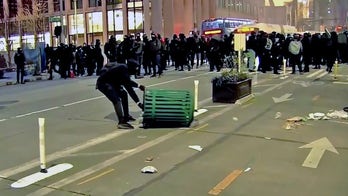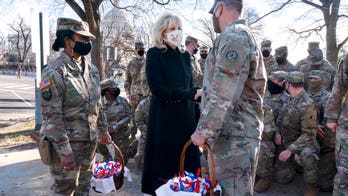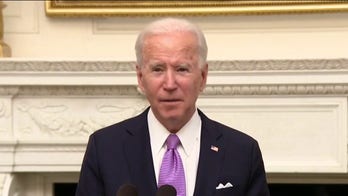 Show More
Sours: https://www.foxnews.com/category/politics/elections/inauguration
322
323
324
325
326