Themes from VBS Past
Here's a walk down memory lane for all you veteran VBS directors out there. How many of these do you remember? Here we are attempting to put together a list of as many of the past VBS programs we can remember.  This is just a start. We're still missing the Group programs from the 1990's
Can you help us add to the list of past VBS programs?
Lifeway VBS Themes
1988: Living for Jesus
1989: Let's Gather for Vacation Bible School
1990: Share Hope
1991: Celebrate Jesus
1992: Fantastic Journey
1993: Summer Shine
1994: Trail of Treasures
1995: Windows on the World
1996: Go For the Gold
1997: Good News Stampede
1998: StarQuest
1999: Mt. Extreme
2000: Ocean Odyssey
2001: Truth Trackers
2002: Amazon Outfitters
2003: The Great Kingdom Caper
2004: Rickshaw Rally
2005: Ramblin' Road Trip
2006: Arctic Edge
2007: Game Day Central
2008: Outrigger Island
2009: Boomerang Express
2010: Saddle Ridge Ranch
2011: Big Apple Adventure
2012: Amazing Wonders
2013: Colossal Coaster World
2014: Agency D3
2015: Journey Off The Map
2016: Submerged
2017: Galactic Starveyors
2018: Game On!
Group Publishing VBS Themes
1990:
1991:
1992:
1993:
1994:
1995:
1996: Vacation Bible Ship
1997: Wild Frontier
1998: Space Mission Bible Camp
1999: Treasure Hunt Bible Adventure
2000: HolyWord Studios
2001: Polar Expedition
2002: Bug Safari
2003: SCUBA
2004: Lava Lava Island
2005: Serengeti Trek, Jerusalem Marketplace
2006: Fiesta, Bethlehem Village
2007: Avalanche Ranch, Galilee By the Sea
2008: Power Lab, Jerusalem Marketplace
2009: Crocodile Dock, Rome
2010: High Seas Expedition, Egypt
2011: PandaMania, Hometown Nazareth
2012: Sky, Babylon
2013: Kingdom Rock, Athens, Hayday
2014: Weird Animals – Where Jesus' Love Is One-of-a-Kind, Wilderness Escape – Where God Guides & Provides, Blast Off – Launching Kids on a Mission of God's Love
2015: Everest – Conquering Challenges with God's Mighty Power, Cross Culture VBS – Thailand Trek, Outback Rock – Where Kids Venture Into Solid Faith, Hometown Nazareth – Where Jesus was a Kid
2016: Cave Quest – Following Jesus, the Light of the World, Egypt – Joseph's Journey from Prison to Palace, Cross Culture VBS – Expedition Norway, Pets Unleashed – Where Jesus Cares 'Fur' You
2017: Maker Fun Factory, Rome, Passport to Peru
2018: Shipwrecked, Babylon, Polar Blast
Other VBS Publishers
We first started this list with the intention of only recording LifeWay and Group themes, but the response has been overwhelming. Thanks to our super smart customers and friends, we're gonna start our list of other VBS themes from all the publishers we can find. Comment below to add your memories and favorites to this ultimate list of VBS themes from years gone by.
Cokesbury VBS Themes
2013: Everywhere Fun Fair – Where God's World Comes Together
2014: Workshop of Wonders – Imagine & Build with God
2015: G-Force – God's Love in Action
2016: Surf Shack – Catch the Wave of God's Amazing Love
2017: Hero Central
2018: Rolling River Rampage
Concordia VBS Themes
2014: Gangway to Galileo – Amazing Grace Adventures
2015: Camp Discovery – Jesus at Work Through Us
2016: Barnyard Roundup – Jesus Gathers Us Together, ¡Sopresa! – El Camino del Perdón
2017: Mighty Fortress
2018: Splash Canyon
Standard Publishing VBS Themes
1989: Joy Trek – A Journey with Jesus through time and space
2000: Road Rally Praises
2005 – Construction Zone – Building Character Like Jesus
2007: Take the Plunge with Jesus
2012: Adventures on Promise Island – Where Kids Discover God's Lifesaving Love!
2013: God's Backyard Bible Camp – Under the Sun/Under the Stars
2014: Jungle Safari – Where Kids Explore the Nature of God
2015: Bible Blast to the Past – Discover God's Everlasting Love
2016: Deep Sea Discovery – God is With Me Wherever I Go
Gospel Light VBS Themes
1991: Sonward Ho
1992: Son Mountain
1993: Amazing Journey to Bible Times
1994: Son Farm
1995: Sontown
1996: Kingdom of th Son
1997: Sonrise
1998: Sonlight Island
1999: SonCastle Faire
2000:
2001: Soncreek Junction
2002: SonCanyon River
2003: SonHarvest
2004: SonGames
2005: Kingdom of the Son ( repeat)
2006: SonTreasure Island
2007:
2008: Sonworld Adventure Park
2009: SonRock Kids Camp
2010:
2011:
2012:
2013:
2014: SonTreasure Island, SonWest Roundup
2015: Son Spark Labs – Discovering God's Plan 4U=Jesus!, SonRise National Park
Answers VBS Themes
2014: International Spy Academy – Agents for the One True God
2015: Camp Kilimanjaro – An Epic Expedition Through Proverbs
2016: Ocean Commotion – Diving Into Noah's Flood
2017: Operation Arctic
2018: Time Lab
RBP VBS Themes
2014: Arrow Island – Choosing God's Way
2015: To The Edge – Encounter the God of the Universe
2016: Cow-A-Bungalow Farm – Growin' With Our Faithful God
2017: Over the Moat
2018: Camp Moose on the Loose
Bogard Press VBS Themes
2014: Cross Canyon Trail
2015: Camp Courageous
2016: The Conquerors
2017: The Redeemer2018: Jungle River Adventure
Abingdon Press VBS Themes
2015: Shining Star – See the Jesus in Me
2016: Joy In Jesus – Everywhere! All The Time!
2017: Super God! Super Me! Super Possibility!
Spanish VBS Themes
2015: Underwater Quest
Mega Sports Camp VBS Themes
2014: Game Plan
2015: Get Ready
2016: Epic Moments
2017: Conquer the Day
2018: Team Spirit
Jeff Slaughter VBS Themes
2014: Scavenger Hunt
2015: Run Run
2016: Tree House
VBS Mission Project VBS Themes
2016: VBS Missions – Change For Life
Go Fish Resources
2014: Shine
2017: Victory
Orange VBS Themes
2017: Gadgets & Gizmos
2018: Amped
Sours: https://vbstshirts.com/past-vbs-themes-since-1990/
VBS 2016 "Cave Quest"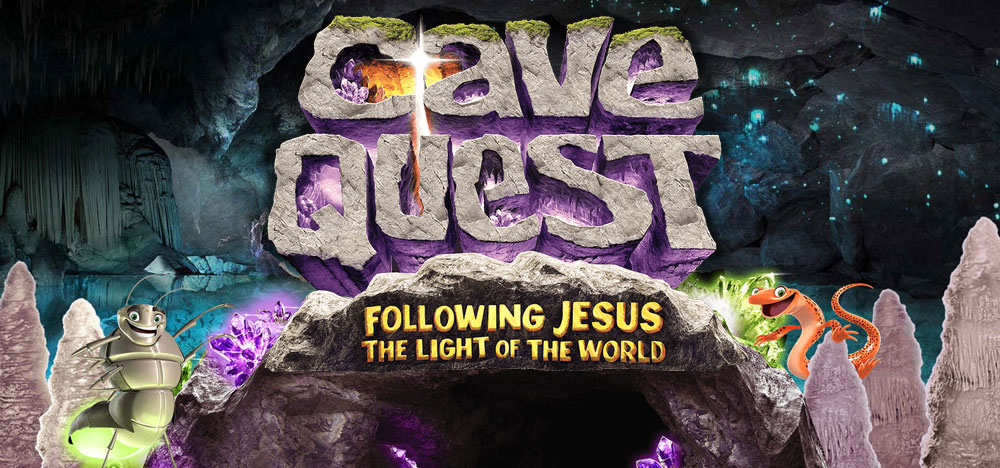 This year's VBS theme at Jones Chapel is "Cave Quest": Following Jesus the Light of the World.
VBS runs from July 18-22 from 6:00pm-9:00pm.
***Please note, Friday's VBS will start at 5:30pm!***
Online Registration is now closed.
It's not too late to get registered!!! You can still register at the church.
CAVERN CAFE MENU
Monday – Passage pancakes & Stone Sausage; Crystals (Ice Pops)
Tuesday – Caveman Chicken Legs & Mawtha Mashed Potatoes; Jesus Jello
Wednesday – Tunnel Tacos; Compass Cookies
Thursday – Column Chicken Nuggets & Mystery Mac and Cheese; Lovely Limestone (Cupcakes)
Friday – Powerful Pizza & Chips
Light refreshments served after closing program on Friday.
Please let us know if we need to make accommodations for your child due to allergies.
HEAVENLY "HIDES"
WHAT TO WEAR
Monday – Glowing for God
Tuesday – Courageous Cavekids
Wednesday – Righteous Rock Stars
Thursday – India Intentions
Friday – VBS T-Shirt
*Please note, Heavenly Hides is just another fun way kids can celebrate VBS with us. Children are not required or expected to dress up. Just let it be a fun thing for them to express."
Sours: http://www.jccog.com/vbs-2016-cavequest/
Vbs Theme Song 2016 Reviewed and Rated in 2021
How To Buy Best Vbs Theme Song 2016
Does shopping for the best vbs theme song 2016 get stressful for you? Are doubts rolling over your head and confusing you? We know how it is; we have been through the entire journey of vbs theme song 2016 research as we have put forward an entire list of the best vbs theme song 2016 available in the market these days. We have brainstormed a few questions that most of you might have in mind.
Although there may be more than what we are suggesting here, it is significant for you to ensure that you conduct exclusive research for this product before buying it for yourself. The questions may include:
Is a vbs theme song 2016 worth the purchase?
What are the advantages of buying a vbs theme song 2016?
What factors should you consider before shopping for the best vbs theme song 2016?
Why is it important to invest in a vbs theme song 2016, especially the best one?
What are the good vbs theme song 2016 available in today's market? Or what is the best vbs theme song 2016 of 2020, 2019?
And, where would you get all this kind of information? We are absolute that you may have many more questions, and the best way to quench your thirst is to get them all solved from various online resources. Sources may be anything such as online forums, word-of-mouth, rating websites, buying guides, and product reviews. Proper research is essential before buying the best vbs theme song 2016 for yourself. Ensure that you are reading from highly-reliable, trustworthy websites or any other sources.
We offer a buying guide for vbs theme song 2016, and we provide 100% genuine and unbiased information. We make use of Big Data and AI data to proofread the information. How have be made this buying guide? We have a uniquely-designed set of algorithms, which enable us to make a list of top 10 vbs theme song 2016 that are available in the marketplace these days. Our technology of bringing together a list depends on the factors such as:
Brand Value
Features & Specifications
Product Value
Customer Reviews & Ratings
Quality and Durability
We do not forget that keeping product information up-to-date is our priority; therefore, we keep our websites updated at all times. Get more information about us through online sources. If you feel that the information displayed here is misleading or is incorrect or is irrelevant from actual facts, then please do not hesitate to get in touch with us. We will be there for you at all times.
Last Updated: 2021-10-15 by Elyssa Hahn
Sours: https://fatfreeart.com/vbs-theme-song-2016/
Trinity Evangelical Free Church in Lakeville, MN – 2016 VBS theme song
All-New Reproducible Worship Music from Kid-Favorite—Yancy!
Kids and adults will move with the music and connect with the message through all new worship songs and music videos by award-winning Christian artist Yancy.
Yancy has written and produced the music and videos for Standard Publishing's VBS since 2012. And with 8 new songs written especially for Deep Sea Discovery, Yancy's music helps reinforce the meaningful message that God is with me—wherever I go!
Watch & Listen to 8 New DEEP SEA DISCOVERY Song Clips!
Wherever I Go (theme song)

Always Be There

O the Deep, Deep Love

Send Me

Strength & Shield

Tell His Story

When We Serve

With Me Every Day
"Kids today are dealing with real life issues," says Yancy. "In a world with so much uncertainty and a lack of hope, I'm thankful for this year's VBS theme teaching them that no matter what life brings they can be confident that 'God is with me wherever I go'. The songs I've written reinforce that message and I'm hopeful kids, parents and leaders will enjoy singing loud and proud that God is always with us!"
Read More from Yancy: 4 Tips for Creating a Powerful Worship Experience at VBS
The Deep Sea Discovery VBS Kit includes all the music resources you need: reproducible songs, split tracks, music videos, motions videos, and sheet music.
"The songs have such impactful, life-changing lyrics that the kids can connect with."

— Director of Children's Ministry, Campbell River Baptist Church, BC
Meet Yancy Ministries
Yancy Ministries exists to make Jesus loud, whether that's through songs, videos, devotionals, training, or family concerts. It happens in homes and churches, one person at a time. As a songwriter, worship leader, wife, and mom, Yancy creates music for preschool, elementary, and preteens to praise God for all He has done. Learn more at www.YancyMinistries.com.
Would you like to have Yancy at your VBS or special event? Email [email protected] or call 615-631-6862. Mention you're using Standard Publishing's Bible Blast to the Past or Deep Sea Discovery for a special rate.
Hear more of Yancy's music:
Sours: http://vbs.agroup.com/about/music.html
2016 vbs theme
He Is The Light (Cave Quest Vbs Theme Song 2016)
GroupMusic
Christian & Gospel
1,461 Shazams
play full song
Get up to 5 months free of Apple Music
PLAY FULL SONG
Connect with Apple Music. Sign-in or Try it free for 3 months.
Music Video
He Is the Light (Cave Quest Vbs Theme Song 2016)
Featured In
Album
He Is the Light (Cave Quest Vbs Theme Song 2016) - Single
GroupMusic
Sours: https://www.shazam.com/track/311837069/he-is-the-light-cave-quest-vbs-theme-song-2016
submerged vbs song
He Is the Light (Cave Quest Vbs Theme Song 2016) Lyrics
Woah (echo)
Jesus is the one who lights our way
Woah (echo)
He gives us hope for each new day
Woah (echo)
When the world feels dark and lonely,
His love illuminates
He's the one I trust And I will follow him
He is the light that,
breaks through the darkness
Follow his lead and
Light it up
Light it up
Jesus will guide us
Through every dark time
Follow his lead and
Light it up
Light up the world
Jesus is the one who lights our way
Woah (echo)
He gives us hope for each new day
Woah (echo)
When the world feels dark and lonely,
His love illuminates
He's the one I trust and I will follow him
He is the light that,
Breaks through the darkness
Follow his lead and
Light it up
Light it up
Jesus will guide us
Through every dark time
Follow his lead and
Light it up
Light up the world
I'm gonna follow Jesus,
Wherever he will lead me
I'm gonna follow Jesus,
All the way-ay
I'm gonna follow Jesus
Wherever he will lead me
I'm gonna follow Jesus,
All the way-ay
He is the light that,
Breaks through the darkness
Follow his lead and
Light it up
Light it up
Jesus will guide us
Through every dark time
Follow his lead and
Light it up
Light up the world
Light up the world
Light up the world

Writer(s): jay stocker<br>Lyrics powered by www.musixmatch.com

Sours: https://www.jiosaavn.com
You will also be interested:
He Is The Light Cave Quest Vbs Theme Song 2016 png images
3300x2508px15.44MB

1234x1593px1.75MB

2790x2139px13.69MB

1600x1227px4.23MB

1200x630px1.75MB

742x417px570.29KB
Sours: https://www.pngwing.com/en/search?q=he+Is+The+Light+Cave+Quest+Vbs+Theme+Song+2016
381
382
383
384
385