2019 Ford Mustang Shelby GT350 Driven: Don't You Forget About Me
The GT350's updates make it better than ever.
Ford Mustang Full Overview
PONTIAC, Michigan—The current Ford Mustang Shelby GT350 arrived for 2016 like a thunderclap, its flat-plane howl shredding the synapses of, well, pretty much anyone within hearing distance. It packed 526 horsepower from its exotically cranked 5.2-liter V-8, handling chops that shamed every Mustang that came before, and a six-speed Tremec manual that, heroically, was the only transmission option. So why isn't anyone talking about it anymore?
The next GT500, that's why. With Ford's 700-plus-hp, steroidal mega pony on the way for 2020, the GT350 has gotten lost in the corral. Hell, even the Bullitt has received more attention of late (which it deserves). But developing the new GT500 taught Ford lessons that it has now applied to the 2019 GT350, giving little brother both more civility and more capability while making it more approachable than ever.
Underneath, the GT350 gets 16 percent stiffer springs up front, six percent softer springs out back, a 24-mm rear anti-roll bar in place of last year's 22-mm unit, recalibrated magnetorheological dampers, and available camber plates. The changes you can see are limited to a new spoiler with optional Gurney flap, slightly more closed area in the upper grille (to balance out the new spoiler), a redesigned set of wheels, and freshly adopted Michelin Pilot Sport Cup 2 rubber with a specific tread pattern. (The GT350 used Michelin Pilot Super Sports before.) The Gurney flap and camber plates come bundled together for $850.
An afternoon lapping the new GT350 on M1 Concourse's tight, 1.5-mile course in Pontiac, Michigan, proved change is good. The cars we drove had Gurney flaps and camber plates, with the negative camber cranked all the way up. The new spoiler and its flap are said to significantly increase downforce at speed and reduce front-end lift, and also to offer lower drag.
While we're not sure we achieved velocities on the short track that would have seen a big aero effect, we'd say the suspension geometry and new rubber are enough to positively glue the GT350 to the tarmac. Ford tells us that the capability of the Cup 2s—sized 295/35-19s in front and 305/35-19s out back, as before—drove many of the other chassis tweaks, and the tires offer grip for months, years even, and their utter tenacity had us rubbing out neck kinks long after we were done driving.
The steering remains on the light side, which is welcome during multiple-lap stints, especially on a course with as many low-speed, high-lateral-acceleration corners as at M1. It's precise and feelsome and quick—although never twitchy. This is a car that still eats apexes for dinner and short chutes for dessert. Power from the 5.2-liter V-8 is delivered in a mighty and manageable wave, and there are few things in this world as wonderfully twisted as winding out a Ford Mustang—a Mustang!—to 8,250 rpm. And the noise. My God, the noise.
The ABS system that pulses the Brembo calipers under threshold braking has been reprogrammed, too, and it combines with the new aero to impart more stability under hard deceleration. The tail no longer wants to wag free of your control, liberating critical neurons to focus on heel-and-toe downshifts, front-end placement, and everything else that goes into proper corner entry.
A short road drive revealed the GT350's promise of additional civility to ring true. The ride is still surprisingly compliant for such a beastly thing, and the car seemed to tramline a bit less over rutted and grooved surfaces. Credit the recalibrated suspension, which seems to offer more predictable straight-line behavior in addition to increased track prowess. This remains a mega Mustang you can drive every day.
That Tremec manual is a friend on the daily grind, as well, with blessedly short throws and positive engagements. We did experience an odd fault on the track where the reverse lockout stopped working, so trying to downshift from three to two resulted in us trying to slide the lever into the nonexistent gate below reverse. The repair must have been simple enough, however, as the cars were back on the track later in the day.
And if you want a manual transmission in your American-market Ford Performance product, you're looking at the only option, as the GT500 will have a standard seven-speed dual-clutch automatic. Inside the GT350, there are a few new trim elements and standard dual-zone climate control, as well as newly available power adjustments for the heavily bolstered Recaro seats, an available 12-speaker B&O audio system (which we didn't try for obvious reasons), and an 8.0-inch infotainment screen. Velocity Blue and Ford Performance Blue join the exterior palette, while over-the-top striping can be had in black, white, or Kona Blue.
While the broadening of the current-generation Mustang lineup has perhaps diminished the wider impact of the GT350, its audacious engineering—we're still blown away by a flat-plane crankshaft in something not from Maranello—and the effectiveness of its 2019 improvements keep it among the coolest, most capable track weapons you can buy, certainly at its reasonable $60K entry price. The 2019 GT350 is not a car you should sleep on, and don't sleep on the harder-core GT350R, either; it's going to be updated for 2020. We can't wait.
Looks good! More details?
2019 Ford Mustang Shelby GT350 Specifications

ON SALE
Now
BASEPRICE
$60,235
ENGINE
5.2L DOHC 32-valve V-8; 526 hp @ 7,500 rpm, 429 lb-ft @ 4,750 rpm
TRANSMISSION
6-speed manual
LAYOUT
2-door, 4-passenger, front-engine RWD coupe
EPA MILEAGE
14/21 mpg (city/hwy)
L x W x H
188.9 x 75.9 x 54.2 in
WHEELBASE
107.1 in
WEIGHT
3,800 lb (est)
0-60 MPH
4.3 sec (est)
TOP SPEED
180 mph (mfr)
THE LATEST IN CAR NEWS
EMAIL NEWSLETTER SIGN-UP!
Share on FacebookShare on Twitter
Sours: https://www.motortrend.com/reviews/2019-ford-mustang-shelby-gt350-first-drive-review-photos/
Based on the latest-generation Mustang, the all-new Shelby GT500 is the most powerful production Shelby model ever created.
It also comes with the quickest acceleration and highest horsepower numbers ever offered on a street legal Ford Mustang with factory parts. Designed to offer supercar performance on an even higher level than the "base" Shelby GT350 Mustang, the new GT500 is also fitted with the quickest-shifting transmission ever offered on a Mustang.

Under that long sculpted hood sits a hand-built 5.2-liter aluminum alloy V8 that's mildly based on the Shelby GT350s Voodoo engine, only in this case the flat-plane crankshaft has been replaced with a more traditional cross-plane design. The 760 horsepower and 625 lb-ft of torque are attainable thanks to a massive 2.65-liter roots-types supercharger with an air-to-liquid intercooler.

Both the supercharger and the intercooler are integrated neatly inside the V of the engine for improved response and low-down torque. All that power is sent exclusively to the rear wheels through a Tremec dual-clutch transmission with 7 forward speeds that can shift gears in just under 100 milliseconds.

As expected from a sports car of this caliber, there are various driving modes available, including normal, weather, sport, drag and track, not to mention a line-lock feature or launch control, all of them available through selectable Track Apps in Ford's uConnect infotainment system.
Sours: https://www.autoevolution.com/cars/ford-mustang-shelby-gt500-2019.html
2019 Ford Mustang Shelby GT500 gets 566kW
Sponsored & Advertorial Content
In some cases, www.carsales.com.au will work with advertisers to bring you relevant content that has been made possible by advertisers and their partners. These Ads will be marked 'Sponsored'. www.carsales.com.au has reviewed the content to ensure it is relevant. Learn More


Disclaimer
In most cases, www.carsales.com.au attends new vehicle launches at the invitation and expense of vehicle manufacturers and/or distributors.
Editorial prices shown are a "price guide" only, based on information provided to us by the manufacturer. Pricing guide current at the time of writing editorial. When purchasing a vehicle, always confirm the single figure price with the seller of an actual vehicle and/or accessory.
If the price does not contain the notation that it is "Drive Away No More to Pay", the price may not include additional costs, such as stamp duty and other government charges.
Opinions expressed with www.carsales.com.au editorial material are those of the writer and not necessarily Carsales.com Ltd, motoring.com.au editorial staff and contributors attend overseas and local events as guests of manufacturers and importers.
for further information, see our Terms & Conditions.

Sours: https://www.carsales.com.au/editorial/details/2019-ford-mustang-shelby-gt500-gets-566kw-119079/
2019 Ford Mustang GT 5.0 V8 - TOP SPEED AUTOBAHN POV by AutoTopNL
Overview
As a track-ready version of the Ford Mustang, the 2019 Shelby GT350 has even more muscular styling and next-level performance. The rear-drive coupe shares a shrieking 526-hp naturally aspirated V-8 and precise six-speed manual transmission with its R-rated twin—the GT350R. While both versions have specially tuned chassis as well as sticky tires and improved aerodynamics, the GT350R adds even more racy upgrades, such as unique carbon-fiber wheels and numerous weight reductions. The pair sit atop the Mustang pyramid until the return of the 700-plus-horsepower Shelby GT500. Still, the 350 variants remain fierce rivals in the highly competitive pony-car wars that also include the 650-hp Chevy Camaro ZL1 and the 797-hp Dodge Challenger SRT Hellcat Redeye. Who wins this matchup? Head to your local racetrack or drag strip to find out.
What's New for 2019?
While the spotlight has switched to the revival of the almighty Shelby GT500 for 2020, the GT350 model is not dead yet. For 2019, Ford enlisted the help of professional race-car driver Billy Johnson to help identify where the two-time 10Best Cars winner could improve. That, along with tricks learned during development of the GT500, brings numerous improvements that the company claims make the GT350 drive better on the street and the track. Enhancements include a new rear spoiler for reduced drag and added downforce with the newly available Gurney flap. This Mustang also features specially designed Michelin Pilot Sport Cup 2 tires (they're extra sticky) that wrap around new 19-inch wheels. These updates required revising the standard adaptive dampers. The Ford Performance team also updated the Shelby's anti-lock brakes, stability control, and steering system. Inside, the GT350 receives new materials and standard features. Every model now has an 8.0-inch touchscreen, dual-zone automatic climate control, and a newly optional 12-speaker B&O Play sound system. The exterior color palette adds Velocity Blue and Ford Performance Blue.
Pricing and Which One to Buy
Sure, we're head over heels for the Mustang Bullitt, which found a spot on our latest 10Best Cars list, and models equipped with the Performance Pack Level 2 are incredible in their own right. However, neither one of those has the rock 'n' roll soundtrack of the flat-plane-crank 5.2-liter V-8, found exclusively on the GT350. That's right. Not even the GT500 has this engine—code-named Voodoo—under its heavily vented hood. For that reason alone, we'd consider either GT350 model. However, the R version may be too hard core for daily use. The GT350 is loaded with standard features and starts cheaper than both the Camaro ZL1 and the Challenger SRT Hellcat. We do suggest trying out the standard Recaro front seats before buying; the optional leather-trimmed buckets may be more comfortable to some.
Engine, Transmission, and Performance
Likes: Frenetic engine will either intimidate or exhilarate, impressive ride and handling, incredible cornering grip.
Dislikes: Touchy brakes in traffic, twitchy steering on uneven pavement.
Rock 'n' roll ain't noise pollution. Neither is the ungodly roar from Ford's raucous, high-revving 526-hp V-8, code-named Voodoo. Like learning how to be a snake charmer, taming the wild engine takes time and tenacity. Its natural aspiration and peaky nature make it docile at low revs. Crest 4000 rpm, however, and a thrust-filled crescendo builds until the 8250-rpm redline. Likewise, the six-speed shifter slots precisely into each gear and rewards ratcheting through the ratios. The buoyant clutch is effortless, with fluid feedback that doesn't punish your left leg in stop-and-go traffic. In our testing, the GT350 shot from zero to 60 mph in 4.3 seconds; the R version was a tad quicker at 3.9. Both trail behind the high-powered Chevy Camaro and Dodge Challenger but contend with other high-dollar rivals.
It has a hair-raising soundtrack and ethereal track ability, yet the Shelby GT350 is still surprisingly livable in daily driving. Add tenacious grip, brilliant brakes, and satisfying steering, and you are treated to a symphony not just of sound but of pure, unbridled driving pleasure. Regardless of model, the Shelby's chassis is excellent; its limits are easily explored and exploited. The electrically assisted steering performs best on smooth surfaces at any speed, but it can be unpredictable on choppy streets where darting reverberations are disconcerting. The touchy brake pedal on our GT350 test car took some getting used to. Its initial bite was met with a tremendous response that felt too eager around town. That same feeling provided fortuitous reprieve at high speed, however.
Fuel Economy and Real-World MPG
The Shelby GT350 is a conversation starter, especially at gas stations, where fill-ups are frequent. Its EPA-rated fuel economy is on par with its arch rivals from Chevy and Dodge, and its real-world rating is similar, too. The Shelby GT350 we tested earned 19 mpg on the highway in our real-world test, falling 2 mpg shy of its EPA rating.
Interior, Infotainment, and Cargo
Likes: GT350R eliminates unnecessary interior bits to save weight, user-friendly touchscreen, practical trunk capacity.
Dislikes: Interior quality undermines price, top infotainment features cost extra.
At first glance, the Shelby GT350 interior appears identical to that of the regular Ford Mustang. The mix of modern and retro styling is sweet, and front-seat legroom is abundant. Although faux-suede trim and Shelby badging are specific to the GT350 and add some differentiation, the plentiful hard plastics look and feel low-grade for a car at this price point. A pair of standard Recaro front sport seats are supportive yet still quite comfortable but only offer basic seat adjustments. We like the thin cross section of the flat-bottom steering wheel, which avoids the thick-rim trend.
The standard infotainment system—called Sync 3—has an attractive interface and user-friendly interactions, and it features Apple CarPlay and Android Auto capability. Unfortunately, the touchscreen's average response time and lack of customization are flaws. A 12-speaker B&O Play audio system is available to better hear a guitar-melting riff by an old-school rock band.
The GT350 is a hoot at the track and also an agreeable travel companion. In our testing, it held the second-most carry-ons and the most interior storage space among its space-challenged competitors. The back seat stows with a pull-strap release and folds up by hand. Only the Dodge Challenger we tested held more luggage than the Shelby.
Safety and Driver-Assistance Features
Neither the Shelby GT350 nor the GT350R has been crash-tested by the National Highway Traffic Safety Administration or the Insurance Institute for Highway Safety. While driver-assistance technology is in short supply on these Shelby twins, blind-spot monitoring and rear cross-traffic alert are available. Otherwise, they have useful integrated blind-spot mirrors that provide good rearward visibility.
Warranty and Maintenance Coverage
The Shelby has comprehensive coverage that aligns with domestic rivals. Compared with the BMW M4 and the Porsche 718 Cayman S, it has less limited protection but a better powertrain plan.
Limited warranty covers 3 years or 36,000 miles
Powertrain warranty covers 5 years or 60,000 miles
No complimentary scheduled maintenance
Sours: https://www.caranddriver.com/ford/mustang-shelby-gt350-gt350r-2019
2019 cobra mustang
2020 Ford Mustang Shelby GT350 vs. GT500: Which Is the Better Sports Car?
Is the $12,460 more costly GT500 a better sports car than the already great GT350?
After our recent First Drive of the "game-changing" 2020 Ford MustangShelby GT500, we asked ourselves, "Is it that much better than the GT350, a sports car that just earned second place in this year's MotorTrend Best Driver's Car competition? They're both so good, it's almost like having to choose your favorite child. I love them both for different reasons."
Drag Race
If we simply look at specs, the supercharged GT500 trounces the GT350 with a 234-horsepower advantage and 196 lb-ft more torque. Those differences would provide the GT500 a full second of cover to 60 mph (3.0 to 4.0 seconds) that would extend to the quarter mile, as well. Having run a couple 11.3s at a prepped but chewed-up dragstrip, we predict an 11 flat for the GT500 and have multiple 12.1-12.3-second passes on the GT350. The big tell that the GT500 wins the horsepower war is the trap speed at the end of the race, where the GT500 will be going in excess of 130 mph; the fastest GT350 we've tested was traveling 119.6 mph.
Whoa!
The GT500 is fitted with enormous 16.5-inch two-piece brake rotors plus Brembo six-piston calipers that are larger and stiffer than the GT350's, with 20 percent more swept area, as well. The improvements to the 15.5-inch disc brakes on this year's GT350 are noticeable; we've sampled both cars on race tracks, and neither GT showed any signs of degradation. The GT500's 300-plus extra pounds is offset by its massive, vented binders. We'll call this tie.
Get a Grip
Because the refreshed GT350 now comes with Michelin Pilot Sport Cup 2 tires (used to have to get the GT350R for those) and the base GT500 has Michelin Pilot Sport 4S, we'll go out on a limb and say that, base car to base car, the GT350 has a slight edge in grip despite having only slightly narrower contact patches. The tables turn, though, when you step up to the GT350R and GT500 with the Carbon Fiber Track package (CFTP; it should've simply been called GT500R). Gargantuan 305mm front and 315mm rear Cup 2 tires provide well over 1.0g acceleration in any direction for the GT500R.
The Helm
Both cars get a new and improved electric-assist power steering rack this year, based on the development of the GT500. Does the added weight on the nose of the GT500 hurt its steering/handling? The only time I noticed mild understeer was on overcooked slow-speed corners. Otherwise their crisp responses make them equals; inch-precise placement is entirely possible in either.
Same Foundation
Both Shelbys use the same 5.2-liter aluminum V-8 engine block and are both hand-assembled and signed, but that's where the similarities end. The GT350's uses a racy flat-plane crank that allows it to rev to a glorious 8,250 rpm, whereas the GT500 runs up to a stout 7,500 rpm with its more traditional cross-plane crank. How and where they make their respective peak power figures has much to do with their personalities.
The naturally aspirated GT350 packs down gasses in the cylinder with a 12.0:1 compression ratio. The GT500's compresses the charge air up to 12 psi with an Eaton twin-vortices screw supercharger; air then gets sent up through the intercooler and then back down toward the intake valves. As a result, the GT500 uses a lower 9.5:1 compression ratio. Both use DOHC 32-valve heads and the same tubular stainless steel exhaust headers and X-pipe crossover exhaust with active mufflers.
Revver versus Huffer
The GT350 is, indeed, a sonorous revver, making its peak torque (429 lb-ft) at 4,750 rpm and 526 horsepower at 7,500 rpm. You can feel the GT350's Voodoo V-8 coming into its power as the engine revs, and revs, and revs. When your ears tell you redline is approaching, your eyes will tell you there are 3,000 rpm left in the range. There really isn't any other American V-8 like this. Pushrods be damned. It is a wonder this engine was even approved for production. That it's available in a street car is marvelous.
Contrast this with the blown GT500 Predator. It makes much more torque (625 lb-ft) at an even higher 5,000 rpm, but it doesn't feel like that. Despite the supercharger, the power delivery (and the shove in the small of your back) is very linear with no discernible peaks or valleys. It just pulls everywhere in the rev range and doesn't nose over, and because of this, it's too easy to run up against the rev limiter. And it is explosively powerful. But unlike, say, an SRT Hellcat Redeye's prodigious and unusable power, the GT500 transfers power to the pavement in some miraculously Faustian way. I don't know how, but it just does.
The Whiny One
If I had to choose a winning engine between these two, I'd go with the GT500's. I was conditioned to dislike supercharged V-8s (see Dodge) because they're sometimes hard to modulate and predict, but this lump is different. It can be docile and fade into the background, or it can erupt like Vesuvius—driver's choice. Plus it puts down power like an all-wheel-drive car. I love the high-revving GT350, but just you wait until you can experience the GT500's tractable V-8. It's addictive. I know it wouldn't fit, but I want to put one in the Ford GT to make that car really sing.
Tremec versus Tremec
There's nothing like a well-sorted manual transmission to connect the driver to a car, to make the car "need" its driver. The Tremec TR-3160 is the only transmission available in the GT350, and it works exceedingly well. The clutch uptake is intuitive, it doesn't mind being hurried on a dragstrip, and there's something immensely satisfying about nailing a matched-rev downshift while operating all three pedals simultaneously. This is clearly the purist's choice, and it would be a good one.
Flappy Paddles
The new Tremec TR-9070 seven-speed dual-clutch automated manual mandated in the GT500 is in a different category, really. It could have gone terribly wrong, but this is world-class stuff here. Clever programming and mapping change its behavior in the various drive modes, and we put it in a close second or third place to the benchmark Porsche PDK or McLaren "seamless shift" dual-clutch unit. Driven on the street, it effectively hides shifts and feels like an automatic. In Track mode, it cracks seamless 80-millisecond upshifts. In braking zones, it blips the throttle and smoothly downshifts, never upsetting the chassis. In manual mode, it will even "buffer" an overly eager requested downshift until it knows it won't over-rev the engine.
The one thing the GT500 does not have is launch control in the sense that Porsche and McLaren do. In Drag mode, you may select a launch rpm, press both pedals to the floor, and then release the brake, but then you're on your own to quell wheelspin. There's no closed-loop electronic system to optimize traction. It does have a trick we've never seen before in a production car, though: what Tremec calls "over-torque" shifting. It's a lot like a "no-lift" shift in a manual transmission. Over-torque maintains wide-open throttle and slurs two gears together to exploit the surge of inertia bottled up in the engine, and you can feel it in the small of your back. They're not the quickest shifts, but they do produce better ETs at the dragstrip.
Winner
If you've read this far, I think you'll guess what I'm about to choose. The Ford Mustang Shelby GT350 was a revelation when it made its debut, marking the first time a pony car could legitimately be called a sports car. It was, until this year, the best Mustang ever. Well, that's now changed. The GT500, especially when fitted with the Carbon Fiber Track package, is a supercar hunter in the way the last Dodge Viper ACR was. Not only is it amazingly capable, but it's also easy to drive right up to its limits. There hasn't been such a fierce but friendly sports car since the Mercedes-AMG GT S. You read that right. For our money, the GT500 is the one to get. Find the extra money, and you won't be sorry.
2019 Ford Mustang Shelby GT350
2020 Ford Mustang Shelby GT500 (Carbon Fiber Track Pack)
BASE PRICE
$61,535
$73,995 ($92,495)
LAYOUT
Front-engine, RWD, 4-pass, 2-door coupe
Front engine, RWD, 4(2)-pass, 2-door coupe
ENGINE
5.2L/526-hp/429-lb-ft DOHC 32-valve V-8
5.2L/760-hp/625-lb-ft supercharged DOHC 32-valve V-8
TRANSMISSION
6-speed manual
7-speed twin-clutch automatic
CURB WEIGHT
3,825 lb (53/47%)
4,200 lb mfr est (4,000 lb MT est)
WHEELBASE
107.1 in
107.1 in
L x W x H
188.9 x 75.9 x 54.2 in
189.5 x 76.6 x 54.3 (53.7) in
0-60 MPH
4.0 sec
3.0 sec (MT est)
EPA FUEL ECON
14/21/16 mpg
12/18/14 mpg
ON SALE
Currently
Currently
THE LATEST IN CAR NEWS
EMAIL NEWSLETTER SIGN-UP!
Share on FacebookShare on Twitter
Sours: https://www.motortrend.com/features/better-sports-car-2020-ford-mustang-shelby-gt350-gt500/
2019 Ford Mustang GT: Test Drive and Review!!!
The GT500's greatly enlarged front grille and louvered bonnet vent create 50% more airflow than the GT350, and help generate more downforce than any other factory Mustang.
It sits on Ford Performance-specific Michelin Pilot Sport 4S tyres, but the optional carbonfibre track package swaps these for more circuit-friendly Pilot Sport Cup 2s. The pack also includes 20in carbonfibre wheels, an adjustable rear wing, and deletes the rear seats to reduce weight.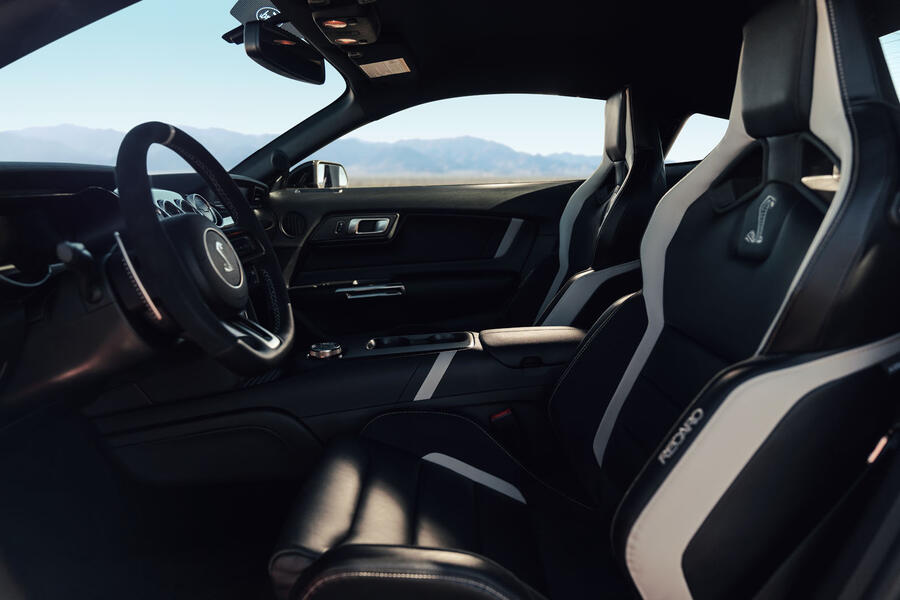 The interior is only slightly changed from the GT350, with new carbonfibre dashboard trim and optional Recaro bucket seats with pass-throughs for safety harnesses. It retains the 12in digital instrument cluster and 8in Sync 3 infotainment, along with a 12-speaker B&O Play audio system.
The GT500 has been in development for more than a year, with Ford having previously confirmed the car's wide longitudinal body stripes in a teaser video released before the Detroit show last year.
The car will go on sale in the US later this year, replacing the GT350 as the flagship of the Mustang line-up. Like the GT350, the GT500 is unlikely to be sold officially in the UK.
Ford had previously announced the Shelby GT500 would be one of a number of new versions of the Mustang – which will include a hybrid version, part of a major electrification strategy of the firm's North American line-up. Ford says the hybrid system in the Mustang Hybrid will be tuned to "deliver V8-like performance with more low-end torque".
READ MORE
All the news from the Detroit Moto Show
Ford Mustang Bullitt (2018) road test review
Ford Mach-1: Mustang-inspired EV teased in new image
Sours: https://www.autocar.co.uk/car-news/motor-shows-detroit-motor-show/2019-shelby-gt500-revealed-fastest-road-going-ford-mustang
You will also like:
.
470
471
472
473
474