9 Stylish Pieces to Pick Up From the Richard Allan x H&M Collection — Available Now!
H&M is back at it again with a new collab! This time, the affordable fashion brand teamed up with iconic British brand Richard Allan to launch a 1960's-inspired womenswear collection.
Richard Allen was established in 1962 and it's beloved for its luxe, silk scarves in bold, eclectic designs. The Richard Allen x H&M Collection features the label's iconic scarf prints, sourced from the artist's archive. There's Piccadilly, a combination of black and orange patterns that merge and fade, Sanaa, a black-and-white design inspired by the historical city — and so many more options that will leave you mesmerized.
The collection features Richard Allen's beloved prints reimagined in fashionable designs for H&M like tops, dresses, pants, skirts and trendy scrunchies.
"It is wonderful to know that my father's prints will be worn by a whole new audience — he would have been thrilled, as I am," says Cate Allen, creative director of Richard Allen London. "Many of his colourful designs are as relevant today as when first conceived from the 1960s to the 1980s and H&M's re-interpretation for the 21st century is an inspired creation. It will hopefully open the door to new generations in new places, showcasing the extraordinary talents of Richard Allan, whose prints became a by-word for colorful chic."
Maria Östblom, head of womenswear design at H&M continues, "Swinging London in the 1960's is such an iconic era full of wonderful prints and an exuberant spirit that still feels very now. We're absolutely elated to be collaborating with one of the most statement-making print designers from this time. By taking these classic vintage prints from scarves and reimagining them in a new context, the pieces from the Richard Allan x H&M collection feel both strong and feminine, yet with a sophisticated touch."
Scroll through for nine pieces we love from the collection — all available now!
Sours: https://www.usmagazine.com/stylish/pictures/richard-allan-x-hm-collection-1960s-inspired-clothing-pics/
When you think of the Swinging Sixties, a handful of fashion designers come to mind: Mary Quant, Yves Saint Laurent, André Courrèges to name a few. However, H&M's latest collaboration pays homage to another iconic sixties name: Richard Allen.
If the name is new to you, allow us to explain. Richard Allen made a name for himself as a scarf designer, who set up shop with his eponymous label in 1962. His distinctive pattern work using a vibrant colour palette earned him legions of fans across the globe, including the Royal family and bohemian hippies.
H&M's head of womenswear design, Maria Östblom, explained how Allen's work has been reworked into a collection of "wearable art".
"By taking these classic vintage prints from scarves and reimagining them in a new context, the pieces from the Richard Allan x H&M collection feel both strong and feminine, yet with a sophisticated touch," she said in a statement.
His signature prints and colours are at the forefront of this collection with H&M and go way past just scarves. Instead you'll find silk mini swing dresses, calf-skimming pleated skirts, statement midi's and boldly-printed polo tops to pair them with.
The 52-piece collection is available online from 22 August and in selected stores worldwide with prices starting for just £9.99, and we have a preview for you on what we're loving and think you'll love too. We'll see you in the queue.
Dogtooth Checked Dress, £29.99
Turn heads in this V-necked long sleeve midi. The dogtooth pattern is a screams sixties, but also makes it a dream to accessorise. Think suede boots, gold earring and a cross body bag.
Chain Print Pleated Skirt, £39.99
Satin slip skirts are out, pleats are in this autumn. This chain-print is bold but doesn't have to be overwhelming if paired with black over the knee boots and a black polo. Just add a nude lippy for the chicest outfit in your wardrobe.
Three-Quarter Sleeve Swing Dress, £17.99
Show off your holiday tan with this high-necked mini. Or, throw on a pair of black opaque tights and a headband for a nod to the Swinging Sixties.
Printed Blouse, £14.99
This paisley blouse is the easiest way to adopt Richard Allen's iconic prints into your wardrobe. Tuck into a pair of straight leg jeans and team with a pair of new boots.
Black And White Print Dress, £39.99
This spectacular piece is by far our favourite from the collection. A versatile dress that will see you through the cold weather, party season and beyond, it's a timeless classic.
Polo Neck, £9.99
Keep your neck war from blustery Autumn weather, while still looking stylish and on trend with this roll neck. We'll be wearing it with our new midi skirts.
Square Scarf, £9.99
Obviously we can't not include a scarf from the coolest scarf designer of the sixties era. This one, painted with sunset hues of red and orange will be firmly attached to our handbags all season long.
We all work hard to earn our money – so it shouldn't feel like hard work to spend it well. At HuffPost Finds we'll help you find the best stuff that deserves your cash, from the ultimate lipstick to a durable iron to replace the one that broke (RIP). All our choices are completely independent but we may earn a small commission if you click a link and make a purchase.
Sours: https://www.huffingtonpost.co.uk/entry/hm-x-richard-allan-collection-launches-today-heres-what-to-buy_uk_5d5c0518e4b05f62fbd59687
H&M collaborates with designer Richard Allan to revive spirit of Swinging Sixties
Change was fast and furious during the 1960s, marking a revolution in everything from politics and music to societal norms around the world.
But, aside from the birth of the Beatles, psychedelia and the demise of British reserve, the decade is revered by many as one of the most impactful in terms of fashion.
From pioneers like Mary Quant and Pierre Cardin to a newfound freedom to be more flamboyant, the way people dressed became a manifestation of the shifting attitudes of the time.
And now, nearly 60 years later, the Sixties are still influencing both high end and high street design.
Next month, H&M is set to launch an exclusive collection with a designer who was considered a staple of the swinging Sixties fashion scene: Richard Allan.
First look at the H&M x Richard Allan collaboration
Show all 51

An accessories designer that worked with the likes of Schiaparelli and Yves Saint Laurent, Allan founded his eponymous brand in 1962 and quickly became renowned for his innovative scarves in bold designs, abstract patterns and vibrant colours.

"Richard Allan's designs had real clarity and a strong sense of colour that spoke of Sixties style and modern luxury," Dr Rebecca Arnold, senior lecturer in history of dress and textiles at the Courtauld Institute of Art, tells The Independent.

"In its heyday the brand collaborated with couture houses to produce scarves that united contemporary art and fashion with graphic prints. It's interesting that Richard Allan London is now working with a mass-market label – bringing its signature style to a far wider audience."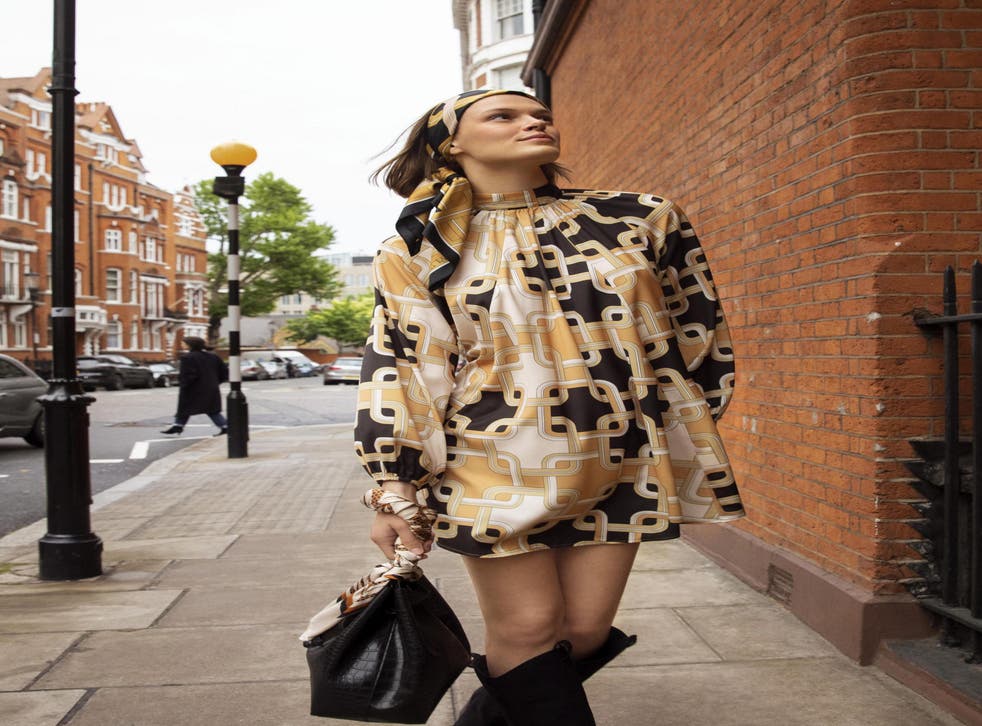 Cate Allan, the daughter of the iconic fashion name, revived her father's brand in 2014; the company had been sold in 1989, a move that caused many of his innovative designs to be lost or destroyed.
Speaking exclusively to The Independent, Allan revealed some of the inspirations behind her father's designs and the impact they had on women's liberation.
"My father's incredible success was due in part to the fact he combined the classic vehicle of a headscarf (as it was worn then) with bold design and dramatic colouration," Allan says.
"Not only did this liberate the way in which women could dress up a garment with a scarf, it also realised art into fashion."
The company director added that her father found inspiration in whatever caught his eye, from the seemingly mundane, to his hero William Morris and the patterns of Piccadilly's neon displays.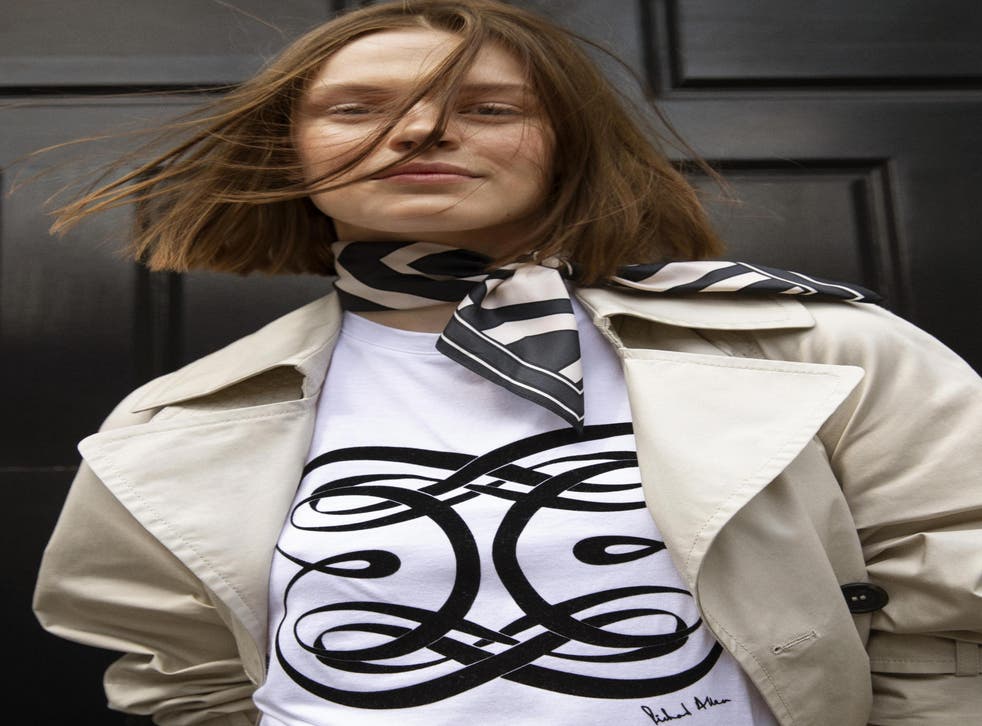 "He saw line and design at the forefront of his vision. He would enthuse about the lines of a sports car, the architecture of a building, or the detail of a painting," Allan explains.
"He was enthralled by the avant garde and contemporary as well as the historic."
It is these attributes that H&M has homed in on for its upcoming collection, which delivers a wide range of stylish dresses, blouses, skirts, shirts, trousers and, of course, scarves, through Allan's lens.
Designed by an H&M in-house team, the silhouettes are long and eyecatching, with details such as high necklines, wide cuffs and soft pleats, while the colour palette and prints are a reawakening of swinging Sixties London.
Allan hopes that the new collaboration with H&M will be a fitting tribute to her father's legacy and help deliver his enduring designs to an entirely new audience.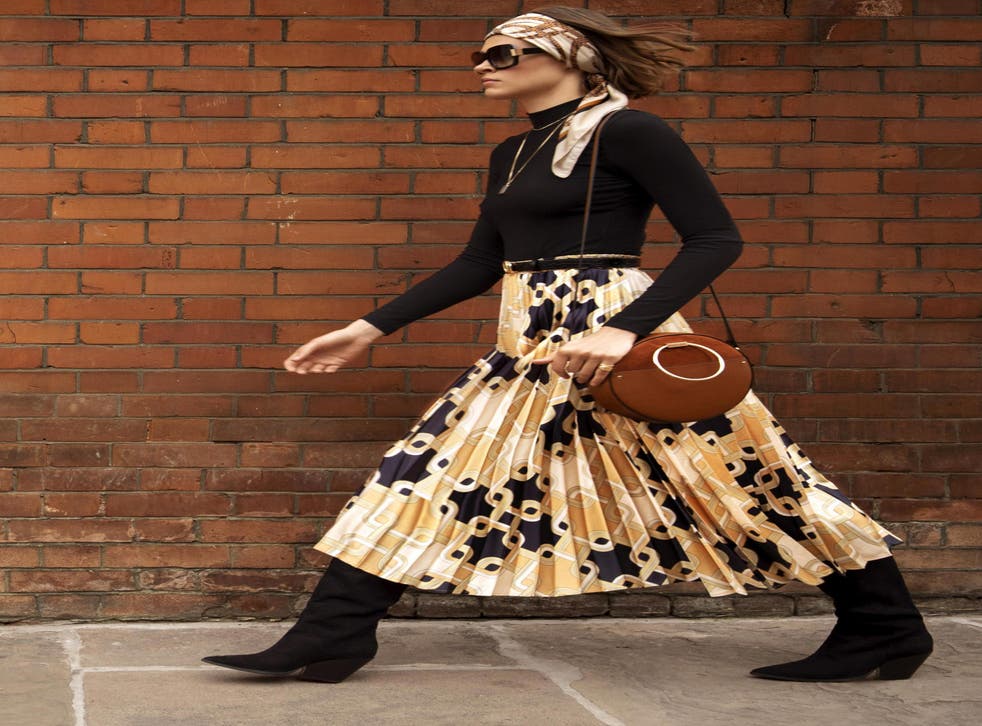 "I think my father would have hugely enjoyed working with H&M on this collaboration. I have really appreciated not only the enthusiasm and respect for my father's work, but H&M's keen vision towards building the collaboration," Allan says.
"Not only does it allow for the creative re-imagining of Richard Allan print designs and colours to be taken off a square and adapted to clothing forms, allowing the designs to be used in new and fresh ways, but it takes Richard Allan to a totally new audience."
Allan also commends the high street fashion brand for keeping her father's original colourations in the upcoming collection, saying: "While these colours fit the current fashion palettes they also resonate from the 1960's enhancing the sense of the period whilst re-inventing the patterns to create a totally new and fresh collection.
"This use of past designs and colours to create contemporary collections is truly inspired and absolutely keeps my father's vision."
Maria Östblom, head of womenswear design at H&M, adds that the wonderful prints and exuberant spirit of swinging London still feel very now.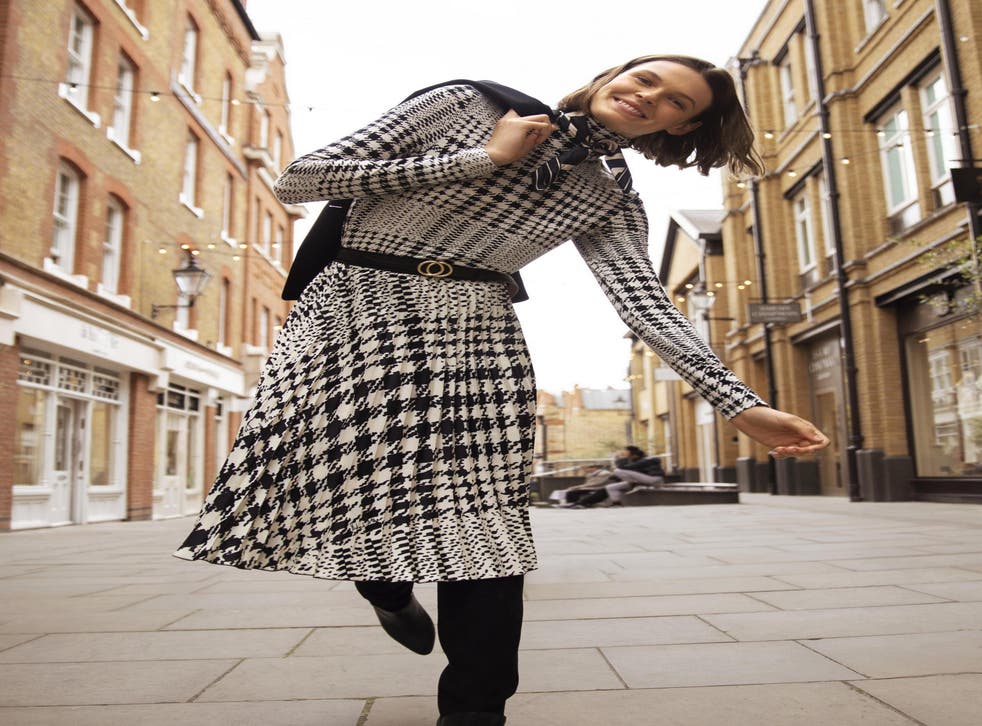 "We're absolutely elated to be collaborating with one of the most statement-making print designers from this time," Östblom says.
"By taking these classic vintage prints from scarves and reimagining them in a new context, the pieces from the H&M x Richard Allan collection feel both strong and feminine, yet with a sophisticated touch."
The new H&M x Richard Allan collection is launching in selected stores worldwide, as well as online, from 22 August.
Sours: https://www.independent.co.uk/life-style/fashion/hm-richard-allen-collaboration-cate-60s-scarf-print-womenswear-a9010986.html
Richard Allan - Designer Collaboration 2019 - H\u0026M
.
Allen hm richard
.
Fever: 1793 - Richard Allen: Apostle of Freedom
.
You will also like:
.
478
479
480
481
482