2 men lucky to be alive after giant 19-foot great white shark attacks kayak
Two men are lucky to be alive after a shark attacked them on a kayaking trip over the weekend leaving massive bite marks on their vessel – and two huge teeth.
Danny McDaniel and Jon Chambers were kayaking near Ship Rock located about two miles off the coast of Catalina Island on Saturday morning when they got the surprise of their life.
"[I] felt [a] push of my kayak to the side and I thought Jon was messing with me," said McDaniel when asked to describe the incident in an interview with ABC News' Sand Diego affiliate KGTV.
Chambers said he saw McDaniel's kayak shift suddenly and drastically – and then continued to move.
It was then that both of the men saw what was causing the kayak to rock.
"[I] saw a giant, triangular, conical-shaped head right there and a huge body. Just a massive body," said McDaniel. "His upper half of body was out of the water; his dorsal fin was out of the water."
It was a great white shark -- estimated to be 19-feet-long – clamped down onto the back of McDaniel's 9-foot-long kayak and only inches away from McDaniel himself.
"I completely froze … the primary thought on top of everything else was don't fall into the water. Other thoughts were oh my God, this thing is giant," said McDaniel.
"[I] look at it and said, 'oh crap, oh crap, oh crap'," said Chambers. "I yelled at him to hit it," Chambers said of his initial reaction to seeing the giant shark.
Both men just froze in fear while the great white held onto the kayak for around 5 seconds before it loosened its grip, turned to move between the two men's kayaks and disappeared into the depths.
The men cautiously made their way back to shore where they found puncture marks on the kayak, several scratches, and two giant teeth embedded in the kayak.
"I don't think he took a full chomp. I think he just took a nibble and pushed," said McDaniel. "I am grateful, obviously, that I didn't get injured. It wasn't my time I suppose."
In spite of the terrifying incident, both men told KGTV that the experience wouldn't keep them out of the water. In fact, they even completed their scuba diving trip later that evening.
"I think I've had my fill of great white sharks; I'm good. But I'm fortunate to have this experience," McDaniel said.
"He literally encountered the largest fish I have ever seen in 20 years of scuba diving and he came away from it unscathed. That is one for the books. It is not something you want to replicate," said Chambers.
Sours: https://abcnews.go.com/US/men-lucky-alive-giant-19-foot-great-white/story?id=66153401
Fake or Not
When I began work ten years ago on a book about white sharks, I had no idea that this project would yield my most well-known image to date. For more than ten months I worked together with Michael Scholl and scientists at the White Shark Trust to create novel images of white sharks in South Africa that would illustrate current scientific research. The team observed large numbers of white sharks venturing into extremely shallow water during the summer months. In order to figure out why, the researchers tracked and observed the sharks' movements, but were regularly thwarted for two reasons. First, the inshore realm was treacherous, humped by rocky reefs and sandbanks, which heaved the research boat precariously during an onslaught of large swells. Secondly, the boat engine's electrical field seemed to affect the sharks' behavior.
I suggested using a kayak as less obtrusive photographic platform to track white sharks. I was met withcautious enthusiasm, so I was voted to be the one to test the waters. Even though we repeatedly tested the sharks' reactions to an empty kayak, the first few attempts at a manned kayak were nerve-wracking. As I sat in the "yum-yum" yellow sea kayak, a 15-foot (4.5m) great white shark ambled towards me. However, white sharks are much more cautious and inquisitive than aggressive and unpredictable. And this proved true with our experiment; at no time did the sharks show any aggression toward us or our little yellow craft.
The story of this particular photograph began on a perfectly calm and glassy sea. I tied myself to the tower of the White Shark Trust research boat and leaned into the void, precariously hanging over the ocean while waiting patiently. The first shark came across our sea kayak, dove to the seabed, and inspected it from below. I trained my camera on the nebulous shadow as it slowly transformed into the sleek silhouette of a large great white. When the shark's dorsal fin emerged, I thought I had the shot but hesitated a fraction of a second. In that moment, the research assistant in the kayak, Trey Snow, turned to look behind him, and I took the shot. Throughout the day I shot many more similar images, but all lacked the connection of first image.
I knew the image was iconic, but I was not prepared for the public response. When the photograph was first published, it attracted more than 100,000 visitors to my website in 24 hours. Many thought the photo was a digital fake, and to date there are still hundreds of websites that debate its authenticity. Not only is the image real, it was one of the last images I took using slide film before transitioning to digital. All magazines and prints were taken from a high-resolution scan of the slide with no post-production work. Over the years the image continued to sell and just when I thought it had run its course, the image resurfaced on April 1, 2006.
The French magazine, Le Magazine des Voyages de Peche(The Magazine of Fishing Voyages) published an April Fool's Day article that told the story of professional fishermen Arnold Pointer from south Australia who accidentally caught a large female white shark in one of his fishing nets. Instead of killing her, he set her free and named her Cindy. From that day forward, the shark followed Arnold every time he set out to sea. In the article, he states, "It's been two years and she doesn't leave me alone. She follows me everywhere I go, and her presence scares all the fishes." Two years later this hoax was immortalized in a YouTube slideshow, which used my photograph, purportedly showing Cindy the white shark following Arnold in his yellow kayak. The video received nearly 1.6 million hits and introduced the white shark kayak to a new audience, albeit in an inaccurate if humorous context.
On August 21, 2011, Hurricane Irene battered the Caribbean island of Puerto Rico and flooded many streets. I could never have imagined that my photograph would make an appearance in this context, except this time it was only the shark, minus the kayak. On August 24 the shark appeared on a social news website in the form of a photograph taken from the open window of a car driving along a flooded street. Next to the car was "my" white shark swimming through the flooded streets of Puerto Rico. The image was then picked up and used in a TV bulletin on Channel 7 News Miami. A closer examination of the shark revealed that it was identical to the shark following the kayak in my photograph. It appears that a crafty Photoshop artist superimposed the shark into a scene of a flooded street. The composite resurfaced again in June of 2012, when a shark tank supposedly burst in a popular mall in Kuwait. The photo depicted two sharks (one of which was mine) swimming at the bottom of a submerged escalator. The most recent incarnation appeared in the wake of Hurricane Sandy, which devastated the eastern coast of the U.S. This time, the shark made the same appearance outside a car window in the flooded streets of New Jersey. I always look forward to receiving e-mails from friends and family who have spotted the same white shark in a different context. While I will probably never become a legend in my own right, at least my white shark is well on her way.
Sours: https://www.thomaspeschak.com/kayak-great-white-sharks-
Great White Kayak Attacks: The Color Question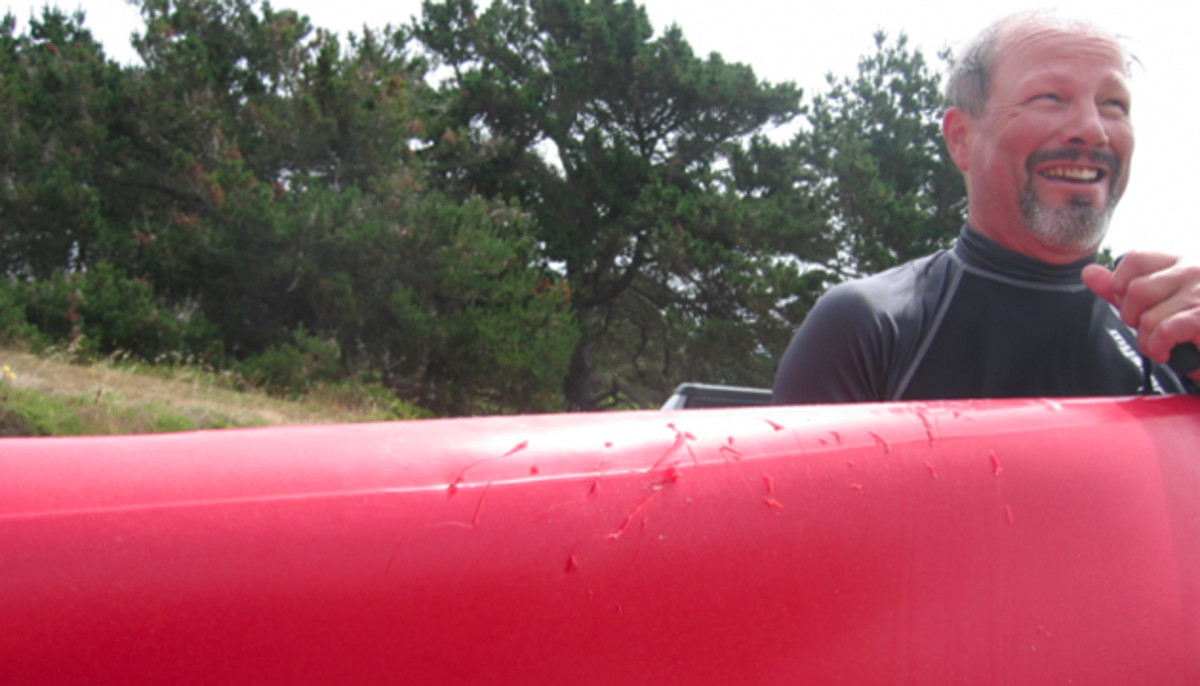 By Paul Lebowitz
Yesterday we tallied up California great white shark attacks on kayaks (the waters off of Central and Northern California are dubbed the Red Triangle for good reason). The apex predators have tossed 17 kayakers into the drink since 1989. About a dozen of those are since 2007. Has kayak color played a role?
Before we go any farther, this note: the last suspected great white fatality of a kayaker took place way back in 1989. Every kayak angler hit in California waters has suffered only minor physical injuries. Most were entirely unhurt. Standard rescue skills got them through.

Everyone knows yellow is supposedly yum-yum to sharks, right? The theory derives from a 1970s US Navy study that dressed dummies in yellow, red, black and blue lifejackets. Yellow won, err, lost.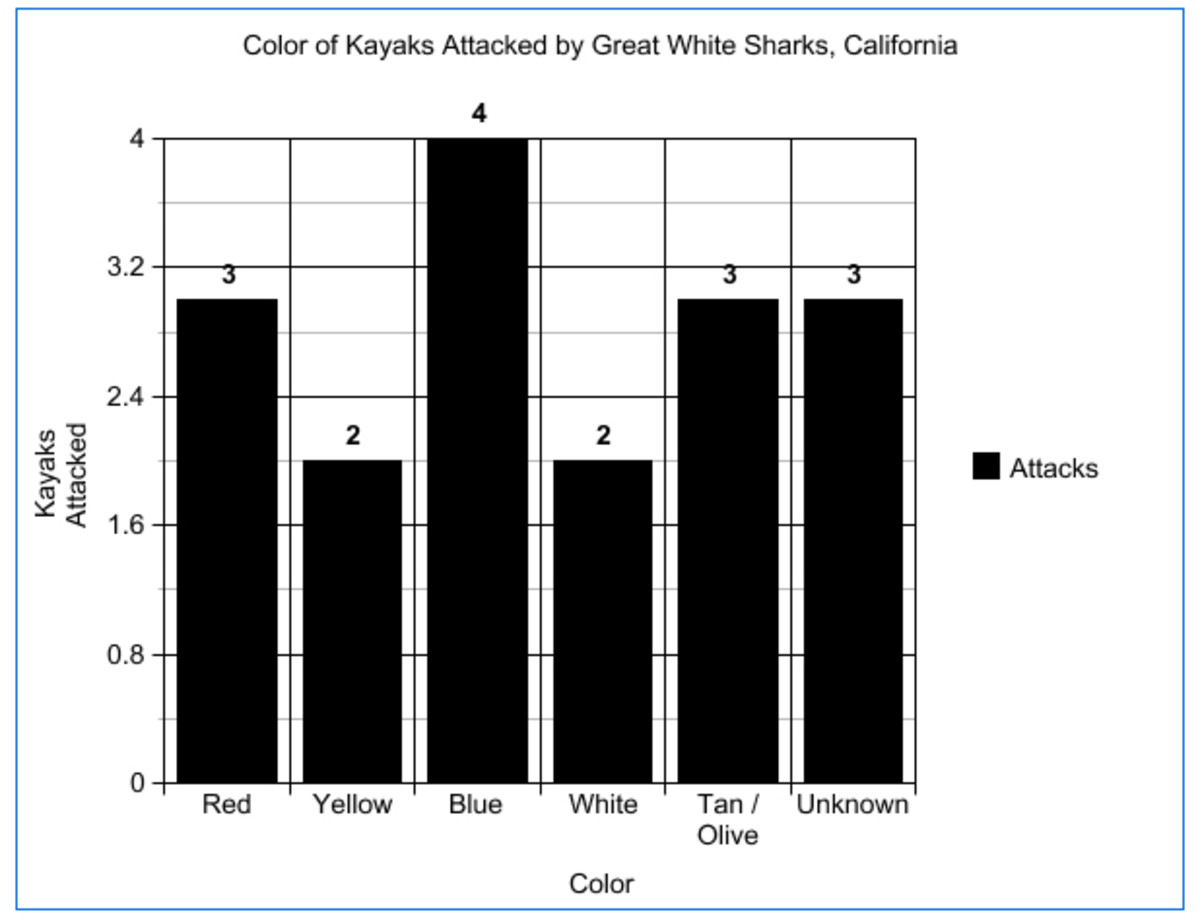 The Mythbusters famously tested shark color preference during a Shark Week special. Watch the video – it's cool – but let's cut right to the chase. They declared the preference for yellow plausible.
In 2011 researcher Nathan Scott Hart of the University of Western Australia shook up that thinking when he determined many if not most sharks are likely colorblind. The sharks in the earlier studies "were probably attracted to [yellow] because it would have had a very high contrast against the surrounding water."
How does that stack up with the reality of the 17 kayaks great whites have chewed up in California waters? There are a couple yellow kayaks on the list, including Adam Coca's Ocean Kayak with its home-applied zebra striping camouflage. Mel Camu's Hobie was the other one.
RELATED: Great White Kayak Attacks: Paddle Vs. Pedal
How about dead red? Not so deadly. Every one of the three kayakers aboard red boats survived their attacks uninjured. The kayaks not so much. Dan Prather's Hobie Adventure nearly submarined. Ken Kelton was left with a tooth stuck in his Dancer's river hull. The nose of Duane Strossaker's home-built custom sea kayak was entirely in a shark's mouth.
Let's pick up the pace. Two white kayaks are on the hit list, as well as three tan / olive boats. Blue is the surprise leader in the clubhouse with four attacks. I couldn't locate photos or descriptions of three of the 17 kayaks.
Conclusion? Inconclusive. There's no decisive edge. The colors are all over the spectrum. If you have an observation about color contrast, please share it in the comments.
Kayak anglers who choose yellow or other bright hull colors are going for improved visibility. In wide open waters, that's probably a good risk calculation. Reminder: great white sharks haven't killed a kayaker since 1989. It's sadly much easier to find instances of boaters plowing over and killing paddlers. I'll take orange. That's a color that pops. Notice? It isn't on the shark strike list – so far.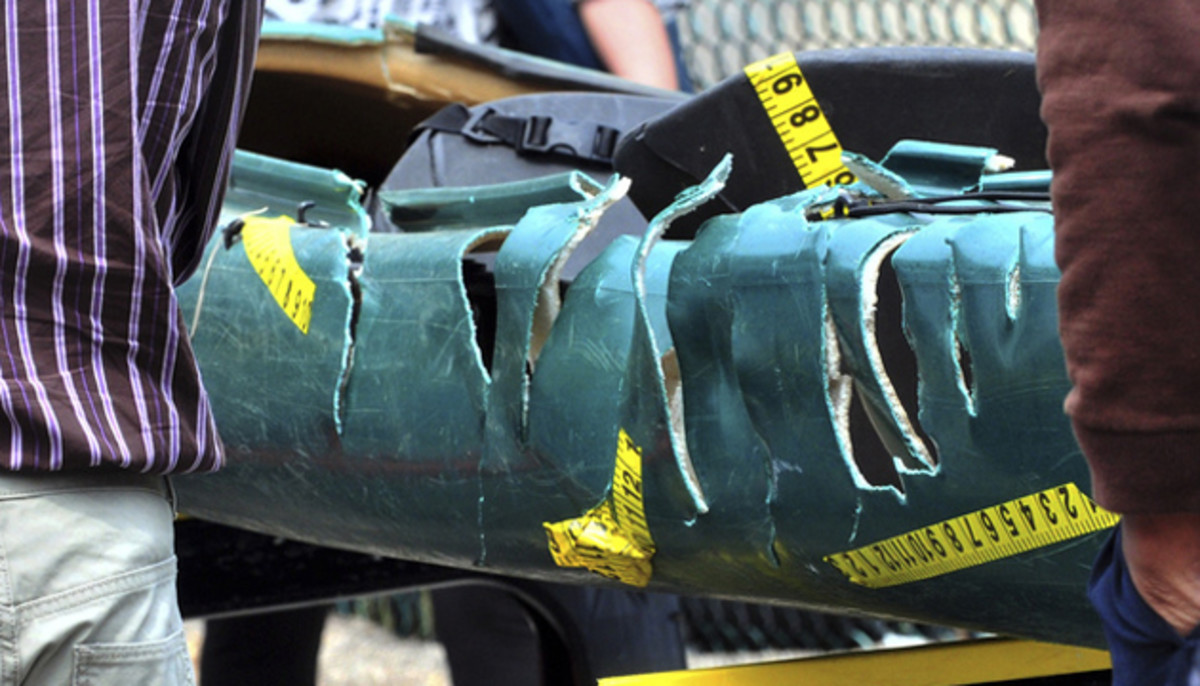 The article was originally published on Kayak Fish
For access to exclusive gear videos, celebrity interviews, and more, subscribe on YouTube!
Sours: https://www.mensjournal.com/adventure/great-white-color-question/
Kayaking with Sharks -- ViralHog
Kayakers chased by 'huge' great white shark
July 3 (UPI) -- A pair of kayakers in Australia captured video of their tense encounter with a huge great white shark that chased them through the water.
Ken Gerke started recording video off the coast of Wenonah Head, New South Wales, when he spotted a fin in the water nearby.
"There had been a lot of whales and dolphins out there, so I initially thought it might have just been a small whale... but then I saw the fin and it just kept getting larger and larger," Gerke told Yahoo7 News.
The video shows Gerke come to the realization that the animal in the water is a "huge" great white shark, which the fisherman estimated may have been up to 16 feet long.
The footage shows Gerke paddling toward fellow kayaker Dave Barwise while shouting that a large shark is chasing him.
"I definitely wasn't in fear, although I was quite in awe of it, but obviously I felt a bit safer being closer to a mate," Gerke told 9 News. "I'm pretty sure he wasn't out to hurt us in anyway, he was just very curious, and friendly, like a big puppy dog in a way, and was coming over to check us out."
Barwise captured video of the shark circling Gerke's kayak after he stopped paddling.
"It was an awesome experience, quite a scary one, but awesome... I've never seen anything that large," Gerke said.
Read More
Shark grabs boater's finger, pulls her into waterDrone video captures kayaker's great white shark encounterNeighbors perplexed by shark in Texas road
Sours: https://www.upi.com/Odd_News/2018/07/03/Kayakers-chased-by-huge-great-white-shark/2011530642197/
Chased shark kayak by
.
Kayak fisherman fights off aggresive hammerhead shark!!! (full video)
.
You will also be interested:
.
873
874
875
876
877